Kindred 2021 Results Show SORT Robots Picked 95% More Items Year-Over-Year
New Product Introductions Position Company to Offer Solutions for the Three-Wheel Forklift and Autonomous Mobile Robot / Automated Guided Vehicle Markets
Visitors to booth #B1407 will experience Mujin's intelligent robotics solutions featuring robot manufacturers Fanuc, Kawasaki, Mitsubishi and Yaskawa Motoman, alongside autonomous vehicle solutions from MHS and Tompkins Robotics; Mujin-powered solutions work together to showcase the next generation of warehouse automation
NORD will be at MODEX 2022 in Atlanta, GA showcasing their latest drive technology including their groundbreaking IE5+ synchronous motors, DuoDrive, and NORDAC ON/ON+ variable frequency drives.
• ABB's robotic innovations are designed to serve the flexible distribution needs of consumer products companies in all application areas where products need to be packed, moved and delivered. • ABB's recent acquisition of ASTI Mobile Robotics expanded its robotics and automation offering, making it the only company to offer a complete portfolio for the next generation of flexible automation.
MHS will welcome this year's MODEX attendees with a booth experience that builds on the company's showstopping exhibit at the previous MODEX show.
Autonomous navigation leader BlueBotics, which was recently acquired by ZAPI GROUP, is heading to MODEX 2022 to showcase a unique multi-brand fleet demo of vehicles driven by its ANT® technology.
29-31 march. Barcelona, Spain. Robotnik will be at the trade fair with the most innovative robots such as the RB-KAIROS+ or the RB-1 BASE, designed to work in industrial environments safely sharing the workspace with operators.
Highly reliable, the six-axis HC10DTP and HC20DTP collaborative robots enrich easy capability for Yaskawa's HC-series line. Hand-guided programming allows users to direct teach points without a pendant, and an ISO standard tool flange and electrical connections facilitate a plug and play approach for easy deployment of the robot system.
Seegrid Palion Lift to be Debuted at Industry's Largest Trade Show
Records 31 to 40 of 40
Featured Product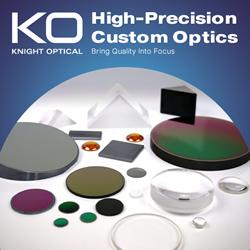 In the era of Industry 4.0, automation and machine learning drive the future. Knight Optical stands at the forefront, collaborating globally to supply precision optical components that power the robotics and automation sector. From UAVs, drones, and robotics to machine vision, LiDAR-driven car sensors, and renewable energy, our optics empower innovation. Optical components play an important role within the industry, including: Optical windows and domes safeguard systems in unmanned vehicles while preserving the field of view for cameras. Infrared lenses with aspheric surfaces elevate thermal imaging. Optical filters excel in machine vision, with colour glass, interference, and dichroic filters in our stock. Knight Optical provides stock components and custom solutions made to your exact specs. With every component undergoing rigorous metrology and QA checks before shipment, you are sure to experience true precision, innovation, and assurance.