A small California company uses their expertise and the latest in reliable technology to design, prototype, and produce multifunctional bio-mechanical gloves aimed at providing users with a more normal life experience.

Contributed by | Maxon Precision Motors
Robotic Integrated Technology works with doctors and patients to understand, design, and produce prosthetics aimed at providing a revitalized lifestyle to those with spinal injuries. Their FESG 201 is a passive robotic bio-mechanical range of motion and electrical stimulation device for the thumb and fingers, and is currently in clinical trials.
Robotic Integrated Technology (RIT) designs, develops, and markets innovative products to advance the recovery of movement for victims in the underserved spinal cord injury and paralysis markets. There are thirty-one bones in the spinal column, each with the potential to pinch or damage the spinal cord in a variety of ways, causing the person to lose motion in one or more of their limbs. According to the Centers for Disease Control and Prevention, eighty percent of such injuries happen to males, and an estimated fifty-plus percent of those occur in people between 15 and 35 years old. Further, forty-six percent of damage is caused by automobile accidents, twenty-two percent from falls, sixteen percent from violence, and twelve percent are from sports accidents.
RIT's products, like their robotic bio-mechanical gloves offer distinct solutions for disabled individuals by delivering a hopeful chance of recovery. This is done by helping victims regain as much of their motor functionality to the areas of the body plagued by damage as possible. This also goes for victims of catastrophic injuries. Using today's technologies and unique and creative design techniques, RIT was originally organized to make a difference in the rehabilitation and functionality of the military wounded (IED and Sniper). Their solutions have applicability to military and civilian patients suffering from various forms of paralysis, including stroke, spinal cord injury, Cerebral Palsy, and MS.
RIT has worked with people who have suffered a variety of injuries and disabilities that require the use of their hands. The company team works side-by-side with doctors to gain useful knowledge and insight into a particular patient's situation, and often receives insightful ideas from those who service and assist the disabled community in general.
These interactions often lead to a potential products being conceptualized. Then, using RIT's expertise and the latest technology that are available, concepts are designed, prototypes created, and testing is performed. The company's product development philosophy is to create and develop products that improve and enhance a user's quality of life. At this point, the company's Functional Electrical Stimulation Glove (FESG 201) is considered to be one of the most advanced devices of its kind in the world.
Component Selection
After testing the bio-mechanical glove using inexpensive motors and finding that such products were not up to the challenge and burned out quickly, were not accurate enough, and were noisy, the RIT team chose to use a combination motor and gearhead designed and manufactured by maxon precision motor.
The devices used are RE10+GP10A motor-gearhead combinations. The RE10 motor is a 1.5 Watt motor that runs off a nominal voltage of 6 Volts. The speed for the motor is up to 12,400 rpm, and torque maxes out at 1.5 mNm. The motors use long life, precious metal brushes. The gearheads are GP10A planetary gearheads that are available in multiple stages for 4:1 through 1024:1 operation.
The glove goes over a paralyzed hand and with use of the maxon motors opens and closes the hand. At determined angles, integrate electrical stimulation and vibration are used to retrain and help restore natural movement in the persons hand. The motors are used for movement of the fingers of the FESG 201 to allow them to mechanically open and close. Six motors are used in all, one for each finger and two for the thumb, since the thumb has to operate along two axes: up-and-down and in-and-out. According to Randy Simmons, engineer and spokesperson for Robotic Integrated Technology, "The maxon motors ended up being of higher quality, were more reliable, and promised a longevity much greater than other motors, due to the precision of the components selected and the manufacturing processes used in their creation.
"We put a worm drive on the output shaft of the motor, along with a sprocket gear, to help increase the torque output," Randy said. "This mechanical operation also allows each digit to easily change direction of movement." The benefits of the maxon motors are important to the final operation of each device. For example, maxon's precision motors operate smoothly, have no backlash, and are non-cogging devices, even at low speeds.
The compact motors and gearheads can also be used in limited space applications, which was perfect for the prosthetic hand designed and developed by Robotic Integrated Technology. Further, because of maxon's use of high quality, rare earth magnets that give the motor a relatively high torque constant, the motor draws less current during start-up, which means that batteries for the device last longer than normally expected. In all, the combination of quality design and quality products allows the company to produce highly useful and long lasting products for their customers.

About Maxon Precision Motors
Maxon Precision Motors is a leading supplier of high-precision DC brush and brushless servo motors and drives. These motors range in size from 4 - 90 mm and are available up to 500 watts. We combine electric motors, gears and DC motor controls into high-precision, intelligent drive systems that can be custom-made to fit the specific needs of customer applications.
The content & opinions in this article are the author's and do not necessarily represent the views of RoboticsTomorrow
---
Comments (0)
This post does not have any comments. Be the first to leave a comment below.
---
Post A Comment
You must be logged in before you can post a comment. Login now.
Featured Product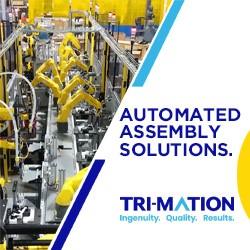 Tri-Mation reduces labor costs, improves accuracy, and production speed. Our integrators specialize in building automated assembly manufacturing systems for part production in any required volume or level of complexity.