The Expo is covering topics from development technology of robots to application of robots.

Junko Nirmala for | RoboticsTomorrow
RoboDEX,The first comprehensive trade show for robot development and application Organized by Reed Exhibitions Japan Ltd; will be held at the center of robot/robotics industry Tokyo January 18 [Wed] - 20 [Fri], 2017.
The Expo is covering topics from development technology of robots to application of robots; Concurrent Shows of RoboDEX also includes NEPCON JAPAN 2017 – 46th Electronics R&D and Manufacturing Technology Expo, 3rd WEARABLE EXPO - Wearable Device & Technology Expo, AUTOMOTIVE WORLD 2017, 9th Light-Tech Expo - Int'l Exhibition for LED/OLED Technology & Application , Thus making the ROBODEX to be largest Expo in Robot Development and Application of Robots in Japan and Asia. In this article we listen to Mr.Hajime Suzuki -International Director and Mr. Maezono, Yuhi Show Director for Robo Dex Expo.
Reed Exhibitions Japan Organizes more than 140 trade shows in Japan varying in different sectors, Please tell us about what was the idea behind to bring such a massive show on Robotics Development and Application of Robots.
Hajime Suzuki: As you know the expo is co-organized along with NEPCON, Wearable device, LED technology and Automotive world, for the past 3 years during our these trade shows, we had conducted research among visitors and exhibitors, the highest feedback or requirement was on the development Technologies for Robots along with applications used. And also as the entire industry is moving towards in some or the other form of engaging Robotic technologies and applications; Hence we take this as right time and opportunity to execute a new expo theme and help enable to bring together the industry people and new innovations in this field.
What are the zones planned/ Categorized in 1

st Robodex 2017

Maezono, Yuhi: As the Expo is focused on technologies used to develop a Robot

we have zones like Intelligence/Control Technology, Embedded system, IoT solution, DriveTechnology,Motor,Actuator,Sensing Technology Sensors, Measurement/Control/Testing device , AI, So you could say the components and parts, services which are used to assemble a full functioning robots will be placed in the show. Of-course the final products as consumer Robot,industrial robot,Service robot etc will also have its zones.
Worldwide Japanese Robot Manufacturers are very attractive ; How many Japanese companies you expect to participate in Expo.
Hajime Suzuki: Japanese government has placed high importance for next robotic development and every Industrial segment companies have plans to develop or shift their working model, products in some or other form of Advanced automation by engaging or implementing Robotic technologies. So we see lot of new companies and as well the long term companies developing products, services to cater to this new demand. For the first expo -2017, the domestic exhibiting companies have already booked the stall space/booths in higher than expected numbers. For 2018 we foresee the numbers crossing 1000 plus.
How many domestic and Industry experts you are reaching out and are expected to visit the show.
Maezono, Yuhi : The concurrent shows itself attracts on average 94000 domestic visitors and in past years it has been increasing. Considering the enthusiasm and interest among technicians, engineers, developers, and professionals of Robot Industry we expect the visitors in addition of 50% more.

How is the interest from Foreign Robot Manufacturers to participate or visit the RoboDex show
Hajime Suzuki: There are three points.
A. Japanese companies source a lot of components from Asian countries despite the fact that they hold or assemble here in Japan. Not only on the hardware side but also on embedded softwares, AI, sensing related technologies. So there is huge B2b potential that attracts Asian exhibitors and as well visitors.
B. On the full functioning Robotic products / technologies there are huge imports from Europe and US especially in service robots sectors, which again drives a B2b from these regions.
C. As Asia and other regions as well is moving towards new industrial automation companies see Japanese technologies in this field as very advanced and we foresee this expo to be truly a HUB for not only from regional perspective but also for connecting companies in the next level of innovations.
Provide some of the Key points on Trade show, like what are the topics of seminar and conferences planned.
Maezono, Yuhi: Currently Keynote Sessions are planned by having various Government and Industrial Bodies and Technology Conference Speeches by executives of robot users & manufacturers Top engineers speak on the hot topics such as AI, sensing etc. The names will be disclosed shortly on our website.
Do you plan to have Robo sports, Robo challenges and can the visitors be welcomed by Human like robot especially Global Visitors to Japan often seems to be interested by Human like Robots welcoming them . if yes please name the robots.
Maezono, Yuhi: Well, the discussions are going on with respective companies, the names will be announced as early possible. And companies are also planning to launch few products using the expo as launch pad, so for sure we may get to see some attractive and new products that might make a news for while.
Any comments for Robodex`S Global Visitors/Exhibitors.
Suzuki/ Yuhi - We welcome all companies, professionals ,industry experts of Robot Technologies, Product. Be it a Component Maker or Service provider we invite them to take part in this expo either as exhibitor or visitor and connect and explore the business opportunities in this platform.

Do you plan to set B2B meetings with Foreign / Global visitors with Japanese companies, if yes Please share the contact details and the procedure.
Suzuki/ Yuhi: We are working on the procedure to engage a swift B2B meetings with exhibitors and Visitors be it Domestic or international. But for global visitors we have independent secretariat to handle all queries. The contact details are
International Director
Hajime Suzuki
Reed Exhibitions Japan Ltd.
18F Shinjuku-Nomura Bldg.,1-26-2 Nishishinjuku, Shinjuku-ku, Tokyo 163-0570, Japan
For Exhibitor inquiries: robodex@reedexpo.co.jp
For Visitor inquiries: visitor-eng.robodex@reedexpo.co.jp
URL: http://www.robodex.jp/en/
The interview session ended with comments sharing on how major companies are planning to construct, design the booth stall to exhibit their products and engage a thorough discussion with each and every visitor. And also how few companies are planning to be extensively reach out to fix appointments with their B2B or B2C visitors making the expo platform as one of the core bench to bring closer the discussions.
About Junko Nirmala
Junko Nirmala is a Tokyo resident with 17 years of Professional experience in Technology and business consulting services. Her diverse background includes Advisory assignments completed for 70 plus Japanese companies on Globalization, Founder of startup company in Green Technology, conducting Training and seminars for Global Workforce in Japan and so on. Currently she is involved in Promoting Japan Robots Industry. She has authored 3 books and consistently writes for newspapers and magazines in Japan.
The content & opinions in this article are the author's and do not necessarily represent the views of RoboticsTomorrow
---
Comments (0)
This post does not have any comments. Be the first to leave a comment below.
---
Post A Comment
You must be logged in before you can post a comment. Login now.
Featured Product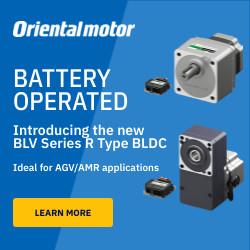 The BLE2 Series replaces our popular BLE Series and continues our brushless motor advantages by featuring an all new compact, high-power and high-efficiency brushless DC motor combined with a Driver that can be digitally set and controlled via external DC voltage or by the front panel. The BLE2 Series can easily compete with larger 3-phase inverter driven motors in many more applications, with built-in simple holding torque function, saving space and increasing performance thanks to the advantages of a brushless motor design. The BLE2 Series has a maximum speed of 4000 r/min, achieving a speed ratio of 1:50 (80 to 4000 r/min). The new motor structure is small than previous models and enables high power and high efficiency while incorporating easy setting, installation and wiring. The new motor connector offers IP66 degree of protection and allows for easy and direct connection between motor and driver with two available orientation of cable outlet direction. Standardized use of stain