Patents are extremely important for robotics companies in all stages. For early-stage companies, patents are often the only way for investors to place a value on a companys technology during development. In this way, patents can make up a significantly greater portion of enterprise value for early-stage robotics companies.
Patent Strategy Is Critical for Robotics Innovations
David J. Dykeman and Todd C.Basile | Greenberg Traurig
The robotics industry is booming, with thousands of new industrial and service-based robotic innovations being introduced each year. These inventions are impacting the global economy and shaping how we live and work. According to the International Federation of Robotics (IFR), more than 1.4 million new industrial robots will be installed in factories around the world by 2019. Protecting robotic innovations is critical to success in the marketplace, so robotics companies should file strategic patents early and often.
Rise of the Robot Economy
The infusion of venture capital (VC) in robotics start-ups fuels the expansion of the robotics industry, and VC investment reached about $172 million in 2016. The U.S. is currently the fourth largest market for industrial robots in the world, with robots being developed for nearly every industry, including manufacturing, retail, defense, consumer products, and medicine.
"Robotics is playing a larger role in all aspects of medicine including robotic surgery, blood draws, medicine dispensing, and rehab and therapy. The impact of medical robots is just beginning," said Brian Rosnov, Senior Director of Philips HealthWorks. The robotics industry shows no signs of slowing down, and robotic innovators need to maintain a competitive edge through a strategic patent portfolio that focuses on protecting the core technology, exploring new patent areas, and establishing worldwide patent protection.
Smart Patent Strategy Drives Growth
A strategic patent portfolio protects a robotics company's core technology, which in turn helps secure funding and establishes a competitive advantage in the marketplace. A recent study found that a start-up has about a 2.5 times greater chance of achieving success within 10 years of VC investment if it holds patents before the investment.
Patents are extremely important for robotics companies in all stages. For early-stage companies, patents are often the only way for investors to place a value on a company's technology during development. In this way, patents can make up a significantly greater portion of enterprise value for early-stage robotics companies. As a company grows, patents become the currency to secure financing through venture capital or private equity investment. Patents can also lead to collaborations, joint ventures, and licenses with strategic partners.
"Patent strategy is so important in robotics where innovation is occurring daily. Patent attorneys who understand the complex combination of technologies and can develop creative strategies to find areas to patent make a huge difference," said Conor J. Walsh, the John L. Loeb Associate Professor of Engineering and Applied Sciences at the John A. Paulson Harvard School of Engineering and Applied Sciences and a Core Faculty Member at Wyss Institute for Biologically Inspired Engineering at Harvard. Professor Walsh is the inventor of many disruptive robotic technologies for augmenting and restoring human performance.
For early-stage robotics companies, the key is to develop a strategic patent portfolio that has comprehensive patent coverage around the company's innovations. The core technology must have adequate patent protection to provide flexibility and room to operate in a desirable market. To obtain broad patent protection, companies should file an initial patent application covering the core technology, followed by additional patent applications covering key improvements. A robotics company should consider both current and future business objectives and analyze ways that competitors may attempt to design around its patents.
Avoiding a Robot Patent War
Robotics technology is complex and often multifaceted, which can make patenting challenging. Robotic devices must be able to understand and adapt to the surrounding environment (especially as they are integrated more and more into daily life), making collision avoidance, facial/object recognition, and "follow me" features critical to safe and effective operation, while medical and assistive robotic devices must adapt to the biomechanics of each individual wearer to remain comfortable and transparent to natural motion. Creative companies are also leveraging machine learning techniques to improve these and other capabilities in the ongoing quest to make robotic devices more intelligent and less "robotic" in their interactions. Equally impressive advancements in materials, mechanics, and power management techniques are also helping to make robotic devices more mainstream.
These complex control systems can present challenges for robotics companies considering patent protection. Thus, patent claims should be directed to the entire system (in particular, how various sub-systems work together to tackle complex problems in novel ways), as well as key components, control systems, disposables, applications, methods of manufacturing, methods of use, and any other valuable aspects of the invention. Design patents can also provide protection for the ornamental features of robotic products. As companies continue to improve their core technology, they should patent incremental changes to form a "picket fence" of patent protection around the core technology. By filing patent applications that cover incremental improvements, robotics companies can expand their presence in the market and grow their patent portfolio as their technology improves and adapts to consumer preferences and the mainstream market.
In a field such as robotics, with thousands of innovations entering the market each year, cross-licensing with competitors can be another method to enhance a patent portfolio. Cross-licensing opportunities arise when companies have overlapping patents, and practicing one patent results in infringement of another patent. With cross-licensing, companies can mutually agree to share patents without the exchange of license fees and with a promise not to sue.
Stake Your Claim in the Robotics Patent Gold Rush
There is no doubt that the robot revolution is happening, and the future of robotics will change how we live forever. By building a strategic patent portfolio that has worldwide patent protection, robotics companies can continue to innovate and maintain a competitive edge.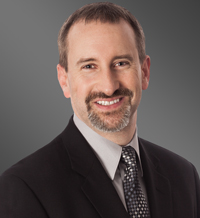 About David J. Dykeman
David J. Dykeman, is a registered patent attorney with more than 20 years of experience in patent and intellectual property law, and co-chair of Greenberg Traurig's global Life Sciences & Medical Technology Group. David's practice focuses on securing worldwide intellectual property protection and related business strategy for high tech clients, with particular experience in robotics, medical devices, nanotechnology, life sciences, and information technology. David can be reached at dykemand@gtlaw.com or (617) 310-6009.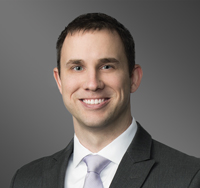 About Todd C. Basile
Todd C. Basile is a registered patent attorney in Greenberg Traurig's Dallas office. He focuses his practice on patent portfolio development and counseling, and is experienced in a wide range of industries, including wearable robotics, medical devices, unmanned aircraft systems (drones), nanotechnology and software. Prior to becoming an attorney, Todd was a flight technology engineer at Bell Helicopter. He can be reached at basilet@gtlaw.com or (214) 665-3640.
The content & opinions in this article are the author's and do not necessarily represent the views of RoboticsTomorrow
---
Comments (0)
This post does not have any comments. Be the first to leave a comment below.
---
Post A Comment
You must be logged in before you can post a comment. Login now.
Featured Product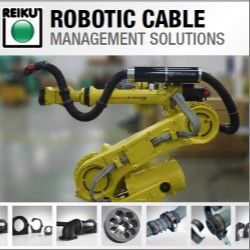 REIKU's Cable Saver™ Solution eliminates downtime, loss of revenue, expensive cable and hose replacement costs, maintenance labor costs. It's available in three sizes 36, 52 and 70 mm. All of the robots cables and hoses are protected when routed through the Cable Saver™ corrugated tubing.The Cable Saver™ uses a spring retraction system housed inside the Energy Tube™ to keep this service loop out of harms way in safe location at the rear of the Robot when not required. The Cable Saver™ is a COMPLETE solution for any make or model of robot. It installs quickly-on either side of the robot and has been tested to resist over 15 million repetitive cycles. REIKU is committed to providing the most modular, effective options for ensuring your robotic components operate without downtime due to cable management. www.CableSaver.com