RAD solutions are used in a variety of markets for critical infrastructure like corporate headquarters, healthcare campuses, higher education campuses, event venues and government facilities.

Steve Reinharz | Robotic Assistance Devices
Can you give us a bit of background about Robotic Assistance Devices (RAD)?
Robotic Assistance Devices (RAD) was founded to commercialize Artificial Intelligence (AI) driven solutions, starting with solutions for the security industry. Specifically, RAD delivers AI-driven robotic solutions to improve facility security and personnel safety. RAD technology, including its robotics and standalone solutions, improves the simplicity and economics of patrolling and security services, and allows experienced personnel to focus on more strategic tasks.
RAD deploys robotics and AI-centric standalone technology that helps customers augment the capabilities of existing staff and gain higher levels of situational awareness by using these devices—all at a drastically reduced cost compared to traditional methods. RAD solutions are used in a variety of markets for critical infrastructure like corporate headquarters, healthcare campuses, higher education campuses, event venues and government facilities.
RAD's hardware lineup includes its Security Control and Observation Tower (SCOT) solution, it's wall-mounted Wally unit and its Facial Recognition Entry Device (FRED). All solutions run on the RAD Software Suite and use AI to process object and facial detection functions.
What challenges did you face with robot network security, reliability and flexibility?
Staying connected at the far edges of a network, even the outermost physical locations, is crucial to the viability of our technology so our objective was to find a solution that would allow our devices to monitor every inch of a location without a blip or lag in connectivity. It's required that our devices be reliable and available across the network and the right connectivity solution was pivotal to achieving that step.
Also, the nature of our solutions requires high mobility and easy deployment. Since RAD's target customer profile is the Fortune 1000 we needed to be IT friendly or face additional barriers to adoption.
How did you hear about / decide on Cradlepoint to help?
Along with our requirements for reliable connectivity, we needed a platform that is widely accepted in security and law enforcement and learned that Cradlepoint works with many first responder and public-sector customers.
Functionally, we chose Cradlepoint for its support, reliability and because so many of our solutions are in remote locations that lack infrastructure. For our services, it is critical that we have connectivity that won't lag or fade in and out. Their dedication to testing for and protecting against vulnerabilities and network functionality played a major factor.
We also chose to standardize on Cradlepoint after working unsuccessfully with another provider and because it made it easy enough for our team to use that it didn't require an entire programming team to implement the solution.
How has this impacted your customers?
Our SCOT solution provides customers with a solution where human detection and a noticeable security presence are needed to protect people and assets from outside threats, including critical infrastructure, distribution and storage centers, data centers, high-value outdoor areas, homeowner associations and other restricted properties.
The strength of the network we achieve by using Cradlepoint solutions gives us increased flexibility and scalability with our product. Many customers use Cradlepoint as well so we have quick approval when discussing how we are communicating to the cloud.
Can you give us a few example scenarios to describe how RAD and Cradlepoint are implemented?
Simply put, Cradlepoint enables RAD solutions to exist. We rely on the security and performance of Cradlepoint to deliver better than 99 percent uptime to our customers. This reliable network allows sites to use RAD solutions to lower risk, increase patrol efficiencies and ensure safety.
Also, the applications on RAD's suite of solutions that require a reliable network to run range from GPS, video analytics data, robot controls and systems and persistent communication to the cloud.
What should other companies in RAD's position consider when trying to secure their network and improve reliability?
It is important for companies to find a service that can rapidly deploy and dynamically manage networks like Cradlepoint can. Their ability to improve productivity, reduce costs and enhance the intelligence of network and business operations have played a major role in our success.
Are you working on any other technologies or applications that you would like to talk about here?
We currently have our second-generation outdoor security robotics platform under development, and are expecting it to be releasing by the end of the year. Using tech evolving from US Military contracts we expect to have the ultimate outdoor robotics platform.
Furthermore, we have begun conversations with a major telecom to potentially pioneer 5G with some of our current hardware solutions. 5G will bring on massive change and we're excited to be at the forefront of it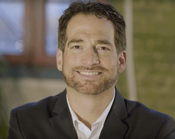 About Steve Reinharz
Steve Reinharz is the founder and President of Robotic Assistance Devices (RAD). A proven, seasoned leader in the physical security industry with 20+ years of experience holding various roles in multiple disciplines, Mr. Reinharz has led RAD to create and launch a successful line of artificial intelligence powered solutions specific for the guarding and concierge industries.
Mr. Reinharz's experience is multi-faceted in that he's been an end user, created and managed his own security integration firm and held various other industry roles. Mr. Reinharz speaks and works panels at ISC East and West and ASIS.
The content & opinions in this article are the author's and do not necessarily represent the views of RoboticsTomorrow
---
Comments (0)
This post does not have any comments. Be the first to leave a comment below.
---
Post A Comment
You must be logged in before you can post a comment. Login now.
Featured Product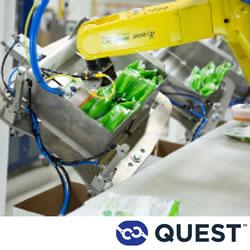 Quest is a leading manufacturer of industrial automation equipment focusing on robotics and vision-guidance. With expertise in the food, beverage, and dairy, Quest optimizes floor space for customers experiencing growing demand and helps improve their overall production line flexibility and efficiency. Quest offers application-specific software on their robotic products, including pick and place, case packing, and palletizing systems to simplify system setup and streamline configurability. Quest is a product brand of ProMach, a global leader in packaging line solutions.