We provide motion control solutions in the form of electric motors, drives and motion control solutions for OEM Customers who are unsatisfied with having to design around inflexible off-the-shelf products.
RoboticsTomorrow.com – Q&A with ElecroCraft
Q&A with | ElectroCraft
Tell us about ElectroCraft.
ElectroCraft is owned by DMI Technology and has been manufacturing electric motor products for over 100 years.


Where are you based?
ElectroCraft is headquartered in Stratham, New Hampshire and operates internationally with manufacturing facilities located in North America, China and the United Kingdom.
What services do you provide?
We provide motion control solutions in the form of electric motors, drives and motion control solutions for OEM Customers who are unsatisfied with having to design around inflexible off-the-shelf products, our technical knowledge and customizable product families provide for a design experience which results in motor and motion systems that deliver superior reliability and performance at the lowest possible cost.


What specialist industry sector would you place yourself in?
ElectroCraft services a wide range of markets. Some of our more interesting, challenging and successful motion control project have recently been in the areas of medical and scientific equipment, HVAC applications, mobility and mobile platforms, agriculture, industrial machinery, and transportation markets.
What benefits do your products bring to clients that your competitors
do not?
Why ElectroCraft? ElectroCraft was formed to build custom motion solutions for our OEM customers to provide innovation for a better and safer life for current and future generations.
Are there any new or specific products you would like highlight?
ElectroCraft's RPX and LRPX BLDC motor and gearmotor lineup is formidable and innovative! It has high torque density and a small form factor. This means it is small and powerful. The geared LRPX versions also feature a unique integrated gearbox that allow for maximum torque from a BLDC motor at peak efficiency. You can check out this greatly simplified video here
The ElectroCraft Mobile Power products are also an exciting area of growth as they are the motion foundation for a wide range of mobility solutions including AGV, AMR, Medical Mobility solutions, and more.


You recently expanded your CompletePower™ Plus Family of DC Motor Drives, tell us about that.
The CompletePower™ Plus Universal Drive combined with ElectroCraft CompleteArchitect™ configuration software takes performance, efficiency and flexibility to the next level, utilizing state-of-the-art digital drive technology combined with an intuitive and highly configurable user interface. Perfect for a wide range of applications, the Universal Drive offers multiple control methods including analog velocity, analog torque, or step & direction positioning, and is fully compatible with a wide range of motor architectures, including Brushless DC motors, PMDC Brush Motors, Open-Loop and Closed-Loop Stepper Motors. There are now four standard capacities in the model lineup, supporting 12 to 80 VDC motor windings and providing up to 24A continuous and 60A peak output current, while customized versions are also offered to meet large volume OEM requirements.
For applications that require more advanced control capabilities, ElectroCraft's PRO Series is the answer. The PRO Series drives incorporate a fully programmable motion controller with built-in networking and are available in a variety of hardware configurations including stand-alone, PCB mount or as part of an integrated motor drive solution. Whether you are controlling a single drive or multiple drives in a networked system, configuration and programming is easy using ElectroCraft's powerful MotionPRO Suite software.
The content & opinions in this article are the author's and do not necessarily represent the views of RoboticsTomorrow

Electrocraft Inc.
ElectroCraft, Inc. is a global provider of dependable, application-engineered fractional-horsepower motor and motion products. Our products are found in thousands of different applications within industrial, commercial, and consumer product markets. While ElectroCraft provides a wide array of standard products with many configurable options, we have built our brand on custom OEM solutions that meet the precise performance, cost and quality our customers require.
Other Articles
If the OEM uses well-designed, proven components, the mobile platform will provide many years of service, handling cumbersome, heavy loads efficiently with minimal downtime for maintenance.
The lifetime cost of ownership of a mobile robot is largely influenced by the design of its drivetrain. If the OEM uses well designed and proven components, the mobile robot will provide many years of service with minimal downtime for maintenance.
The ElectroCraft CompletePower™ Plus Universal Drive takes the guesswork out of selecting and configuring a drive and motor combination by incorporating all of the features and functions necessary to provide optimal control of a wide variety of brushless DC motors.
---
Comments (0)
This post does not have any comments. Be the first to leave a comment below.
---
Post A Comment
You must be logged in before you can post a comment. Login now.
Featured Product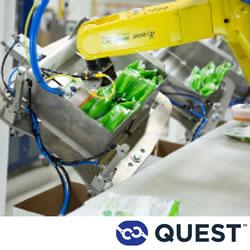 Quest is a leading manufacturer of industrial automation equipment focusing on robotics and vision-guidance. With expertise in the food, beverage, and dairy, Quest optimizes floor space for customers experiencing growing demand and helps improve their overall production line flexibility and efficiency. Quest offers application-specific software on their robotic products, including pick and place, case packing, and palletizing systems to simplify system setup and streamline configurability. Quest is a product brand of ProMach, a global leader in packaging line solutions.