The camera control, which gives the robot the flexibility for an infinite variety of parts, and the EasyControl graphical user interface with its easy-to-understand input screens that allow users to automate without any robot knowledge.
Automated Loading and Unloading of CNC Machines
Case Study from | Zimmer Group
The German machine tool industry in the SME sector is currently experiencing difficult times. The reasons for this are diverse: in addition to the structural change in the automotive industry, fluctuating order intake, rising production costs, decreasing batch sizes, lack of qualified labor and price pressure from low-wage countries, trade policy conflicts and the global impact of the coronavirus pandemic are now also making life difficult for medium-sized contract manufacturers. Difficult times, however, also offer the opportunity to reinvent oneself - and so one possible solution to emerge from the crisis is to push ahead with automation in machine tool manufacturing. After all, automation is about significantly increasing the availability and flexibility of production facilities and compensating for the shortage of skilled workers.
Camera-assisted loading and unloading by robot
In order to take account of the trend towards automation in machine tool manufacturing, the Stuttgart-based company SHERPA Robotics has now launched the SherpaLoader® - a camera-controlled robot cell specially designed for loading and unloading CNC machines. Depending on the specific process, further stations are integrated into the loading process: Pre-stamping, turning (for processing the second side), measuring (for quality assurance) and marking (for ISO 9001-compliant traceability). Basically, the more stations that are integrated into the process, the more effective the automation. The new SherpaLoader® is of interest to metal and plastics cutters who produce small and medium batch sizes. These are, on the one hand, medium-sized contract manufacturers, but also international groups with a high vertical range of manufacture that produce components in-house.
Also interesting for large OEMs
In addition to the above-mentioned end users, this solution is also worthwhile for manufacturers of machine tools (OEM) with large quantities. These offer high-quality and complex full automation for their processing machines for large customers - mostly from the automotive industry. For smaller batch sizes and smaller medium-sized customers, however, very few OEMs have an in-house solution in their portfolio. However, customers prefer that the high-quality processing machine and flexible automation come "from a single source" and so a strategic partnership with SHERPA Robotics and its solution is desirable for these machine tool builders.
Part detection with 3D vision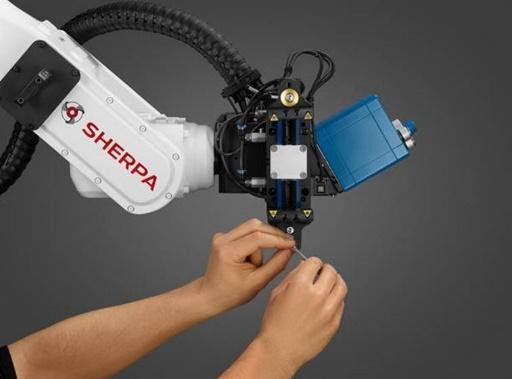 The SherpaLoader® can see: With a 3D vision system, it automatically detects raw parts and feeds them into the clamping system of the CNC machine

The loading process is very simple: The operator places the SherpaLoader® system in front of the production machine using a lift truck, as well as the corresponding loading medium, e.g. table trolleys or pallets. The raw parts to be processed are prepared without laser-cut sheet metal templates and without the setup effort that would be necessary with conventional systems. This is because the 3D vision system of the loading robot automatically detects the randomly deposited raw parts, picks them up and feeds them into the clamping system of the CNC machine. After machining, the robot removes the finished workpieces from the CNC machine and places them back on the loading medium. In this process, the effective spindle time is at a maximum because the pick-up of new workpieces and the depositing of finished workpieces take place "in parallel" to the machining time, i.e. during the ongoing machining by the CNC machine.
Gripping technology with central role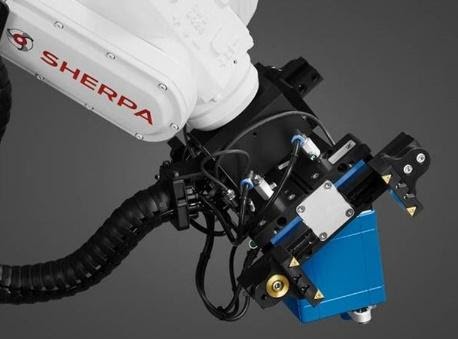 The gripper system with Zimmer Group's GPP5000 parallel grippers and GPD5000 centric grippers with quick adjustment grips cylinders and right edges from 15 to 300 mm in diameter, as well as shafts up to 750 mm in length and up to 35 g individual part weight.

Without the appropriate gripping technology, even the best loading robot is useless, and so the grippers used also play a central role in the SherpaLoader®. For this so important and above all so reliable activity, SHERPA Robotics has chosen the gripper specialist Zimmer Group from Rheinau. SHERPA Robotics relies on the 2-jaw parallel grippers of the GPP5000 series and 3-jaw centric grippers of the GPD5000 series. The grippers of the 5000 series are extremely robust, universally applicable pneumatic grippers that offer high gripping forces with short cycle times and also boast a high level of exchange accuracy.
"The decisive factors for us in choosing Zimmer grippers were reliable gripping of a wide variety of workpieces and conditions, as well as the guaranteed freedom from maintenance of 30 million cycles. For a CNC automation application, this is equivalent to a lifetime warranty," says Dr. Langenberg of SHERPA Robotics.
The GPP/GPD5000 series of grippers, which recently won IF and Red Dot Design Awards, currently make up the premium line at Zimmer Group with a robust, hard-coated steel-in-steel profile slot guide. They have virtually unbeatable robustness and very high gripping forces. The GPP/GPD5000 are also insensitive to overload, which benefits the SherpaLoader® in its work with an extremely high variance of workpieces under sometimes adverse operating conditions. The grippers' specially coated gripper jaws, low coefficient of friction and good emergency running properties ensure that the grippers - as mentioned above - can handle 30 million cycles without maintenance. Such continuous performance is possible because the gripper jaws are equipped with lubrication pockets for a reliable supply of lubricant and the developers have also used a double wiper for sealing the prismatic guides. The outer sealing lip wipes off dirt and dust, while the inner sealing lip ensures that the grease supply is maintained over the entire service life. With this double seal, the grippers have a tightness class of IP64 - a value that competitor products can only achieve with additional protectors, if at all.

Higher productivity and fast payback
As an intelligent automation system, the SherpaLoader® addresses two issues: On the one hand, it increases yield through unmanned production after closing time - at night, on weekends, on public holidays or, for example, during corona shutdowns. On top of this, it delivers additional yield through reduced non-productive time, because breaks and cumbersome retooling are eliminated. On the other hand, the loading robot increases productivity, because a large number of production machines can be supervised by just a few operators. This reduces production costs. An optimally used SherpaLoader® often pays for itself in the first year.
Cooperation with the Zimmer Group
Now that the uncertainty caused by Corona has given way to the realization that entrepreneurial success in Germany is possible primarily with automation, new order records are emerging at SHERPA Robotics. And so the company continues to invest in technological innovations at its production site in Stuttgart, spending a total of 11% of sales on research and development.
The company is very satisfied with its cooperation with the Zimmer Group in the field of gripping technology, and so Managing Director Florian Andre expresses his satisfaction:
"The good reputation of SHERPA Robotics is based on its high innovative strength, and it is not without reason that the SherpaLoader® is the original of camera-controlled CNC automation. The Zimmer Group is also known for its inventive spirit, especially in the handling sector - and so I am counting on intensive cooperation with the Zimmer Group to participate in their innovations in the field of gripper development."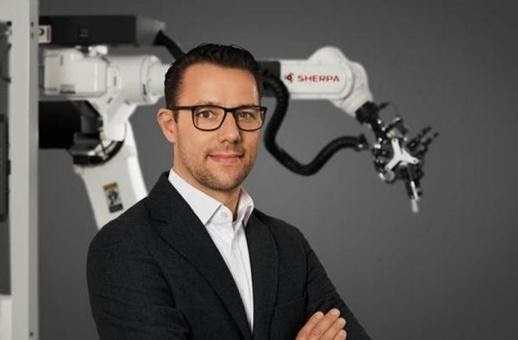 The company is very satisfied with the cooperation with the Zimmer Group in the field of gripping technology, and Managing Director Florian Andre of SHERPA Robotics is very pleased with the results.
There is no doubt for SHERPA Robotics that the future of machine tool manufacturing is automated and they are looking forward to further cooperation with Zimmer Group.
Further information at www.zimmer-group.com www.sherpa-robotics.com , videos of the SherpaLoader® in action at youtube.com/SherpaRobotics24.
The content & opinions in this article are the author's and do not necessarily represent the views of RoboticsTomorrow

Zimmer Group US, Inc.
Are you interested in premium products in the fields of mechanical and plant engineering? Do you want to learn more about our solutions in the fields of automation, damping, linear, processing, tooling, and machine tooling technology?
Other Articles
For the aircraft conversion, Zimmer Group supplied an air-cooled spindle including EtherCAT operator terminal and frequency converter.
Industrial Dampers cushion vibrations in machines. In order to fulfill this task perfectly, there are a large number of different types. To find the right variant for your own application, the load cases should be examined in detail.
Almost all tasks that previously had to be carried out by hand at Zimm are now performed fully au-tomatically by a KR QUANTEC and a KR AGILUS from KUKA. The five-axis milling machine is supplied with raw material via a lift system.
---
Comments (0)
This post does not have any comments. Be the first to leave a comment below.
---
Post A Comment
You must be logged in before you can post a comment. Login now.
Featured Product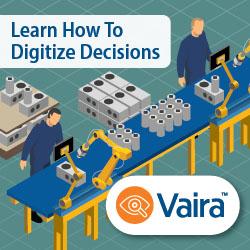 Vaira™ helps manufacturers digitize, automate, and upgrade error-prone manual processes and decisions to boost productivity and increase profits by helping humans make decisions consistent, reliable, and traceable. The camera-based solution is powered by a scalable suite of shop floor-ready apps built on proven machine vision and AI expertise for frontline manufacturing operations, with two-way integration to resource planning tools to help drive continuous analysis, insight, and improvements. Start digitizing immediately, streamlining processes customized to your unique requirements and reduce errors that lead to costs, delays, and quality concerns.