PACK EXPO 2022 takes place October 23rd - 26th in Chicago, Illinois. The Exhibit hall floor will be loaded with new products and services. Here is a preview of some things to look forward to at this years event.
PACK EXPO 2022 Product Preview
Article from | RoboticsTomorrow
PACK EXPO 2022 Product Preview
Featured Products

PACK EXPO Booth #S- 3194

In order to interact with their environment and perform the tasks, lightweight robots, like all industrial robots, depend on tools - and in many cases these are vacuum grippers. These form the interface to the workpiece and are therefore a decisive part of the overall system. With their help, the robots can pick up, move, position, process, sort, stack and deposit a wide variety of goods and components. Vacuum gripping systems allow particularly gentle handling of workpieces, a compact and space-saving system design and gripping from above. Precisely because the object does not have to be gripped, the vacuum suction cupenables gapless positioning next to each other.

PACK EXPO Booth #N-6319

The QC-29 Robotic Tool Changer brings the powerful and rugged technology of ATI's Heavy Duty Tool Changers to the 25-35 kg payload class, and is the first standard ATI Tool Changer designed to mount directly to 40 mm and 50 mm robot wrists.

ATI's QC-29 also includes in-body lock/unlock sensing and our Fail-Safe locking mechanism. Built-in pneumatic pass-through ports and three module mounting flats make connecting utilities easy and ensures maximum repeatability for high-precision tool changing.

PACK EXPO Booth #N-5546

Show attendees will see Brenton's redesigned MP1000 Robotic Bulk Palletizing / Depalletizing End of Arm Tool that can pick up full layers of product at one time. A great time-saving solution for a variety of industries, including plastic container manufacturers, the MP1000 provides consistent tight layer grids of palletized and depalletized product through cradle and place technology that combines a servo-operated rotary tool and slat system to gently handle full layers of product weighing up to 500 pounds with each motion. Cradle and place technology outperforms traditional roller or vacuum pick and place systems, which can leave trays behind or fail to handle certain bulk items. The MP1000 is the ideal solution for palletizing and depalletizing applications for empty or full bulk items, bags, cans, bottles, or irregular-shaped packs. It also works well for handling cases, open or sealed cases, trays, display packs and bundles.

PACK EXPO Booth #N-5534, N-5540

Quest is a leading manufacturer of industrial automation equipment focusing on robotics and vision-guidance. With expertise in the food, beverage, and dairy, Quest optimizes floor space for customers experiencing growing demand and helps improve their overall production line flexibility and efficiency. Quest offers application-specific software on their robotic products, including pick and place, case packing, and palletizing systems to simplify system setup and streamline configurability. Quest is a product brand of ProMach, a global leader in packaging line solutions.

PACK EXPO Booth #N-4923

Turck has launched its redesigned M12 connectors and receptacles. The new design includes a patented torque sleeve that eases the installation of every cordset while also improving its ability to keep contaminants out. It also provides improved vibration performance. In automotive and mobile equipment manufacturing as well as logistics, safe and reliable communication between machines and systems is critical. This next generation M12 helps ensure industrial communication is not put at risk in tough applications. Straight/right-angle, male/female, 3/4/5 pole configurations that are 18-24 awg and unshielded are currently available, with additional configurations available in 2023.

The patented design provides tactile feedback so when the sleeve is turned, users feel a snap, signaling that the required minimum torque is achieved. This ensures the product is resistant to accidental disconnection and keeps the interworking of cordsets and receptacles free of contaminants such as dust, oil, and water – and critical signal transmission stays flowing. Certifications for this design include UL 2238, CE, CSA as well as IEC IP67, IP68, IP69K, NEMA 1, 2, 4, 6P and 12.

PACK EXPO Booth #N-6242

In the booth will be active demonstrations showcasing our three product divisions of Vacuum Automation, Vacuum Conveying and Lifting Automation.

A new product to be featured in our booth is the Cobot Palletizing Tool (CPT).

The CPT is a compact solution for palletizing boxed-in products using cobots. Its gripper surface enables irregular as well as multiple picks in one move. Combined with its light weight, the wear on the robot is reduced, increasing its lifetime. Uniting the capabilities of many EOATs in just one, the CPT cannot only reduce tools costs by up to 80%, it also frees up valuable engineering time for other important projects.

Industry 4.0 capabilities - Equipped with the IO Link ready piSMART Valve Unit, features like predictive maintenance are enabled.

PACK EXPO Booth #N-4974

The complete LogiDrive® solution provides an energy-efficient, standardized, and service-friendly drive system that is ideal for high-volume warehousing, manufacturing, and packaging systems. The choice of IE4 or IE5+ Permanent Magnet Synchronous Motor (PMSM) technology enables drives to maintain high efficiency even within partial load ranges and at low speeds. LogiDrive also minimizes Total Cost of Ownership (TCO) throughout service life, providing a faster return on investment, and maximizing system availability. When NORD gear units and motors are paired with NORDAC LINK VFDs as a part of the LogiDrive system, a wide speed range with high precision regulation is achieved to deliver automation for stacker cranes, automated guided vehicles, a wide variety of conveyors, and more.

PACK EXPO Booth #S-3832

Productivity is always a main concern in the packaging industry – and with recent advances in collaborative and mobile technology that applies to end-of-line palletizing and logistics too. That's exactly what you will experience at Omron booth S-3832 at Pack Expo this year – an interactive display that empowers people through automation.

This year, Omron is showcasing an autonomous logistics solution, where the TM series cobot builds a pallet on top of the LD-250 autonomous mobile robot (AMR). A conveyor brings boxes to the cobot, which uses its integrated vision and gripper to pick and place them onto a pallet sitting atop the AMR. The AMR then travels to a designated destination to deliver the boxes and comes back when it has finished.

Tour Omron booth S-3832 or pre-schedule a personal demonstration with one of our robotics engineers.

PACK EXPO Booth #N-5148

Tune in live on October 12 to be among the first to see what's new in the upcoming release of Solid Edge 2023. Hear real feedback from early access beta users and ask questions and interact with Siemens experts via live chat.

PACK EXPO Booth #N-5725, EB-67

Dorner's new 2700 Medium Duty Conveyor adds an extra boost in load capacity to carry heavier products for a variety of industrial automation and packaging applications including palletizers, multi-lane processing, case and tray handling, and end-of-line packaging. The 2700 Medium Duty fills a gap between Dorner's low profile 2200 and 3200 heavy duty platforms. The 2700 Series is engineered to safely convey up to 150 pounds. This expanding portfolio of industrial conveyors give customers a full breadth of options to select the right platform for their specific application

PACK EXPO Booth #S-4026

EPC's Tru-Trac® linear measurement solutions are the original all-in-one encoder, measuring wheel, and torsion arm designed to be compact and easy to use. When applied in conveying systems, the Tru-Trac® models provide the motion feedback required by line scan cameras for product inspection and rejection, pick-and-place robots, laser and ink jet marking, and more.

Each Tru-Trac® model has a spring-loaded torsion arm that offers adjustable torsion load, allowing it to be mounted in any orientation – even upside-down. Both the Model TR1 and the heavy-duty Model TR3 are available with a choice of measuring wheel. In addition, choose a single or dual wheel for the Model TR3. With operating speeds up to 3000 feet per minute and a wide variety of configuration options, the Tru-Trac® line of encoders are specifically engineered for linear measurement.

PACK EXPO Booth #N-5469

"Until now, robotic automation has faced technical challenges with conventional palletizing, as it can only manage a limited number of case sizes with known stacking sequences," said Alex Choe, President of CMES Robotics. "CMES Robotics has created a flexible and dependable solution for mixed case palletizer by providing a software that works with popular industrial robots."

Combining technologies of CMES Robotics robot vision and AI algorithm, BHS Robotics depalletizing platform and an ABB IRB 2600 robot, the mixed palletizing solution can handle almost any type of boxes, cartons, bags, and pallet types. Additionally, the mixed palletizing software helps address labor shortages and reduce worker injuries related to stressful and tedious manual labor.
To unsubscribe or modify your subscription please click the "Update Profile" link in the footer of this message to select the content you wish to receive. This information can be updated at any time.
Thank you for trusting us with your personal information, we value you and your privacy.
You can review our Privacy Policy here.
We look forward to staying connected.
The content & opinions in this article are the author's and do not necessarily represent the views of RoboticsTomorrow
---
Comments (0)
This post does not have any comments. Be the first to leave a comment below.
---
Post A Comment
You must be logged in before you can post a comment. Login now.
Featured Product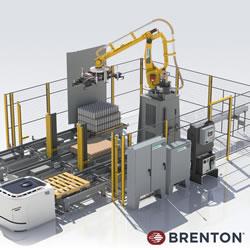 Brenton is a leader in robotic solutions with standard product offerings including palletizing and depalletizing for efficient an option for carrying hard-to-handle products, as well as larger scale systems with an optimized footprint; and case and carton loading solutions for numerous industries. In addition, Brenton works with customers on integrated solutions, offering robotics in a broad spectrum of robotics to fully integrate end of line systems. Brenton helps packaging customers protect their reputation and grow the trust of their consumers.