Technology enables robots and autonomous vehicles to automatically plan and respond to changing environments
-Realtime Robotics, the inventor of responsive motion planning for industrial robots and autonomous vehicles, announced today that it has raised $11.7 million in Series A funding. Led by SPARX Asset Management the round included participation from Mitsubishi Electric Corporation, Hyundai Motor Company, and OMRON Ventures, alongside existing investors Toyota AI Ventures, Scrum Ventures, and the Duke Angel Network. The new capital will be used to accelerate the development of more commercial product releases and expand the team to support key customers and partners across the globe.

The interest in the round reflects Realtime Robotics' first-mover advantage in the market for solutions that eliminate the obstacles to widespread adoption of advanced automation in industrial, agriculture, food service, construction, healthcare, and consumer settings.
Despite the growing demand for automation, today's robots are not safe or smart enough to navigate in dynamic, unstructured environments, without costly safeguards and oversight. Realtime Robotics' solutions eliminate these challenges and enable robots to work at a productive pace. Its specialized computer processor and software enable machines, including industrial and collaborative robots and autonomous vehicles, to evaluate millions of alternative motion paths to avoid a collision and choose the optimal route before making a move, all in milliseconds. It released its first commercial solutions RapidPlan and RapidSense earlier this year and you can see the automatic planning technology in action here.
Realtime Robotics was founded in 2016 by Duke University professors Dan Sorin, George Konidaris and researchers Sean Murray and Will Floyd-Jones, based on groundbreaking DARPA-funded research in motion planning.
Quotes and Commentary
"The commitment garnered from strategic investors reflects both the need and the demand for smarter robots. Our technology transforms the way machines interact with both people and other machines. Robots will now be able to take on a wide range of new tasks and manufacturers will finally benefit from the productivity and efficiency gains that increased automation has promised, but failed to deliver."
Peter Howard, CEO, Realtime Robotics
"Realtime Robotics' technology is ground-breaking and will transform the deployment of robotic automation across a range of industries. We're proud to work closely with the team as they begin to help their customers reduce the friction, cost, and complexity of automation."
Seiji Miyasaka, Head of US Investment Team, SPARX Asset Management Co., Ltd.
"We are excited to partner with Realtime Robotics to deliver the first fleet of robots that can work smartly and respond to changing environments on the fly. Our investment will accelerate the adoption of safe and productive robotic systems across the globe and will ensure that robots realize their potential in industrial settings and beyond."
Satoshi Takeda, Senior Deputy General Manager of Nagoya Works, Mitsubishi Electric
"Dynamic motion planning in real time for unstructured environments has been a long-standing problem in robotics. OMRON Ventures is proud to support Realtime Robotics, whose innovations can vastly improve the capability and applicability of industrial robots leading to the creation of new business opportunities in this area."
Tomoko Inoue, CEO, OMRON Ventures
About Realtime Robotics
Realtime Robotics has developed responsive motion planning solutions for industrial robots and autonomous vehicles. Its specialized processor generates safe robotic motion plans in milliseconds, enabling robots to function in unstructured, collaborative work-spaces, reacting to a dynamic world the instant changes are perceived. Its solutions expand the potential of automation. Learn more about Realtime Robotics here and connect on Twitter and LinkedIn.
Featured Product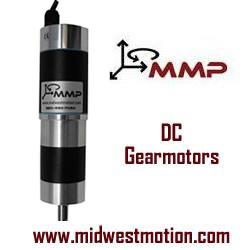 Midwest Motion Products, Inc. (MMP), is a well-established, healthy, & growing Family Owned Business, founded in 2001. MMP specializes in cost-effective standard DC Gearmotors, Motors, Controls, and ancillary equipment. Known world-wide for our "Lightning Fast" delivery capabilities, you can have a Standard Planetary or Right Angled DC Gearmotor BUILT and SHIPPED, often on the very same day you call. Offering Brushed and Brushless designs, with winding voltages ranging from 12 VDC to 120 VDC, we can deliver your "Robust & Reliable" samples within HOURS, instead of weeks, or even months.