Milestone marks the most widely produced ground robot used by America's military since Operations Enduring Freedom and Iraqi Freedom
FLIR Defense, part of Teledyne Technologies Incorporated (NYSE:TDY), recently delivered the 1,000th robot under its Man Transportable Robot System Increment II (MTRS Inc II) contract with the U.S Army and other services.

Produced at the FLIR Defense facility in Elkridge, Maryland, the MTRS Inc II ground robot (also known as Centaur®) is used by Explosive Ordnance Disposal (EOD) teams to disable improvised explosive devices, landmines, and unexploded ordnance and to perform similar dangerous tasks. Operators also can quickly attach different sensors and payloads to the robot to address other missions, including chemical, biological, radiological and nuclear (CBRN) threats.
The U.S. Army chose FLIR Defense (formerly Endeavor Robotics) in 2017 as the MTRS Inc. II system provider for a multi-year program of record. Since then, other military branches have procured the robot for their EOD units as a new or replacement unmanned ground system. Teledyne FLIR Defense has received orders for over 1,800 MTRS Inc. II robots from the Army, Navy, Air Force, and Marine Corps, totaling more than $250 million.
"We are honored that this versatile robot has become the most widely produced tactical unmanned ground vehicle used by America's military since the Gulf Wars," said Dr. JihFen Lei, executive vice president and general manager of FLIR Defense. "Our team in Elkridge and around the world is proud to build technology platforms like Centaur that our Soldiers, Sailors, Airmen and Marines rely on to keep them from harm's way during hazardous missions."
The MTRS Inc II robot is a medium-sized UGV that provides a standoff capability to detect, confirm, identify, and dispose of hazards. Weighing roughly 160 pounds, the rugged robot features an advanced visual/thermal camera suite for day/night operation, a dexterous manipulator arm that reaches over six feet, and the ability to climb stairs. Modular payloads can be used for CBRN detection and other operations.
About Teledyne FLIR
Teledyne FLIR, a Teledyne Technologies company, is a world leader in intelligent sensing, unmanned systems, and integrated solutions for defense and industrial markets, with roughly 4,000 employees worldwide. Founded in 1978, the company develops a wide range of advanced technologies to help professionals make better, faster decisions that save lives and livelihoods. To learn more, visit teledyneflir.com or follow us on social media. #AnyThreatAnywhere
About Teledyne Technologies
Teledyne Technologies is a leading provider of sophisticated digital imaging products and software, instrumentation, aerospace and defense electronics, and engineered systems. Teledyne's operations are primarily located in the United States, the United Kingdom, Canada, and Western and Northern Europe. For more information, visit Teledyne's website at www.teledyne.com.
Featured Product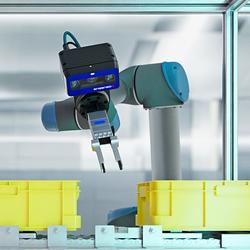 Combining the ease of use of a webcam with the performance and reliability of an industrial camera? The uEye XC autofocus camera from IDS Imaging Development Systems proves that this is possible. Its high-resolution imaging, simple setup and adaptability make it an invaluable tool for improving quality control and streamlining workflows in industrial settings - especially for cases where users would normally employ a webcam. The uEye XC autofocus camera features a 13 MP onsemi sensor and supports two different protocols: USB3 Vision, which enables programmability and customization, and UVC (USB Video Class). The UVC functionality enables a single cable connection for easy setup and commissioning, while delivering high-resolution images and video. This makes the uEye XC camera an ideal option for applications that require quick setup and need to manage variable object distances. Additional features such as digital zoom, automatic white balance and color correction ensure precise detail capture, which is essential for quality control.