Association for Advancing Automation (A3) expands powerhouse briefing into two-day event, including new half-day introductory course, to help manufacturers in data strategy, advances in AI robotics, machine vision, and AI-powered optimization and prediction
ANN ARBOR, Michigan - September 25, 2023. In just two weeks, experts in artificial intelligence (AI) and smart manufacturing will converge in Pittsburgh to share the latest innovations and best practices at the AI & Smart Automation Conference. After the success of last year's inaugural one-day event, organizer Association for Advancing Automation (A3) expanded the powerhouse briefing into two full days to give manufacturers and others additional opportunities to learn about data strategy, advances in AI robotics and machine vision, and AI-powered optimization and prediction. Registration for the October 10-11 conference is open at https://www.automate.org/events/ai-and-smart-automation-conference-2023.

"Implementing AI to solve production challenges continues to be a massive topic in nearly every industry, so it only made sense to expand this educational event to give attendees even more knowledge and best practices to take back to their organizations," said Robert Huschka, vice president of education strategies, A3. "Those that know AI and our industry best will be there to explore how AI is being used now, what is possible and how to get started today."
Agility Robotics co-founder and CEO Damion Shelton will keynote the conference, discussing large language models such as ChatGPT and physical intelligence in robots. Shelton is a jack-of-all-trades roboticist who left academics to focus on building products rather than proof-of-concepts. Prior to Agility, Shelton was co-founder of threeRivers 3D, where he was the CTO and designer of a low-cost, high-volume laser scanner for novice users in the healthcare space.
Educational sessions and panels showcase the latest tips and best practices
The AI & Smart Automation Conference kicks off with a new half-day course designed specifically for manufacturing and industrial professionals. Taught by Kence Anderson, CEO & co-founder of Composabl, Inc., this course will teach how to use AI to make decisions, improve quality and processes and reach significant ROI.
The agenda also features panel discussions and individual sessions, including:
• How To Put Artificial Intelligence to Work Today in Your Operations, a panel discussion with Eric Danziger of InvisbleAI, Paul Thomas of P&G, Rajat Gupta of Microsoft and Juan Luis Aparicio of Robota Labs.
• How Artificial Intelligence Can Create Manufacturing Agility with Steffen Klawitter of Digital Industries
• High-Fidelity Simulation for Robotics and Automation with Buck Babich of NVIDIA
• Usability, User Experience and Autonomy with Kel Guerin of READY Robotics
• Seeing the Future: How AI and Machine Vision are Powering Automation, a panel discussion with Arye Barnehama of Elementary and Rajesh Iyengar of Lincode Labs Inc.
• AI and Machine Learning Enabling Manufacturing Process and Supply Chain Transformation with Larry Sweet, ARM (Advanced Robotics for Manufacturing) Institute
• Human-Centric Manufacturing Process Analytics and Optimization with Itay Cnaan-On, Industrial Next
• Unleashing the Power of Artificial Intelligence and Augmented Reality Within Manufacturing with Ted Rozier, Festo
• Intelligent Autonomous Agents with Kence Anderson, Composabl, Inc.
• The State of Industrial AI Reseach
Register for A3's Educational Conferences Now
The AI & Smart Automation Conference is co-located in Pittsburgh with the International Safety Robotics Conference(ISRC), which will offer conference sessions and workshops that examine key issues in robot safety and provide an in-depth overview of current industry standards and best-practices.
About Association for Advancing Automation (A3)
The Association for Advancing Automation (A3) is the leading global advocate for the benefits of automating. A3 promotes automation technologies and ideas that transform the way business is done. Members of A3 represent nearly 1200 manufacturers, component suppliers, system integrators, end users, academic institutions, research groups and consulting firms that drive automation forward worldwide.
A3 hosts a number of industry-leading events, including Automate 2024 (May 6-9, 2024, in Chicago); the International Robot Safety Conference 2023 (October 9-11, Pittsburgh, Pennsylvania); AI & Smart Automation Conference 2023(October 10-11, 2023, Pittsburgh, Pennsylvania); A3 Business Forum (January 15-17, 2024, Orlando, Florida) and the Autonomous Mobile Robot & Logistics Conference (October 8-10, 2024, Memphis, Tennessee)
Featured Product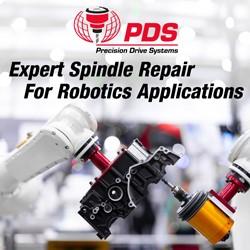 Precision components machined by CNC robot machining systems require compact, lightweight, and high-speed motorized spindles capable of delivering higher efficiency, performance, and reliability than those used in many other industries. That's why manufacturers of milling, cutting, trimming, grinding, polishing, and deburring trust Precision Drive Systems (PDS) to provide accurate and dependable spindle repair to perform to the most exacting standards.