Robotmaster just completed a very successful show at Industrie Paris 2016, and throughout the week of Monday April 11, Robotmaster will be present at the 4 most major tradeshows spanning throughout 2 continents.
The first show, CTMS 2016, started on Friday, April 8 and ends on Tuesday, April 12 in Tainan City, Taiwan. The Robotmaster booth (A405-406), hosted by Chung Yi Technology Co., Ltd., will demo robotic de-burring using part-to-tool with a Fast Rich robot programmed with Robotmaster.

Monday, April 11 - 15 will have Intercam SA at the 2016 CCMT show at the New International Exhibition Center in Shanghai in booth N3-617.
MACH 2016 in Birmingham, UK will also be from Monday, April 11 - 15 and will have 4D Engineering Ltd. at hall 4 stand 4111 demonstrating Robotmaster.
Both Staubli Korea and Intercam SA will both have Robotmaster programming their Staubli robots at SIMTOS 2016 in their booths but for 2 different applications. Staubli Korea (booth 07D310) will be featuring robotic hammer peening with their Staubli TX90 robot programmed with Robotmaster, while Intercam SA will be at booth 07E00 and they will have a Staubli TX90 robot programmed with Robotmaster demonstrating robotic de-burring.
The show runs from Wednesday, April 13 all the way through to Monday, April 17 at the KINTEX in Seoul, Korea.
To finish off the month of April, Empower Technologies (LaserMech Taiwan), supported by Shuz Tung Machinery, Staubli Korea and Intercam SA will be at the Kaoshiung Industrial Automation Show 2016 at booth S1005 in Taiwan. They will be feauturing live robotic laser cutting on a Staubli TX90 programmed with Robotmaster.
Globe trotters can catch Robotmaster in action simultaneously on different continents!
Featured Product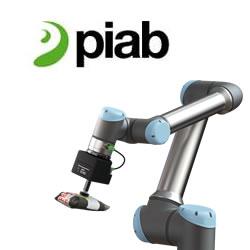 Piab's Kenos KCS gripper enables a collaborative robot to handle just about anything at any time. Combining Piab's proprietary air-driven COAX vacuum technology with an easily replaceable technical foam that molds itself around any surface or shape, the gripper can be used to safely grip, lift and handle any object. Standard interface (ISO) adapters enable the whole unit to be attached to any cobot type on the market with a body made in a lightweight 3D printed material. Approved by Universal Robots as a UR+ end effector.