Caterpillar demonstrates its autonomous mine truck fleet at the Tinaja Hills Demonstration and Learning Center. The event detailed plans to expand the autonomous haul truck system to the Komatsu 930E haul truck through a partnership with Torc Robotics.
Caterpillar Inc. provided additional details about its expanded autonomous technology capabilities for the Komatsu 930E mining truck—developed in part with Torc Robotics— at a recent event at its Tinaja Hills Demonstration and Learning Center near Tucson, Arizona, USA.

Announced in January, the 930E retrofit program is part of Caterpillars ongoing effort to meet mining customers needs for autonomous haulage solutions. The product is scheduled to go to market in the first quarter of 2019.
"We want to do all we can to help our customers get the most out of their existing equipment assets," said Sean McGinnis, product manager, Caterpillar Mining Technology. "Modernizing machines with new technology is a proven way to do that."
"We know that most mining operations are made up of equipment from multiple manufacturers," McGinnis continues. "By working with Torc to develop a solution that works on Komatsu trucks, were making it possible for our customers with mixed fleets to get the benefits of our proven autonomy solution. They can boost their equipment availability and overall productivity in the field. And, most importantly, theyll reap the safety benefits that come from autonomy."
The autonomous solution leverages Cat Command, a proven autonomy solution that is part of the companys MineStar™ suite of technology offerings. In addition to autonomous trucks, Command delivers remote control, semi-autonomous or fully autonomous solutions for drills, dozers and underground mining equipment.
The expanded capabilities for the 930E integrate the rest of the Cat MineStar suite — Fleet, Terrain, Health and Detect — for a complete system of technology offerings that help mines manage everything from material tracking to real-time fleet management, machine health systems, safety and more.
"We are committed to increasing safety across all industries through the application of our autonomous technologies," said Torc CEO Michael Fleming. "The work weve done with Caterpillar in mining is a testament to that promise."
The two companies have been working together for more than a decade, and Caterpillar was an early adopter of Torcs autonomous vehicle technology. After sponsoring Torcs winning team in the 2007 DARPA Urban Challenge, Caterpillar implemented Torc technology for some mining applications.
In 2015, the companies worked together on a remote control system for skid steer and compact track loaders. Called RemoteTask™, the system enables operators to precisely control machines from outside the cab—as far away as 1,000 feet (300 meters) and at a safe distance from potentially hazardous tasks and environments.
Today, Torcs autonomous vehicle technology has successfully been applied to other commercial ground vehicles including military vehicles and most recently, consumer cars.
About Torc Robotics
Torc Robotics, headquartered in Blacksburg, Virginia, provides end-to-end self-driving solutions across multiple industries, including automotive, mining, and defense. Founded in 2005, Torc has integrated its components and systems on ground vehicles ranging from consumer SUVs to 300-ton mining trucks—in safety-critical environments. Torc first gained notice when it developed the self-driving software stack for Virginia Tech in the 2007 DARPA Urban Challenge. As one of three winners of the DARPA Urban Challenge, Torc has commercialized this technology through partnerships with original equipment manufacturers (OEMs) and their Tier 1 suppliers.
About Caterpillar
For more than 90 years, Caterpillar Inc. has been making sustainable progress possible and driving positive change on every continent. Customers turn to Caterpillar to help them develop infrastructure, energy and natural resource assets. With 2016 sales and revenues of $38.537 billion, Caterpillar is the worlds leading manufacturer of construction and mining equipment, diesel and natural gas engines, industrial gas turbines and diesel-electric locomotives. The company principally operates through its three product segments - Construction Industries, Resource Industries and Energy & Transportation - and also provides financing and related services through its Financial Products segment. For more information, visit caterpillar.com. To connect with us on social media, visit caterpillar.com/social-media.
Featured Product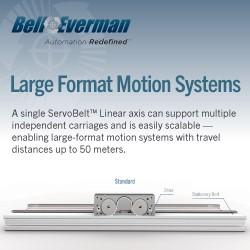 Manufacturing and packaging operations that still depend on manual material or parts handling operations can reap immediate benefits from a type of automation based on long-travel Cartesian robots with custom end-of-arm tooling (EOAT) and advanced sensing capabilities. These robots can support a variety of machines - performing otherwise manual tasks such as machine tending or transferring in-process parts - making long-travel Cartesian transfer robots a major upgrade to processes and operations. Download the White Paper from Bell-Everman