Are you a robot integrator? Have you considered OCTOPUZ not only for your robotic programming but also as a sales tool? Join our webinar this Friday to learn more about the integrator toolkit within OCTOPUZ.
OCTOPUZ is hosting a webinar this upcoming Friday, September 28th, 2018 at 10am EDT titled "From Concept to Reality, and Everything In-Between".

OCTOPUZ is an intelligent offline programming and simulation solution ideal for multiple applications for industrial robots including KUKA, FANUC, ABB, and Yaskawa Motoman.
This webinar of approximately 1 hour, will be a deep dive into the features that belong to our integrator toolkit. Attendees will see how complex designs are created, programmed and simulated in OCTOPUZ.
We will be taking an in-depth look at advanced simulation features such as Virtual Reality (VR) and Works Process, the analytics available through OCTOPUZ to identify and improve the workflow process, and the features within the Drawing Tab.
You can register for this webinar by visiting our website octopuz.com/blog
Featured Product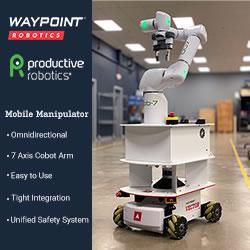 Waypoint Robotics/Productive Robotics omnidirectional 7 DoF mobile manipulator combines the easiest to use, most capable omnidirectional autonomous mobile robot with the simplest and most flexible 7 axis collaborative robot arm. The Vector AMR's omnidirectional mobility enables fast, precise docking in any direction or orientation so the OB7 can perform accurate and precise grasping or picking tasks, taking full advantage of the cobots' 7 degrees of freedom (7 DoF) and superior dexterity. It can be powered using Waypoint's EnZone wireless charger that provides on-demand energy and opportunity charging for longer run times. Workers can use this mobile platform to perform repetitive tasks such as machine tending, quality assurance sampling, material replenishment, packaging, and many others, so they can focus on the high skilled jobs for which they are uniquely qualified. It has never been easier or more cost effective to deploy a mobile manipulator for manufacturing and logistics applications.