Real-time monitoring, diagnostics and asset-level insights help increase reliability and minimize downtime
CHICAGO, Oct. 15, 2018—Honeywell Intelligrated showcases its connected solutions for automated palletizing equipment in end-of-line manufacturing environments at PACK EXPO International booth S-2560. By leveraging data from machine-level sensors, the company provides real-time equipment monitoring, diagnostics and asset-level insights to boost reliability, throughput and performance.

These connected solutions analyze real-time and historic data to detect equipment conditions that could impact performance — such as excess motor vibration,temperature fluctuations or underutilization trends — and provide real-time alerts to help fix critical issues before they affect the entire production process. Compared to routine maintenance programs, this predictive, condition-based model offers significant savings by focusing on the actual health and performance data of the palletizer.
"Unlocking the power of machine data can help reduce the burden of the very intense pressures facing manufacturing operations," said Pieter Krynauw, president, Honeywell Intelligrated. "Our connected palletizing solutions help operators identify and address potential issues before they impact productivity. By leading the digital transformation in manufacturing environments, were giving our customers the tools to continuously optimize critical systems and help protect their bottom line."
Connected offerings can also improve palletizer utilization and throughput rates, uncovering opportunities for improvement that can quickly add up to significant benefits. The system monitors run times to reveal when systems are idle, underutilized or not hitting target throughput rates, and allows operators to quickly identify the root causes, make the necessary corrections and resolve barriers to palletizer productivity.
The Honeywell Intelligrated booth demonstration at PACK EXPO features the Alvey® 890i palletizer, capable of handling a wide range of packaging types, small and difficult-to-handle products in a variety of stacking patterns. An intuitive touch-screen interface offers easy access to advanced diagnostics. Industry-leading safety features and a maintenance-friendly design enable reliable performance in food, beverage and consumer packaged goods operations.
Visit booth S-2560 at PACK EXPO International to see the 890i in action and learn more about Honeywell Intelligrateds connected offerings for palletizing.
Honeywell Intelligrated is a leading single-source provider of intelligent automated material handling solutions and software that drive retail and e-commerce fulfillment productivity. We design, manufacture, integrate and install complete solutions, including conveyor, sortation, palletizers, robotics, and automated storage and retrieval systems — all managed by advanced machine controls and our robust Momentum™ warehouse execution system. Our Connected Distribution Center helps companies make the digital transformation necessary to maximize efficiencies and inform decision making via real-time visibility to assets, automated systems and workers across the enterprise. We back every project with 24X7 multilingual technical support and access to lifecycle services.
Honeywell Safety and Productivity Solutions (SPS) provides products, software and connected solutions that improve productivity, workplace safety and asset performance for our customers across the globe. We deliver on this promise through industry-leading mobile devices, software, cloud technology and automation solutions, the broadest range of personal protective equipment and gas detection technology, and custom-engineered sensors, switches and controls. We also manufacture and sell a broad portfolio of footwear for work, play and outdoor activities, including XtraTuf™ and Muck Boot™ brand footwear.
Honeywell (www.honeywell.com) is a Fortune 100 software-industrial company that delivers industry specific solutions that include aerospace products and services; control technologies for buildings and industry; and performance materials globally. Our technologies help everything from aircraft, buildings, manufacturing plants, supply chains, and workers become more connected to make our world smarter, safer, and more sustainable. For more news and information on Honeywell, please visit www.honeywell.com/newsroom.
###
Featured Product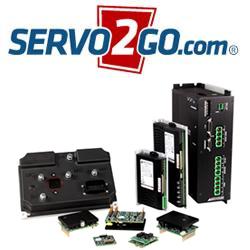 Engineered to drive brushless and brush servomotors in torque, velocity or position mode, Servo2Go.com offers a broad selection of servo drives in a wide range of input voltages and output power levels.