With its various vision functionalities and simple, intuitive programming environment, OMRON will further enable safe, flexible and collaborative manufacturing between human and machine.
OMRON Corp. based in Kyoto has announced the global launch of the TM series collaborative robot family from October 26, 2018, in 40 countries in order to realize an innovative manufacturing environment where humans and machines work in harmony. With its various vision functionalities and simple, intuitive programming environment, OMRON will further enable safe, flexible and collaborative manufacturing between human and machine.

As changing consumer trends continue to shorten product life cycles, manufacturers are increasingly looking to quickly and flexibly set up production lines to meet frequent product changeovers. In addition, as labor shortage becomes more "real," manufacturers are striving to automate simpler and monotonous tasks, making it increasingly necessary to create a workplace where people can contribute with more creative tasks. Omron's TM series provides a unique solution to easily install a robot to automate applications such as picking, packing and screwdriving which, although traditionally performed by humans, can be challenging to easily automate. As part of the TM series launch, OMRON will release a "mobile-compatible" model which will seamlessly integrate into the market leading LD series autonomous mobile robots. By integrating the mobile-ready TM series with the LD series, users can automate more complex tasks such as picking and placing onto a tray/into a container, and flexibly automate by connecting processes with autonomous mobile robots.
Three Key Features of the TM Series Collaborative Robot
1. Intuitive programming interface reduces programming time
Reduced installation and setup times compared to traditional industrial robots. The flowchart-based intuitive programming interface and easy teaching require little to no previous robot programming experience.
2. Integrated on-arm vision system reduces setup time
The TM series comes with built-in vision and integrated lighting, allowing the user to capture products with a wide viewing angle. Equipped with image-sensing functions such as pattern matching, bar code reading and color identification, this robot system makes inspection, measurement and sorting applications extremely easy to set up out of the box.
3. Conforms to all human/machine collaborative safety standards, reducing installation time
The TM series conforms with all safety standards that enable cooperation between humans and machines, and can be safely operated around people without industrial safety fencing traditionally required for industrial robots, greatly reducing the installation time. (Conforms to safety requirements for industrial robots ISO10218-1 as well as safety requirements for collaborative industrial robots ISO/TS15066)
Product Summary
Omron will introduce 12 robots in the TM series with a combination of the following specifications.
Arm length: 900 mm, 1100 mm, 1300 mm
Payload: 4kg, 6kg, 12kg, 14kg
Power supply: AC, DC
Conforming or not conforming to SEMI S2 Safety Guidelines
Photo2: collaborative arm robot TM
https://kyodonewsprwire.jp/img/201810299655-O2-ZZMN9N00
Photo3: Placed on Mobile Work Station
https://kyodonewsprwire.jp/img/201810299655-O3-qmxzmtSe
With the addition of the TM series collaborative robot to its product lineup, Omron will further enable safe, flexible and collaborative manufacturing between human and machine and continue to accelerate "i-Automation!", an innovative manufacturing concept where humans and machines work in harmony.
"innovative-Automation!"
Recently, OMRON has developed a manufacturing innovation concept, called "innovative-Automation!" With this concept, OMRON is currently committed to bringing innovation to manufacturing sites through three key innovations, or three "i's." Through these innovations in the area of automation, OMRON aims to enable significant productivity improvements in manufacturing sites in order to achieve high-value-added manufacturing. With the first "i," "integrated" (control evolution), OMRON will seek to advance automated control technology so that virtually any operator, even inexperienced operators, can effortlessly perform work that previously required the expert skills of experienced workers. With the second "i," "intelligent" (development of intelligence by ICT), OMRON seeks to create constantly evolving equipment and production lines. By adopting a wide range of control devices and artificial intelligence (AI), machines can learn through experience and maintain themselves in optimal condition. For the third "i," "interactive" (new harmonization between people and machines), OMRON pursues the development of a new harmonious relationship between human operators and machines. Working together in the same workspace, machines will be able to assist human operators by recognizing human thoughts and behavior.
About OMRON Corporation
OMRON Corporation is a global leader in the field of automation based on its core technology of "Sensing & Control + Think." OMRON's business fields cover a broad spectrum, ranging from industrial automation and electronic components to automotive electronic components, social infrastructure systems, healthcare and environmental solutions. Established in 1933, OMRON has over 36,000 employees worldwide, working to provide products and services in 117 countries. In the field of industrial automation, OMRON supports manufacturing innovation by providing advanced automation technologies and products, as well as through extensive customer support, in order to help create a better society. For more information, visit OMRON's website at: http://www.omron.com/
Featured Product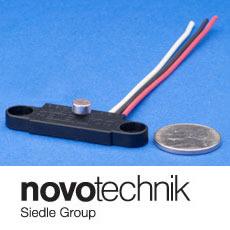 Vert-X 05E Series of dual angle/speed sensors. The series features easy mounting in small and narrow spaces with a 5 mm body depth and mounting flanges with metal inserts. The sensors make measurements only 6 mm from edge of product for close-to-wall measurement applications. Vert-X 05E Series sensors measure angles from 0 to 360°, rotational speed and direction with repeatability to 0.1°.