Event scheduled for May 9, 2019 at newly expanded ATI headquarters in Apex, NC
APEX, N.C. April 17, 2019 - ATI Industrial Automation will host an Automation Expo May 9th, 2019 at its recently expanded and renovated headquarters in Apex, North Carolina. Customers, industry partners, and special guests will descend upon the ATI facilities for a day of inspiring discussions, new products, and innovative automation expertise.

The keynote speakers and presentation topics for the event have been announced. To register and to find a detailed itinerary of the day's events, including the presentation schedule, speakers and topics, travel and accommodations, plus additional networking opportunities, please visit www.ati-ia.com/atiexpo.
In addition to the presentation agenda, an exhibition area will feature new products and live robotic displays, demonstrating firsthand how end-effector technology can be leveraged for improved productivity in a wide variety of applications
ATI's headquarters facility is located at 1031 Goodworth Dr., Apex, NC 27539.
SCHUNK to hold Technology Event on the same day in nearby Morrisville, NC
SCHUNK is hosting a Technology Event at their nearby Morrisville, NC offices on May 9th as well. There will be complimentary transportation provided between both events. ATI and SCHUNK are delighted to host this celebration of automation and manufacturing technology in North Carolina.
------------------------------------------------------
About ATI Industrial Automation
ATI Industrial Automation is the world's leading engineering-based developer of robotic accessories and robot arm tooling including Robotic Tool Changers, Multi-Axis Force/Torque Sensing Systems, Utility Couplers, Manual Tool Changers, Robotic Deburring Tools, Robotic Collision Sensors and Compliance Devices. Their robotic end-effector products are found in thousands of applications around the world. Manufactured entirely in the USA, ATI products enable customers to achieve a high level of flexibility in robotic automation. Their flagship product is the Robotic Tool Changer, a robotic wrist coupling that locks and unlocks automatically, allowing a single robot to perform many different tasks. ATI products can be found at some of the world's most renowned corporations and organizations including NASA, Ford, Honda and Johns Hopkins University. For more information, visit ATI at: www.ati-ia.com.
Featured Product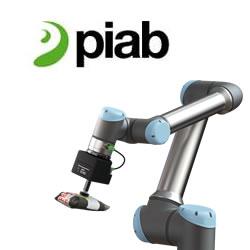 Piab's Kenos KCS gripper enables a collaborative robot to handle just about anything at any time. Combining Piab's proprietary air-driven COAX vacuum technology with an easily replaceable technical foam that molds itself around any surface or shape, the gripper can be used to safely grip, lift and handle any object. Standard interface (ISO) adapters enable the whole unit to be attached to any cobot type on the market with a body made in a lightweight 3D printed material. Approved by Universal Robots as a UR+ end effector.