The Triple Bee is part of Elmo's ExtrIQ line of products designed to withstand extreme environments, and is capable of delivering up to 270A of continuous current
DSEI 2019, September 10-13, London, Israel Pavilion, Stand S6-120

5 September 2019, Elmo Motion Control - a leading manufacturer of innovative motion control technologies ‒ will introduce its newest solution at DSEI. Gold Triple Bee is an extreme power-density servo drive with an ultra-current, meant to drive the world's most critical missions, where high precision and high reliability are mandatory.
Gold Triple Bee
The new technology is an evolution of the Gold Bee miniature servo drive. Its extreme current capability in a compact form factor make it ideal for harsh environment applications requiring high power with limited space. This may include applications such as airborne UAVs and heavy-duty drones, turrets, and firing stations. As with the rest of the ExtrIQ family of harsh environment products, Gold Triple Bee can operate in temperatures of
-40°C to 70°C, and withstands mechanical shocks of up to 20g or vibrations of up to 14.6Grms (2kHz). Complying with the strictest safety, EMC, electrical, and environmental standards, Gold Triple Bee delivers up to 270A of continuous current and up to 200V (60A). With a ~99% power conversion efficiency, it is ideal for DC/battery-operated missions.
Haim Monhait, CEO, said, "Elmo is proud to be a leader in an age where advanced motion technology is driving some of the world's most critical missions. Whether it's for a missile winglet control, a ground turret control, or for an underwater thruster, our servo performance and minimal form factor play a crucial role. Gold Triple Bee meets this global need ‒ and allows the platform to operate with maximum efficiency and accuracy, even in extremely harsh environments. ExtrIQ technology has been performing day and night for over 25 years in the air, on the ground, and underwater, with over 200k drives installed globally. "
About Elmo Motion Control
Elmo, a leading provider of cutting-edge motion solutions for more than 30 years, offers intelligent, easy to implement, ultra-small and rugged servo drives and motion controllers for various harsh environment applications such as drones, UAV, missile guidance, turrets, and naval applications.
Elmo's harsh environment products can operate in extreme environmental conditions with temperatures ranging from -40° C to +70° C, altitudes of up to 40,000 feet, and high mechanical shocks or intense vibrations up to 14 Grms. All products have consistently experienced no failures during the HALT test for accelerated temperatures, electrical cycles and thermal shocks, and vibrations.
The company is headquartered in Israel, employs more than 350 staff worldwide, and has a dedicated presence in the United Kingdom, United States, Germany, Italy, Switzerland, Poland, China, Korea and Singapore. For more information visit: www.elmomc.com
Featured Product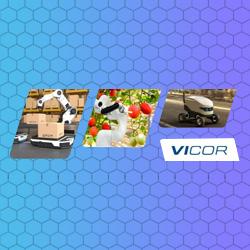 Amphenol Industrial Micro-B Connectors are designed to replace high-cost connectors used in a variety of industrial markets requiring high signal counts in a very small package. The Micro-B components utilize a robust triple bayonet coupling that provides quick and positive locking, along with an internal EMI ground spring for excellent shell-to-shell conductivity.