-Featured Speaker: Sarjoun Skaff, CTO, Bossa Nova Robotics -June 17, 2020 – 2:00 PM EST
RoboBusiness Direct presents From 1 to 1,000: Lessons Learned in Scaling a Robot Fleet

Featured Speaker: Sarjoun Skaff, CTO, Bossa Nova Robotics
June 17, 2020 - 2:00 PM EST
Bossa Nova Robotics is one of the leaders in the retail robotics sector, providing large retailers with inventory-scanning robots that move up and down aisles, tracking inventory supply levels via computer vision and artificial intelligence to keep items available for customers. After a number of pilot projects, the company recently announced expansion of several programs, providing more than 1,000 robots through various partnerships.
In this RoboBusiness Direct keynote, Sarjoun Skaff, CTO and co-founder of Bossa Nova, will provide highlights of the journey from the beginnings of the company and the challenges along the way.
This session is for robot companies looking to move beyond the startup phase and pilot programs. They will learn valuable lessons on how to work with customers and partners, managing the supply chain for startups, talking with investors for growth capital, and what challenges lie for many "scale-ups."
Register for this free session now. https://event.on24.com/eventRegistration/EventLobbyServlet?target=reg20.jsp&partnerref=MVPro&eventid=2297391&sessionid=1&key=1768C6AE083F89DEF97567D79B9B0114&regTag=959083&sourcepage=register
RoboBusiness Direct is built to foster robotics innovation in all its forms, expand robotics business opportunities, and build a community of like-minded problem solvers with the goal of driving the growth of robotics businesses.
Featured Product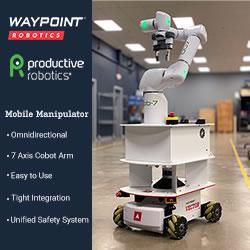 Waypoint Robotics/Productive Robotics omnidirectional 7 DoF mobile manipulator combines the easiest to use, most capable omnidirectional autonomous mobile robot with the simplest and most flexible 7 axis collaborative robot arm. The Vector AMR's omnidirectional mobility enables fast, precise docking in any direction or orientation so the OB7 can perform accurate and precise grasping or picking tasks, taking full advantage of the cobots' 7 degrees of freedom (7 DoF) and superior dexterity. It can be powered using Waypoint's EnZone wireless charger that provides on-demand energy and opportunity charging for longer run times. Workers can use this mobile platform to perform repetitive tasks such as machine tending, quality assurance sampling, material replenishment, packaging, and many others, so they can focus on the high skilled jobs for which they are uniquely qualified. It has never been easier or more cost effective to deploy a mobile manipulator for manufacturing and logistics applications.