Company's Advanced Robot Control Solutions Bring Autonomous Motion Control to Manufacturing and Logistics Industries
BOSTON - June 3, 2021 - Realtime Robotics, the leader in autonomous motion planning for industrial robots, announced today that it has completed its $31.4 million Series A round. New strategic investors including HAHN Automation and SAIC Capital Management, as well as new institutional investors Soundproof Ventures and Heroic Ventures, join existing investors SPARX Asset Management, Omron Ventures, Toyota AI Ventures, Scrum Ventures and Duke Angels in concluding this round.

Realtime Robotics was founded to transform automation with flexible robot control capabilities, built on its innovative, real-time collision-free motion planning technology. Realtime's products enable single or multiple robots to operate autonomously at full speed in unstructured and uncaged environments.
With Realtime, industrial robots can be deployed, updated and/or re-deployed with minimal programming. Its technology empowers companies to automate more processes by removing engineering complexity and reducing cycle time, lowering overall expenses, increasing throughput, driving greater operational efficiency and significantly improving ROI.
"This investment by some of the world's leading manufacturers and automation providers stands as a testament to our ability to dramatically improve the value proposition for robotic implementations," said Peter Howard, CEO, Realtime Robotics. "Having already realized early deployment success, a broad spectrum of customers and partners are working closely with us to refine features and user experiences, readying our technology for rollouts in their engineering, factory and warehouse operations."
With productivity staying flat, and labor representing 60-65% of the warehouse fulfillment cost, businesses are looking to deliver more with smart automation. Worldwide, companies spend an estimated $350 billion a year on warehousing - and are increasing their use of robotics to keep up with demand. With the industrial automation market expected to grow at a CAGR of 9.3% from 2020 to 2027 to reach $306.2 billion, the need has never been greater for simple, yet powerful solutions that will help manufacturers, suppliers and logistics companies optimize and scale their use of robotics.
Realtime Robotics plans on applying the new funds to accelerating its product rollouts and continuing its investment in innovative enhancements and solutions. The company will deepen its reach in the warehouse automation industry, while continuing to serve global automotive manufacturers and their supply chain. Working closely with long term partners and customers, Realtime will also continue to perfect its "holy grail" collaborative system, which incorporates its proprietary real-time planning technology with other certified system components to enable industrial robots to proactively adapt their motions and avoid unwanted contact with humans, while continuously accomplishing their intended tasks.
Investor Quotes and Commentary
"As one of the world's leading voices in Industrial Automation, we understand the importance of improving efficiency at every step of the process," added Philipp Unterhalt, CEO of the HAHN Group. "Realtime Robotics has taken on this problem with a unique approach - using integrated planning software and controls to speed programming, improve flexibility and improve throughput, simply making industrial automation more affordable and effective."
"Realtime Robotics is making the promise of optimized manufacturing and logistics operations a reality," said Ye Wang, Investment Manager at SAIC Capital Management. "Its innovations in autonomous motion planning have proven to remove the complexity behind robotic deployment, lowering costs and improving overall cycle time. We're thrilled to partner with them in the next stage of their development."
"Realtime Robotics' technology is ground-breaking and will transform robotic automation across a range of industries," said Michael Silverstein, Managing Partner of Soundproof Ventures. "We're proud to work closely with the team as they help their customers remove friction, cost, and complexity of automation and drive forward the future of manufacturing."
About Realtime Robotics
Realtime Robotics has developed a specialized processor to generate collision-free motion plans in milliseconds for industrial robots and autonomous vehicles. Its solution empowers robots to function together in unstructured and collaborative workspaces, as well as to react to dynamic obstacles the instant changes are perceived. Its solutions expand the potential of automation. Learn more about Realtime Robotics, watch our technology in action here and connect on Twitter and LinkedIn.
Featured Product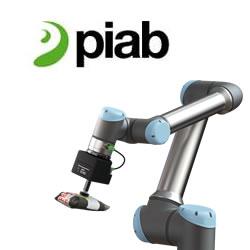 Piab's Kenos KCS gripper enables a collaborative robot to handle just about anything at any time. Combining Piab's proprietary air-driven COAX vacuum technology with an easily replaceable technical foam that molds itself around any surface or shape, the gripper can be used to safely grip, lift and handle any object. Standard interface (ISO) adapters enable the whole unit to be attached to any cobot type on the market with a body made in a lightweight 3D printed material. Approved by Universal Robots as a UR+ end effector.