Quest Industrial will be touting numerous benefits that its Box Bot Robotic Palletizer brings to the dairy industry through an interactive animation in booth 727 at CheeseExpo, April 13-14, in Milwaukee, Wisconsin.
MONROE, Wisconsin, March 16, 2022 - Quest Industrial will be touting numerous benefits that its Box Bot Robotic Palletizer brings to the dairy industry through an interactive animation in booth 727 at CheeseExpo, April 13-14, in Milwaukee, Wisconsin.

Quest is an award-winning, FANUC Authorized system integrator and certified vision specialist, and its systems are capable of direct food contact with U.S. Department of Agriculture compliant and washdown designs.
For many in the dairy industry, production can be challenging due to tight facilities with fixed equipment. This is where the Box Bot shines. The Box Bot is a space-saving, robotic palletizer with a small footprint that starts at just 8'x10'. The advantage here is that it allows dairy companies to palletize product for shipping in confined spaces.
The Box Bot offers a skid-based design that allows for fast setup and operation in just a few hours. Conversely, as applications or facility layout change, the Box Bot can easily be moved.
The Box Bot features a FANUC robot that provides higher stack patterns, which better maximize tractor-trailer loading for more efficient shipping. Creating patterns is accomplished though the QBox custom pallet building HMI-based software, the most technologically intuitive operator interface available on the market. The ability to build your own patterns saves time and money by eliminating the need to have a service programmer onsite to perform the task.
Ideal applications for the Box Bot are dairy companies who rely on manual palletizing, but are looking to add automation as a way to increase efficiencies. Implementing a robotic solution cuts down on labor costs, reduces risk of employee injury associated with manual palletizing, and increases predictability of a company's production output.
To see how the Box Bot can improve packaging processes on your next project, visit Quest in booth 727 at CheeseExpo 2022; https://www.questindustrial.com/.
###
About Quest
Quest is a leading manufacturer of industrial automation equipment focusing on robotics and vision-guidance. With expertise in the food, beverage, and dairy markets, Quest optimizes floor space for customers experiencing growing demand and helps improve their overall production line flexibility and efficiency. Quest offers application-specific software on their robotic products, including pick and place, case packing, and palletizing systems to simplify system setup and streamline configurability. Quest is a product brand of ProMach, a global leader in packaging line solutions. As part of the ProMach Robotics & End of Line business line, Quest helps our packaging customers protect their reputation and grow the trust of their consumers. ProMach is performance, and the proof is in every package. Learn more about Quest at www.QuestIndustrial.com and more about ProMach at www.ProMachBuilt.com.
About ProMach
ProMach is a family of best-in-class packaging solution brands serving manufacturers of all sizes and geographies in the food, beverage, pharmaceutical, personal care, and household and industrial goods industries. ProMach brands operate across the entire packaging spectrum: filling and capping, flexibles, pharma, product handling, labeling and coding, and end of line. ProMach also provides Performance Services, including integrated solutions, design/build, engineering services, and productivity software to optimize packaging line design and deliver maximum uptime.
ProMach designs, manufactures, integrates, and supports the most sophisticated and advanced packaging solutions in the global marketplace. Its diverse customer base, from Fortune 500 companies to smaller, privately held businesses worldwide, depends on reliable, flexible, technologically advanced equipment and integrated solutions. ProMach is headquartered near Cincinnati, Ohio, with manufacturing facilities and offices throughout the United States, Canada, Mexico, Brazil, Europe, United Arab Emirates, and China. For more information about ProMach, visit www.ProMachBuilt.com.
Featured Product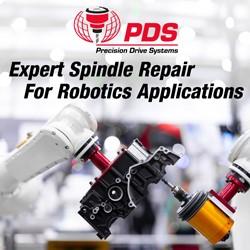 Precision components machined by CNC robot machining systems require compact, lightweight, and high-speed motorized spindles capable of delivering higher efficiency, performance, and reliability than those used in many other industries. That's why manufacturers of milling, cutting, trimming, grinding, polishing, and deburring trust Precision Drive Systems (PDS) to provide accurate and dependable spindle repair to perform to the most exacting standards.