What are the latest trends dominating the robotics and automation world? Are robots still in demand? Where are these awe-inspiring automated technologies headed? And what optical components are used in robotics? Here, Knight Optical answers these questions and offers its view on the future of the forward-thinking sector.
Life On Autopilot: Where Is the Robotics and Automation Industry Headed?
What are the latest trends dominating the robotics and automation world? Are robots still in demand? Where are these awe-inspiring automated technologies headed? And what optical components are used in robotics? Here, Knight Optical answers these questions and offers its view on the future of the forward-thinking sector.
Q: Are Robots Still in Demand?
A: In 2021, the industrial robot market was worth $41.7bn (US Dollars)1. Looking forward, that figure is anticipated to reach $81.4bn by 20281.
Meanwhile, here in the UK, a 2021 report by ABB Robotics confirmed the demand for automated technology amongst SMEs and large manufacturing companies. The conclusions found that 81.2% of the companies surveyed said they are considering investing in robots2.
Moreover, coronavirus accelerated the rise in robotic technology. For example, the Robotic Process Automation (RPA) software swaps operations that used to be conducted manually with automated methods, in both the industrial industry and within many uncharted sectors, thanks to their exemption from social distancing and other COVID-related restrictions.
Furthermore, many of these systems proved to be extremely beneficial throughout the pandemic that they now have a permanent spot on production lines worldwide.
Q: What Are the Latest Trends Dominating the Robotics and Automation World?
A: Following the free-flowing development of technologies in today's modern world and the difficulties we've faced over the past few years; the only way is up for many branches of robotics and automation.
Some of these include:
Robotic Process Automation (RPA)
For obvious reasons, RPA software technology is set to increase in popularity worldwide. In fact, according to CIO Dive, RPA software revenue is estimated to reach $2.9bn by the end of this year3.
Autonomous Mobile Robots (AMRs)
Moving onto hardware, which is where optical components come into their own, Autonomous Mobile Robots (AMRs) are anticipated to expand "fourfold by the year 2027" to $7.9bn (USD)4. These AMRs are typically found in environments such as warehouse settings and within the automobile and food sectors, for example, and carry out tasks like picking, sorting, and transporting items.
Cobots
Also known as collaborative robots, cobots are regarded as the next generation of robots working in the industrial industry. As the name may imply, these specialised systems work collaboratively with humans. Often, these cobots are a more cost-effective and easy-to-install option, rather than opting for larger-scale robotic systems.
Q: Where Is Robotics and Automation Heading?
A: Robots are already changing the world, and they're not just taking off in the industrial sector. Social media platforms are introducing younger generations to the extraordinary world of robots and automation.
The Use of Social Media to Promote Robotics
Promobot, a leading manufacturer of autonomous service robots - which can be found being used by big names like Walmart, Baltimore-Washington Airport and Dubai Mall - reach out to the social-savvy youngsters with their humanoid robot videos.
Additionally, streaming live via TikTok, Promobot shows systems like its Robo-C2, which can feature any person's appearance and act like a human. The bot used in the tech firm's TikTok videos has been modelled to look precisely like Promobot's Chairman, Alexey Yuzhakov.
The Future of Robots
Couple robotics' roles in taking on human-centred tasks with social media spreading the word of automation, this technology is set to become more widespread.
As Colin Angle, Chairman, CEO and Founder of iRobot, said in a comment to Forbes magazine in a 2020 article: "In order to move into this golden age and move past automation to robots and machines that are truly intelligent, three steps need to be achieved." He goes on to list these requirements as robots being "more responsive", "more collaborative", and "truly intelligent5".
Furthermore, as Colin confirmed two years ago, we've welcomed robots on our production lines, in our cars and even in our homes, and while there are still teething issues, "the robotics industry isn't going away anytime soon".
Since then, even more robotic inventions have been brought to the table and are amid prototyping. So, are we heading for a future that resembles a scene from Will Smith's blockbuster I, Robot? Not entirely. But innovations are certainly on the rise, and as Colin confirmed, robotics and automation are here to stay.
Q: What Optical Components Are Used in Robotics?
A: A wide range of optical components are used in these applications. From robotic to cobot systems and arms to humanoids, each design has specific requirements and diverse parts that go into its manufacture.
For example, when it comes to optics, various wavelengths will be required for the robotic application in question, whether it be ultraviolet (UV), visible or infrared (IR) spectrums.
Typical optical components that are specified for robotic use include:
Lenses:
A variety of Lenses are used in robotics and automation, such as Planoconvex, Biconvex, Ball and Aspheric, to name a few. Here at Knight Optical, we offer our Lenses in an assortment of substrates, such as UV Fused Silica, BK7 (or equivalent), Sapphire, Zinc Selenide and Calcium Fluoride, for example.
Filters:
Again, dependent on the application, robotics make great use of Filters. For example, Coloured Glass Filters have been known to improve the contrast in vision-guided robots, while Interference Filters have been hailed to "offer nanometer control over which wavelengths are transmitted6".
Here at Knight Optical, our Filters for robotic use can typically include Neutral-Density (ND) Filters, IR-Cut Filters, and Heat Control Filters, among others.
Windows:
Windows are commonly brought in to protect vital internal components, much like their employment in other applications.
Our Windows - which include Plastic, UV, IR, and Dome varieties - not only come in a range of substrate options but are also available with bespoke optical coatings to protect further or help improve transmission within applications. These coatings include Antireflective (AR), Oleophobic, Hydrophobic, and Diamond-Like Carbon (DLC).
Why Choose Knight Optical for your Robotics and Automation Application?
Discerning customers rely on Knight Optical not only for the premium quality of our output and in-house state-of-the-art Metrology Laboratory and QA Department's capabilities but because - as well as a range of Stock Optics (available for next-day dispatch) - we also offer our optics as Custom-Made Components.
Additionally, with over three decades of experience under our belt and a host of long-standing world-renowned customers on our books, we are proud to have worked on some of the most ground-breaking innovations.
If you are looking for premium-quality, bespoke optical components, please do not hesitate to get in touch with a member of the Technical Sales Team here. https://www.knightoptical.com/stock/contact
Europe, UK, Asia & RoW:
www.knightoptical.com
info@knightoptical.co.uk
+44 (0)1622 859444
USA & Canada:
usasales@knightoptical.com
+1 401-583-7846
FOOTNOTES:
1https://www.prnewswire.com/news-releases/demand-for-global-industrial-robotics-market-size--share-is-expected-11-8-cagr-rise-will-hit-to-usd-81-4-billion-globally-by-2028-with-covid-19-analysis--industry-trends-value-analysis--forecast-report--zion-market-resea-301549130.html
2https://www.themanufacturer.com/articles/the-robotics-landscape-in-the-uk/
3https://www.ciodive.com/news/rpa-automation-revenue-growth/628718/
4https://statzon.com/insights/global-autonomous-mobile-robot-market-is-forecasted-to-reach-7-4bn-by-2028
5https://www.forbes.com/sites/cognitiveworld/2020/07/26/where-is-robotics-heading-perspectives-from-irobot-colin-angle-stanley-black--decker-and-robots-in-service-of-the-environment/
6https://www.vision-systems.com/cameras-accessories/article/16737335/visionguided-robot-speeds-optical-filter-analysis
________________________________________________________________________
Featured Product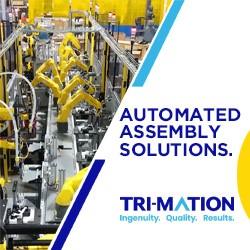 Tri-Mation reduces labor costs, improves accuracy, and production speed. Our integrators specialize in building automated assembly manufacturing systems for part production in any required volume or level of complexity.