Global travelers are stepping into the future of customer experience with strategic investments by Aeroporti di Roma's new International Venture Fund
ROME - June 1, 2023 -- Today, ADR Ventures the new Corporate Venture Capital arm of Aeroporti di Roma (ADR), recently awarded five star airport rating, announces its initial venture investment with Ottonomy (www.ottonomy.io), a leading USA deep tech startup providing contactless deliveries using fully autonomous robots. After a successful proof of concept (PoC) established during the accelerator program in the Innovation Hub in Fiumicino airport, the autonomous delivery project became part of ADR's long-term strategy aimed at maintaining the highest levels of service and enhancing passengers' experience using cutting edge technology and innovation.

"Our first investment is an additional step towards building the airport of the future, which will be more autonomous and passenger-centric. These are two characteristics that we have found in Ottonomy, both in terms of their team and technology. We are looking forward to a great future together. We believe that this partnership will open new opportunities in the industry and help transform the traveler experience in airports worldwide," says Emanuele Calà, President and CEO of ADR Ventures.
Rome Airports partnered with leading corporate and strategic partners first of which, Plug & Play Tech Center in the development of "Runway to the Future," a program set in ADR's Innovation Hub, which is the first industrial accelerator inside an airport with a senior mentorships of ADR's Innovation Cabin Crew.
The Open Innovation Program of Aeroporti di Roma, called "Runway to the Future", focuses on selecting international startups and aiming at a joint development for up to 8 months within the Innovation Hub directly located at Fiumicino airport; giving startups the chance to develop a PoC inside the airport and unlock a full roll-out solution.
While ADR Ventures aims to offer further support to startups, investing in their ideas developed within the Fiumicino Innovation Hub not only in economic terms, but also in terms of know-how and skills, fostering the development and growth of new companies and entrepreneurs to accompany the digital transformation in the industry.
Ottonomy took part in the Hub's acceleration programme "Runway to the Future" in September 2022 and offered added convenience to travelers via autonomous delivery. Air passengers can purchase retail items and get them delivered right up to the gate in a digital and completely frictionless experience.
During the PoC, Ottonomy reached the following KPIs at Fiumicino International Airport:
• More than 150 km traveled in terminals by Ottobots
• Zero accidents at the airport
• More than 300 clients used the service
• Three minutes delivery time on average
"We are honored to continue to work with ADR Ventures and the Innovation Hub to further the impact and convenience in the airport environment using technology," says Ritukar Vijay, CEO of Ottonomy. "ADR is truly committed to being a leader in innovation and bringing excellence and new experience to its customers. The partnership and a multiyear contract with ADR is at the forefront of the future of the travel experience for customers all over the world."
To support the growth of the start-ups operating inside the Innovation Hub an investment arm, ADR Ventures, was created. This is the first initiative of its kind in the air transport sector in Italy aimed at financing the development of projects in areas with an elevated innovation potential; in synergy with the airport's operational and strategic needs. ADR Ventures operates as an engine for the development of youth entrepreneurship, ensuring support for the most virtuous and prospective start-ups, accompanying them in the integration with the business and in the management of investment processes, accelerating the process of the business growth and the commercialisation of the innovative solution devised.
Ottonomy joined the ADR innovation team during Plug and Play's Travel & Hospitality & Smart Cities EXPO Day in Vienna to discuss the recent launch of ADR Ventures, as well as how innovation and cutting edge technologies are redefining the passenger experience. Besides that, ADR and Ottonomy will showcase the Ottobot case.
During the expo, Aeroporti di Roma was awarded - for the second year in a row- the Corporate Innovation Award for its investment in identifying innovative solutions and supporting the growth of the start-ups operating inside its Innovation Hub that are transforming the aviation industry for a better future.
About ADR
Aeroporti di Roma, a Mundys Group company, manages and develops Rome Fiumicino and Ciampino airports and carries out other activities related and complementary to airport management. Fiumicino, the first and only airport in Italy with a Skytrax rating of 5 stars for excellent standards in service quality, has two passenger terminals and is dedicated to business and leisure customers on domestic, international and intercontinental routes; Ciampino is mainly used by low-cost airlines, express-couriers and General Aviation activities. In the last five years Aeroporti di Roma has received numerous awards, recognitions and quality certificates including the Airport Service Quality Award, ACI Europe Best Airport Award, ACI Europe Digital Transformation award, ACI's "Director General's Roll of Excellence, as well as ACI's Airport Health Accreditation and Biosafety Trust Certification. In 2022 and 2023 Plug and Play's Tech Center, the largest private investment fund in Silicon Valley, awarded ADR the "Corporate Innovation Award" for its commitment to promoting open innovation initiatives and building an innovative "airport of the future."
www.adr.it
About ADR Ventures
ADR Ventures, is the Corporate Venture Capital backed by Aeroporti di Roma to finance innovative solutions in the Aviation, Travel & Hospitality industry. The Corporate Venture Capital fund follows the launch of the startup accelerator at Fiumicino, to engage high-potential startups, provide them with support and invest in the projects with the greatest potential. ADR Ventures aims to offer further support to startups, investing in their ideas developed within the Fiumicino Innovation Hub not only in economic terms, but also in terms of know-how and skills, fostering the development and growth of new companies and entrepreneurs.
www.adrventures.it
About Ottonomy
Ottonomy.IO is a deep tech startup, providing hyperlocal deliveries using fully autonomous robots called Ottobots. Ottobots help navigate the labor shortages to enable less staff to do more. Ottobots are the first autonomous delivery robots in airports starting with its operations in Cincinnati International Airport (CVG) and it maintains to be the first in Europe providing airport deliveries at Rome Fiumicino International Airport (FCO). Ottonomy has claimed its spot in #RBR50 Top 50 Robotics companies in the world for 2021 and 2023 by Robotics Business Review, it has also won the Sustainability Product of the Year Award by the Business Intelligence Group and best mobility startup by Plug and Play, Sunnyvale Mobility Cohort.
Featured Product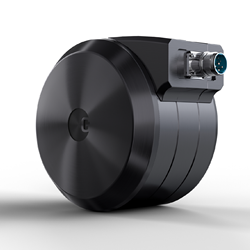 Welcome to the next generation of robotics and machinery. LiveDrive LDD is a unique direct drive motor that overcomes almost every limitation of servo geared solutions. A 50% reduction in length from typical geared motor is possible with Genesis direct drive motors. Choose to simplify machine designs and have a shorter footprint while having high performance, accuracy, and efficiency.