KUKA will demonstrate how automated welding, deburring and cleaning systems meet Industry 4.0 standards at North Americas largest metal fabricating event in Atlanta
The dexterity and the level of automomy of Novarc's collaborative Spool Welding Robot has been dramatically improved with Novarc's launch of a new vision based software product called NovEye™. The NovEye™ uses machine learning to track the root pass with high accuracy, measure the root gap and detect the track (stitches) automatically enabling SWR operators to perform more welds while spending less time on each weld, without reducing the precision or risk of defects.
KUKA promoted the benefits of automated welding solutions at its West Coast Fremont location alongside sponsors Fronius and Schunk
The market leader of collaborative robots is ready to launch unique new offerings for metal fabricators including plug and play integration with Dynabrade orbital sanders, ARC Specialties SnapCut, and new 7th axis capabilities from Vention. The new offerings are all integrated with e-Series, Universal Robots new flagship line.
OCTOPUZ Inc. will be at FABTECH taking place from November 6-8, 2018 in Atlanta. Located at booth C13174 attendees will see a preview of the exciting new features and functionalities to the OLP solution.
Genesis Systems Group will showcase new robotic capabilities for laser inspection, laser processing, multi-process robotic welding systems, pre-engineered solutions, 3DG immersive virtual environment, plus Connected Solutions for manufacturing at FABTECH 2018 in Hall C, Booth C13242 and Booth C13029.
With its more modern look and feel, the new logo design better conveys the current and future direction of the FABTECH brand.
Records 1 to 7 of 7
Featured Product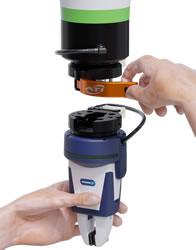 Simpler, stronger, and more precise. ATI Industrial Automation has developed a series of Manual Tool Changers that provides a cost-effective solution for quickly changing tools by hand. They feature a unique design that combines high strength, excellent repeatability, and a patent-pending screw-cam locking mechanism with multiple fail-safe features, which resists vibration and prevents loosening. These robust and compact Manual Tool Changers can handle payloads up to 80 pounds (36 kg) and pass pneumatics and electrical signals.