The Robot Sensors Market has developed rapidly and boasts of an extensive product base, with estimated earnings of over USD 2 billion in 2017.
Robot Sensor Market Outlook
Contributed by | Global Market Insights
Owing to diverse industrial applications and improved operational efficiency provided by robots, the Robot Sensors Market has developed rapidly and boasts of an extensive product base, with estimated earnings of over USD 2 billion in 2017. Robots have been used in basic functions and primary support for many years, but technological revolutions have brought about an obvious change in the way they are applied to different processes. Constant innovations in sensory technology and increased efforts of forward-thinking industry specialists to promote the adoption of robotics in manufacturing have boosted the robot sensors market. Material handling, welding, polishing and inspections have become common activities where industrial robots are efficiently deployed. Labor-cost reduction resulting in an exponential rise of profit margins has been a well-advocated benefit of using robots, further propelling the robot sensors industry.
The advantage of being able to work unsupervised round the clock has propagated the use of robots by small, medium and large-scale businesses to ensure accurate and timely performance of various tasks involved at production facilities. Augmenting the growth of the robot sensors market is the ability of modern robots to be integrated into a smart or connected work environment, where machines can be controlled and monitored remotely by humans or programed computer software. A notable trend related to the robot sensor industry which is being witnessed in sectors where robots have been prevalently employed, is the installation of new robots equipped with vision, laser, force-torque and other types of sensors to enable execution of critical tasks to save time and assure human safety. For instance, vision sensors can help a robot to locate parts on conveyor belts or bins and load it in carriers faster, while force torque sensors assist an assembly robot by providing feedback to make sure a component is inserted properly.
Gradually, a combination of internal and external sensors mounted on robots have made them much more valuable in manufacturing processes, enveloping a slew of industry verticals and in turn proliferating the robot sensors market. Collaborative robots, termed as cobots by some industry experts, have created lucrative avenue for the robot sensor market, as these machines need multiple sensors to perform different activities in close proximity to their human colleagues. Against popular notion that robots are here to replace all human workforce, these cobots are actually designed to enhance human productivity with great strength, high-precision and data capabilities helping them add value to the process. The robot sensor market for the manufacturing industry, which is projected to grow with a 13% CAGR over 2018-2024, has seen consistent evolution due to increased application of collaborative robots.
Citing an example to describe the benefits of cobots, Fitzpatrick Manufacturing, a CNC machine shop and custom manufacturer based put of Michigan recently deployed a collaborative robot to improve the efficiency of operations and in a competitive labor market. The robot runs overnight for preparing materials for the upcoming morning shifts, while doing repetitive actions with precision and helping to manufacture parts to be used in the motion control industry. As per reports, when one part is finished, the robot removes it from the machine, loads a second one and places the first one in wash station after which it air blows it dry before the part gets packed for shipping. The company employees found the robot to be crucial in freeing up important time to focus on more interesting work.
With similar application of cobots being observed throughout the manufacturing sector, the collaborative robots' segment is anticipated to contribute at least USD 600 million to the robot sensors industry by 2024. To elaborate, consider the adoption of cobots by the French multinational auto maker, PSA Group, which incorporated Universal Robots' UR10 within its new robotic assembly system at Sochaux. In the system, UR10 robots are mounted on a moving platform which goes under the vehicle, and when human operators pull the vehicle into place the UR10s perform the difficult screw-driving task under the vehicle while the operators complete other assembly tasks. PSA Group has confirmed that the new assembly system has reduced the production costs by two to eight euros per vehicle, converting to initial savings of 400,000 to 1.6 million euros in the year.
Evidently, the advancing robot sensors industry has transformed the use of robots in automobile manufacturing, giving the segment a major thrust in terms of market expansion. Although restrictions with respect to high initial investments exist, companies are overcoming these challenges through cooperative partnerships, like the leasing model developed by QDS Systems in association with the Lease Corporation of America. Through this partnership, QDS allows companies to rent or lease collaborative robot systems and equipment for 12 to 60 months at an affordable cost. Such ventures encouraging the production of cobots will undoubtedly bolster the robot sensors market, further aided by the consistent reduction in per unit cost of sensors.
The content & opinions in this article are the author's and do not necessarily represent the views of RoboticsTomorrow
---
Comments (0)
This post does not have any comments. Be the first to leave a comment below.
---
Post A Comment
You must be logged in before you can post a comment. Login now.
Featured Product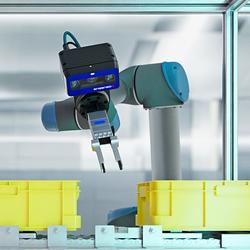 IDS NXT: a platform for a new generation of vision systems for industrial applications. It lays the groundwork to provide easy-to-use yet flexible complete systems that can be used to implement all steps of a vision solution. With IDS NXT ocean, a complete solution especially for AI-based image processing is now available. It allows to solve tasks where classic, rule-based image processing has reached its limits - without any programming effort.