Automate 2023 takes place May 22nd - 25th in Detroit, Michigan. The Exhibit hall floor will be loaded with new products and services. Here is a preview of some things to look forward to at this years event.
Automate 2023 Product Preview
Article from | RoboticsTomorrow
Automate 2023 Product Preview
Featured Articles

Featured Products

Automate Booth: #2435

Processing and manufacturing pharmaceuticals requires a high degree of precision and sanitation to ensure both consumer safety and product quality. Dorner has designed the ERT150 as a solution for these challenges. With our edge roller technology, the ERT150 is a pallet conveyor that offers the highest level of accuracy with no back pressure accumulation to ensure sensitive products are handled with the greatest care during production. Additionally, because this design does not use a belt, it eliminates any friction and potential dust accumulation that would normally be caused by belt wear. This makes it ideal for environments that require minimal particles in the air or on equipment surfaces.

The ERT150 will be joined with our heavier duty ERT250, economic Precision Move Pallet and flexible chain FlexMove pallet. Stop by our booth to see these innovative conveyance systems in action or visit our website to learn more.

Automate Booth: #1835

MVTec is a global technology leader for image processing software and has three products in its portfolio: HALCON, MERLIC, and the free Deep Learning Tool. HALCON has been established worldwide as the leading machine vision software for more than 25 years. MERLIC is an "all-in-one" software solution. This means that complete machine vision applications, including pre- and post-processing, can be put together very quickly and easily. Deep learning technologies are additional, important tools in the "technology toolbox" of MVTec's software products. Multiple technologies are always needed for an optimal, complete machine vision application. MVTec is constantly developing its products (development of new technologies, but also further development of existing technologies).


MVTec will show the potential of the product range around HALCON and MERLIC through three live demonstrations at their booth. Discover the potential of MVTec's products at booth 1835 and find out how machine vision can bring your application to the next level! For now, check out the website to learn more about the live demonstrations.

Automate Booth: #118

Digitize, automate, and upgrade error-prone manual processes and decisions to boost productivity. Vaira from Pleora Technologies is powered by a scalable suite of shop floor-ready inspection and checklist apps for frontline manufacturing operations, with two-way integration to resource planning tools to help drive continuous analysis and improvements.

-Reduce errors that lead to costs, delays, and quality concerns with AI and machine vision tools that make human decisions consistent, reliable, and trackable.
-Drive analysis-based continuous improvement by saving, storing, and sharing images and data from your manual processes.
-Start digitizing immediately, with scalable apps that are easily customized to your unique requirements.

Automate Booth: #2632

The MPS Tool Changer System is the ideal tool changer system for every robot that is ready to order, and delivered to you when you need it. With the expansion of our MPS robot tool changers by 5 new models for payloads up to 80kg, we now offer you the ideal tool changing system for the entire payload range of all robot manufacturers up to 2500kg! Our customers benefit from our many years of expertise in all industry sectors, as well as our modular product concept, which offers three efficient solution paths: MPS COMPLETE offers preconfigured robotic tool changers for immediate use. MPS MODULAR allows the user to determine the configuration, while MPS CUSTOMIZED allows the construction of special, application-specific systems.

Automate Booth: #1313

In order to interact with their environment and perform the tasks, lightweight robots, like all industrial robots, depend on tools - and in many cases these are vacuum grippers. These form the interface to the workpiece and are therefore a decisive part of the overall system. With their help, the robots can pick up, move, position, process, sort, stack and deposit a wide variety of goods and components. Vacuum gripping systems allow particularly gentle handling of workpieces, a compact and space-saving system design and gripping from above. Precisely because the object does not have to be gripped, the vacuum suction cupenables gapless positioning next to each other.

Automate Booth: #1632

The DENSO VS-Series six-axis articulated robots offer the world's highest speed and precision for their class. Their design, which is even more compact than previous models, features ultraslim arms to facilitate integration and an optional bottom-side cable connection that saves valuable floor space. The robots can be mounted on the floor, ceiling or wall with no special hardware needed. An extremely high maximum allowable moment of inertia enables more flexible end-effector designs and a wider range of applications than conventional robots. In addition, a new internal wiring option allows users to easily connect Gigabit Ethernet devices and servo grippers directly to the flange, preventing cables from becoming tangled or interfering with peripheral equipment. A new IP67 dust- and waterproof protection option enables the robots to resist cutting chips and high-pressure washing, extending their application range. Standard and cleanroom models are also available. ANSI and CE safety compliance allows global deployment.

Automate Booth: #3239

Designed for assembly and inspection applications in the electronics equipment and automobile components industries, the THE600 SCARA is a powerful automation tool. Advancing from the specifications of the existing THE400 SCARA, the THE600 has been developed to meet growing demand for fast-cycle automation. The THE600 model includes improvements in synchronised control and tracking precision. The THE600 is compact in design and offers improved high speed, with 60 per cent higher payload capacity than competing SCARA models in the same price range, making it the price-to-performance leader. Affordable price, impressive performance.

Automate Booth: #5613

maxon motor launches new high-speed motors that are configurable online. The new ECX brushless motors are quiet and feature very high efficiency. The ECX motors are available with diameters of 8, 16 and 19 mm achieving speeds of up to 120,000 rpm. They run very smoothly and are highly efficient. With maxon motor's online configurator, it is easy to put together a customized DC motor to include gearhead, encoder and controller. The customized motors are ready to ship in 11 days!

Automate Booth #6104

A Zaber gantry kit comes with everything you need to build a customized XY gantry system or XYZ gantry system. These gantry systems feature coordinated multi-axis motion, plug-and-play operation, easy integration with end-effector options, and built-in IO and E-Stop capabilities.

An intuitive ASCII interface allows the user to easily communicate with the gantry systems using our free software, either Zaber Motion Library with APIs for several popular languages or Zaber Console. Third party terminal programs that can communicate over a serial port can also be used.

Indexed knobs on the included X-MCC controller provide convenient manual control for versatile operation even without a computer. The X-MCC controller connects to the RS-232 port or USB port of any computer and can be daisy-chained with any other Zaber products to add additional axes of motion.

Zaber's gantry kits can be quickly and easily configured to suit your application.

Automate Booth #3500

Simpler, stronger, and more precise. ATI Industrial Automation has developed a series of Manual Tool Changers that provides a cost-effective solution for quickly changing tools by hand. They feature a unique design that combines high strength, excellent repeatability, and a patent-pending screw-cam locking mechanism with multiple fail-safe features, which resists vibration and prevents loosening. These robust and compact Manual Tool Changers can handle payloads up to 80 pounds (36 kg) and pass pneumatics and electrical signals.

Automate Booth: #6615

Introducing the Xpanel eXT and nXT series, advanced industrial HMI solutions that set a new standard for performance and usability. Utilizing our brand new Canvas HMI software for project creation, the Xpanel eXT and nXT series deliver a seamless and efficient user experience. They combine industrial-grade touch technology, powerful embedded OS hardware with a quad-core CPU, and an easy-to-use runtime platform. The Xpanel eXT and nXT series are specifically designed to optimize and streamline industrial operations, enhancing your HMI experience.

Automate Booth: #4600

MATCH is a new multi-functional end-of-arm platform from Zimmer Group in collaboration with Schmalz, two technology leaders and handling specialists. Equipped with an extensive range of functions and universal communication interfaces, MATCH is a tool changer with multiple integrated tools like electric grippers, collaborative grippers, and electric vacuum generators. MATCH Eco-system can cater to a variety of applications/industries like Electronic Assembly, Pharmaceutical, Collaborative Material Handling, Case Packing and Palatalizing and Multiple applications with one robot – electric & suction type handling.

Automate Booth: #2044

All manufacturers are operating in an environment of global competition. In order to compete, manufacturers must be highly efficient and continuously improving. OEE is a proven effective metric in an ongoing program of continuous improvement.

The ideal OEE solution should come ready to install, setup, and use in a matter of hours. It should provide the flexibility to adapt to the manufacturer's operation – working equally well in a completely automated or a completely manual environment. It should provide the operator with up-to-the-minute progress versus the goal. But it should also empower the operator – by providing tools that allow them to communicate clearly the situation at the work cell.

But it should go beyond that. At the supervisory level – the ideal OEE solution should provide at-a-glance the overall production status in the department or plant. Supervisors should be able to quickly identify the work cells requiring immediate assistance, so that proactive steps can be taken when targets start to slip. And finally, at the management level – the OEE solution should provide reliable, consistent data from each work cell that can be used to evaluate performance and zero in on areas of improvement. Once targeted actions are taken – that same data can be used to evaluate the effectiveness of the corrective action and justify budgetary investments.

Horner Solutions offers the ideal OEE solution that does all of this and more. Call today or visit our website to request a Demo!

Automate Booth: #2014

Piab has continued to evolve its piCOBOT® program by adding a larger version. Developed with the needs of customers in mind who work with small industrial robots and cobots, its high payload combined with a low building height enables maximum capacity usage.

With its lifting capability of up to 35 lb, the piCOBOT®L is particularly attractive for e-commerce, logistics and warehouse applications as well as for assisting with lifting of heavier items in production. It builds on the same technology platform as the original version, i.e., it consists of a vacuum pump unit and an optional gripper unit. The vacuum pump unit is scalable and can be equipped with a varying number of the newest powerful COAX® cartridge. Offering a significantly higher vacuum performance, it enables fast movement when lifting heavier items for high productivity in packaging and palletizing, part assembly or machine tending.

Automate Booth: #813

Hypertherm Associates reveals the latest version of their robotic programming software, Robotmaster®, at Automate 2023. Robotmaster 2024 addresses key market trends such as the support for programming multiple robots in a single work cell and the demand for automatic trajectory optimization and robotic error correction.

Robotmaster 2024 is designed to support use cases in which users need to program multiple robots to perform a variety of processes within the same cell environment. The ability to program robots sequentially enhances the programming workflow and provides the user a single view into the entire system. Users can leverage Robotmaster's powerful programming capabilities and unmatched optimization strategies to shorten cycle times and increase output in multi robot cell environments. New to Robotmaster's suite of tools is an automatic optimization and error correction tool: Auto Solve. Auto Solve empowers users of all levels of expertise to program industrial robots with confidence in alignment with Hypertherm Associates mission to deliver a software solution that is intuitive and easy to use.

Automate Booth: #2344

With autonomous vehicles and robots becoming a common sight in factories and warehouses, reliable motion feedback is needed to ensure safe, reliable operation. EPC's encoders are designed for high performance in demanding applications requiring lift control, motor feedback, vehicle steering, conveyor positioning, and more. We offer:

Wheeled, draw wire, and rack-and-pinion gear linear measurement solutions
Compact and durable thru- and blind hollow bore encoders for motor feedback
Absolute encoders available with CANopen, SSI, EtherCAT, PROFINET, and EtherNet/IP communication protocols
Custom engineering services for solutions designed specifically for your application

Contact us today, and we'll help you find the right solution for your application.

Automate Booth: #6904 & 7004

Allied Vision's compact and light weight Alvium SWIR (short wave infrared) cameras are the ideal choice to build cost-effective OEM systems used in embedded and machine vision applications. The cameras support a spectral range from 400 nm to 1700 nm at high quantum efficiencies. This allows to capture images in both the visible and SWIR spectra with a single camera and enables users to reduce overall system costs! Equipped with Sony's IMX990 and IMX991 SenSWIR InGaAs sensors, Alvium SWIR cameras deliver high image quality and frame rates. This makes them well suited for drones or handheld devices used in various industries such as, agriculture, mining, solar cell inspection or medical.

Automate Booth: #3507

The BLV Series R Type brushless DC motor (BLDC motor) speed control system offers the design of motor and driver significantly reduced in size and weight, yet high-power, and contributes to the battery driven automation. The BLV Series R Type is compatible with the two interfaces of Modbus (RTU) and CANopen communication.

Automate Booth: #6830

Whether sorting, inspecting, supplying or documenting goods, many steps in the production process can be optimized with machine vision and artificial intelligence. However, many companies still lack the know-how and time to familiarize themselves with the field of AI and use the technology for their needs. To be successful in the long run, it is advisable to explore the possibilities as early as possible. The AI Vision System IDS NXT is designed to help with this, as it can be quickly and easily deployed by any user group, even without having extensive knowledge of machine learning, image processing, or application programming. It consists of industrial cameras capable of performing AI-based image processing tasks on the device and easy-to-use software.

Automate Booth: #2232

The SHA-IDT Series is a family of compact actuators that deliver high torque with exceptional accuracy and repeatability. These hollow shaft servo actuators feature Harmonic Drive® precision strain wave gears combined with a brushless servomotor, a brake, two magnetic absolute encoders and an integrated servo drive with CANopen® communication. This revolutionary product eliminates the need for an external drive and greatly simplifies wiring yet delivers high-positional accuracy and torsional stiffness in a compact housing.

Automate Booth: #1049

This Robotics Integrated Controller (RIC) demo showcases how Omron's full automation product portfolio can be combined into a complete solution to increase productivity. At the core is the RIC which can control and monitor the solution's robotics, motion, vision, and safety products over EtherCAT. The RIC takes advantage of Omron's Sysmac programming environment allowing PLC, safety, motion, robotics, and HMI projects to be programmed in a single file. This simplifies the design, programming, and integration process for a robotics solution allowing developers to easily achieve real-time synchronization between the robot and motion axes and incorporate features such as Factory Drive Recorder to record machine events such as faults.
Within the demo, an i4H SCARA robot (available with Cleanroom Class 10 and ESD ratings) is picking parts from a part feeder using an integrated FH vision system. The i4H robot picks and places these parts to designated positions by working in tandem with a belt-driven custom kinematic H-bot using Omron's 1SA advanced safety servo system. Surrounding the entire system is a suite of safety sensors including a door.

Automate Booth: #1944

REIKU's Cable Saver™ Solution eliminates downtime, loss of revenue, expensive cable and hose replacement costs, maintenance labor costs. It's available in three sizes 36, 52 and 70 mm. All of the robots cables and hoses are protected when routed through the Cable Saver™ corrugated tubing.The Cable Saver™ uses a spring retraction system housed inside the Energy Tube™ to keep this service loop out of harms way in safe location at the rear of the Robot when not required. The Cable Saver™ is a COMPLETE solution for any make or model of robot. It installs quickly-on either side of the robot and has been tested to resist over 15 million repetitive cycles. REIKU is committed to providing the most modular, effective options for ensuring your robotic components operate without downtime due to cable management. www.CableSaver.com

Automate Booth: #6423

Enhance your material transport capabilities - even in the busiest warehouse or production environments - with SEIT robots. Made by Milvus Robotics, these reliable and safe AMRs efficiently move materials with no human intervention required. They work seamlessly alongside people, forklifts, and other equipment. Requiring no infrastructure, SEIT robots are suitable for a range of manufacturing environments, distribution centers and more.

Automate Booth: #6810

The new complete inertial navigation solution comes with GNSS/INS 3DMGQ7 sensor, 3DMRTK correction modem and real time SensorCloud RTK correction network. The sensor comes with Dual antenna GNSS, tactical grade IMU with centimeter-level accuracy with RTK. Low profile and light weight at 78 grams, this sensor is The sensor is optimized for size and weight in Unmanned Ground Vehicles, mobile robots and autonomous vehicles. The network interface 3DMRTK modem is seamlessly integrated into the 3DMGQ7 sensor supports industry-standard NMEA and RTCM 3.1 protocols. The network RTK support comes with cellular data plan. The SensorCloud RTK is a cloud-based RTK correction system with private encrypted data stream. Check out our G Series and C Series OEM products.

Automate Booth: #5613

Parvalux geared motors consists of a full range of reliable and durable industrial DC and AC motors. We manufacturer conveyor belt motors, automatic shutter motors, packaging motors and much more. A full-service team when production needs cannot be compromised. Visit us at Automate to see our latest product releases, such as the GB65 right angled gearbox.

It offers powerful torque up to 300Nm, with high radial loads in a compact design. The two stage, high efficiency design gives low noise and vibration, it is ideal for warehouse Automation: AGVs, shuttles, palletizing robots, conveyors, and sorting machines.
To unsubscribe or modify your subscription please click the "Update Profile" link in the footer of this message to select the content you wish to receive. This information can be updated at any time.
Thank you for trusting us with your personal information, we value you and your privacy.
You can review our Privacy Policy here.
We look forward to staying connected.
The content & opinions in this article are the author's and do not necessarily represent the views of RoboticsTomorrow
---
Comments (0)
This post does not have any comments. Be the first to leave a comment below.
---
Post A Comment
You must be logged in before you can post a comment. Login now.
Featured Product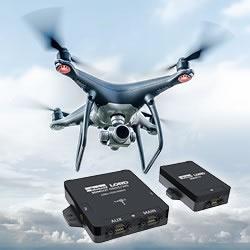 The new complete inertial navigation solution comes with GNSS/INS 3DMGQ7 sensor, 3DMRTK correction modem and real time SensorCloud RTK correction network. The sensor comes with Dual antenna GNSS, tactical grade IMU with centimeter-level accuracy with RTK. Low profile and light weight at 78 grams, this sensor is The sensor is optimized for size and weight in Unmanned Ground Vehicles, mobile robots and autonomous vehicles. The network interface 3DMRTK modem is seamlessly integrated into the 3DMGQ7 sensor supports industry-standard NMEA and RTCM 3.1 protocols. The network RTK support comes with cellular data plan. The SensorCloud RTK is a cloud-based RTK correction system with private encrypted data stream. Check out our G Series and C Series OEM products.