AI enabled human quick sense and avoid of moving and/or unmapped obstacles that opens up the immense HME/DME rehab and power wheelchair markets to GeckoSystems for a first mover opportunity.
CONYERS, GA, September 20, 2018 -- GeckoSystems Intl. Corp. (Pink Sheets: GOSY | http://www.GeckoSystems.com) CEO, Martin Spencer, addresses their 2018 progress in multiple markets. For over twenty years, GeckoSystems has dedicated itself to development of "AI Mobile Robot Solutions for Safety, Security and Service(tm)."

"We have been busy! We have further cost reduced the direct manufacturing costs of our proprietary, breakthrough SafePath™! It is our AI enabled human quick sense and avoid of moving and/or unmapped obstacles that opens up the immense HME/DME rehab and power wheelchair markets to GeckoSystems for a first mover opportunity. We now believe that our collision free benefit can be added to most power wheelchairs for less than $2,000 MSRP, installed.
"Recently, I had the opportunity to do some Delphi Market Research with one of Pride Mobilitys largest US dealers and their master rehab power wheelchair technician. Due to their 25 plus years experience, they are of strong opinion that all power wheelchairs should be SafePath enabled, even for children!
"Consequently, we are now further investigating how best to penetrate this enormous HME/DME market, which has pent up demand," commented Martin Spencer, CEO, GeckoSystems.
GeckoSystems is now seeking HME/DME dealers to sell and install. Heres why:
http://www.geckosystems.com/downloads/SafePath_Need_and_Benefits.pdf
Our distributors and dealers will enjoy limited geographic exclusives for their pioneering work in partnering with us.
"More cost effective, utilitarian mobile robots are feasible with our suite of AI mobile robot solutions, such as SafePath. I am also pleased that as the Service Robotics industry begins to offer real products to eager markets, our capabilities and their benefits are being recognized. Our 1300+ shareholders can continue to be confident that we expect to be signing numerous licensing agreements to further substantiate and delineate the reality that GeckoSystems will earn additional licensing revenues to further increase shareholder value and ROI," concluded Spencer.
About GeckoSystems:
GeckoSystems has been developing innovative robotic technologies for over twenty years. It is CEO Martin Spencer's dream to make people's lives better through AI robotic technologies.
Telephone:
Main number: +1 678-413-9236
Fax: +1 678-413-9247
Website: http://www.geckosystems.com/
Source: GeckoSystems Intl. Corp.
Safe Harbor:
Statements regarding financial matters in this press release other than historical facts are "forward-looking statements" within the meaning of Section 27A of the Securities Act of 1933, Section 21E of the Securities Exchange Act of 1934, and as that term is defined in the Private Securities Litigation Reform Act of 1995. The Company intends that such statements about the Company's future expectations, including future revenues and earnings, technology efficacy and all other forward-looking statements be subject to the Safe Harbors created thereby. The Company is a development stage firm that continues to be dependent upon outside capital to sustain its existence. Since these statements (future operational results and sales) involve risks and uncertainties and are subject to change at any time, the Company's actual results may differ materially from expected results.
Featured Product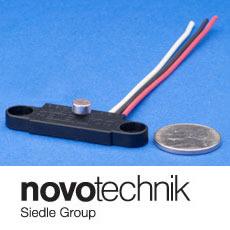 Vert-X 05E Series of dual angle/speed sensors. The series features easy mounting in small and narrow spaces with a 5 mm body depth and mounting flanges with metal inserts. The sensors make measurements only 6 mm from edge of product for close-to-wall measurement applications. Vert-X 05E Series sensors measure angles from 0 to 360°, rotational speed and direction with repeatability to 0.1°.