A new generation of robots will serve as health guardians all over the world by disinfecting a wide range of spaces to secure and protect public health.
Beijing, July 3rd, 2020 - Geek+, the global AMR leader announces the launch of two disinfection robots to customers worldwide. As the world reels from an unprecedented health crisis, robotics can play a key role in ensuring safe and healthy work and living environments. "Lavender" is armed with smart UV rays while "Jasmin" uses liquid agents to execute swift and automated sterilization. The two robots operate entirely unmanned with automatic obstacle avoidance, and are designed to work 24/7 in all types of spaces, from warehouses to offices, schools, stores, transportation stations and hospitals.

Yong Zheng, founder & CEO of Geek commented: "The pandemic has endangered global health, put a strain on large parts of society and pushed many businesses to a halt. As the world slowly re-opens, AMRs can play a key role in safeguarding workers and the public and guaranteeing business continuity. Our two disinfection robots are designed to operate as public health guardians and fully support workers and companies in this global crisis. Geek+ is committed to providing the best technology to guarantee safe and effective operations."
Lavender's UV light effectively kills 99.99% of germs and Jasmin's liquid spray reaches a kill rate of 99.99% of germs depending on concentration and type of liquid agent. Both robots can secure regular and systematic around the clock unmanned operations, thorough disinfection through comprehensive scanning, and safe operations using multi-sensor detection of objects. The robots use SLAM navigation to operate in complex environments and the system supports elevator integration.
In the face of the global crisis, Geek+ solutions have proven highly resilient, supporting business continuity and enabling remote operations. In China, Geek+ delivered 3 million products during the lockdown period.
"Secure your workflow and leave the redundant and unsafe task of disinfecting to our new health guardians, Lavender and Jasmin", added Yong Zheng.
++
About Geek+
Geek+ is a global technology company leading the intelligent logistics revolution. We apply advanced robotics and AI technologies to realize flexible, reliable and highly-efficient solutions for warehouses and supply chain management. Geek+ counts 300 global customers and has deployed more than 10,000 robots worldwide. Founded in 2015, Geek+ has over 800 employees and is headquartered in Beijing, with offices in Germany, the UK, the US, Japan, Hong Kong and Singapore.
For more information, please visit: https://www.geekplus.com/
Featured Product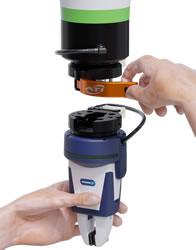 Simpler, stronger, and more precise. ATI Industrial Automation has developed a series of Manual Tool Changers that provides a cost-effective solution for quickly changing tools by hand. They feature a unique design that combines high strength, excellent repeatability, and a patent-pending screw-cam locking mechanism with multiple fail-safe features, which resists vibration and prevents loosening. These robust and compact Manual Tool Changers can handle payloads up to 80 pounds (36 kg) and pass pneumatics and electrical signals.