Changing public attitudes on robotics polled ahead of week-long UK Festival of Robotics celebration (19th - 25th June 2021)
London, United Kingdom, June 17th 2021—UK adults have named the key everyday tasks that they'd rather hand over to a robot - topped by cleaning, gardening and DIY. The public attitudes survey of 2000 representative UK adults, commissioned by the EPSRC UK Robotics & Autonomous Systems (UK-RAS Network), is reporting results ahead of the UK Festival of Robotics - a 7-day celebration spanning online events, special competitions and interactive activities aimed at boosting engagement in robotics and intelligent systems (19th - 25th June 2021).

The top three everyday tasks that the public would like to hand over are general cleaning (52%), gardening (32%), and DIY (30%)1. More than 2.7 million Brits (5%) admit they'd like a robot to dress them if they could, according to the poll.
The technology innovation of the last year has offered the public new insights into applications for robotics, and as a nation it seems we're keen to continue exploring the potential benefits. As the country's knowledge and perception of robotics innovation has continued to evolve, 48% of us think that robotics should be used most in the manufacturing sector, 28% think we should use the technology primarily in the military, while 27% named construction as the key sector which could benefit. Almost a quarter (24%) of people now think that robotics should be used most for the medical sector, up from 17% recorded in the 2019 attitudes survey. When it comes to specific challenges that robotics technology could help us tackle, the top three issues identified by those surveyed are waste management (40%), climate change (30%), and crime (30%).
With technology and robotics now being used to help fight climate change, more than a third (36%) agree robots are a great tool to help mankind. Similarly, over a third (37%) of UK adults agree more money should be spent on researching robotics and artificial intelligence.
Commenting on the survey findings, Professor Robert Richardson, EPSRC UK-RAS Network Chair said: "The results of this year's survey once again deliver some fascinating insights, and highlight that the public is continuing to recognise the value of robotics innovation in tackling some of our biggest challenges - from climate change, manufacturing and construction to healthcare, social care and helping us in our own homes. We're looking forward to enabling this important national conversation around the role of robotics technology during the UK Festival of Robotics, which this year offers a really diverse range of activities to inspire, inform and entertain people of all ages."
The UK Festival of Robotics (held for the past five years as UK Robotics Week) opens this Saturday and boasts an exciting UK-wide programme of free events for robotic enthusiasts - from competitions, lectures, hackathons, challenges and live demos to workshops and games.
The week will incorporate virtual award presentations for the winners of the 2021 KS1 'Draw A Robot' design and KS2 'Once Upon A Robot' story writing competitions for school children.
Highlight events of the UK Festival of Robotics include:
- Robot Talk Live (18th June, 3pm) - a special live episode of the Robot Talk Podcast. Hosted by Dr Claire Asher and featuring Dr Sophie Armanini (TU Munich/Imperial College London), Matthew Ryan Tucker (University of Bristol) and Ben Scott-Robinson (Small Robot Company), Episode 9 will focus on "Robots into the Wild".
- MiRo Maze (21st - 25th June) - take control of a MiRo robot and guide it through our maze in this exciting online tournament for robot enthusiasts of all ages! Livestreaming on YouTube throughout the week, with special interviews and live commentary. Organised by Cyberselves Ltd, Consequential Robotics and The University of Sheffield.
- CSI Robot (21st / 25th June) - can you piece together the evidence to solve the robot mystery? In this fun, interactive session, participants will take on the role of a robot accident investigator, work together with others and have fun 'solving' the case!
- Mosaix with Swarm Robot Tiles (22nd June 4 - 6pm BST) - control a swarm of robot Tiles to make collaborative works of art.
- Robot Lab Live (23rd June 4pm - 6pm BST) - our virtual robotics showcase featuring 16 of the UK's top robotics research groups. Each team will show-off their cutting-edge robots and autonomous systems simultaneously to live audiences on YouTube.
- Pepper the Robot Goes to School with Autistic Children (24th June 4pm-5pm) - can a friendly social robot support young people with autism? Researchers from UWE present some initial findings from a 3-week study exploring how robots can improve the well-being of children at a Special Education Needs school in Somerset.
The UK Festival of Robotics annual celebration is hosted by the EPSRC UK-RAS Network as part of its mission to provide academic leadership in robotics, including coordinating activities at over 30 partner universities across the UK. The EPSRC UK-RAS Network's first Robotics Summer Showcase of cutting-edge robotics research and innovation is already successfully underway, running through to July and delivering a variety of free-to-register lectures, workshops, demonstrations and unique events held by Network partners.
For more information about the UK Festival of Robotics and the Robotics Summer Showcase, please visit:
https://www.ukras.org/robotics-festival/
https://www.ukras.org/robotics-summer-showcase/
You can follow updates about the events via the hashtags #RobotShowcase and #RobotFest.
The research for UK-RAS Network was carried out online by Opinion Matters throughout 09/06/2021 to 11/06/2021 amongst a panel resulting in 2002 UK adults responding. All research conducted adheres to the MRS Codes of Conduct (2010) in the UK and ICC/ESOMAR World Research Guidelines. Opinion Matters is registered with the Information Commissioner's Office and is fully compliant with the Data Protection Act (1998).
----Ends----
Notes to editors
UK Festival of Robotics: 19th - 25th June 2021
Events overview (https://www.ukras.org/robotics-festival/)
* Robot Talk Live, Fri 18th June 3pm - 4pm (live recording, episode airs Friday 25th June 12pm)
* Tech Tag collaborative online game, livestream with commentary from Sam Langford, Sun 20th June 2pm - 4pm BST & Thu 24th June 5pm - 7pm BST
* MiRo Maze online tournament livestreams
- First round: Mon 21st - Thu 24th June 1pm - 4pm BST
- Finals: Friday 25th June 5pm - 8pm BST
* CSI Robot accident investigator game, Mon 21st June 2pm & 4pm, Friday 25th June 3pm & 5pm
* RoC-Ex: Robotic Cave Explorer online game, intro webinar Mon 21st 5 - 6pm
* Mosaix with Swarm Robot Tiles collaborative art making, Tue 22nd June 4pm
* Draw a Robot Competition 2021 Award Ceremony, Tue 22nd June 11am - 12pm
* Once Upon a Robot Competition 2021 Award Ceremony, Tue 22nd June 2pm - 3pm
* Robot Lab Live virtual robotics showcase, Wed 23rd June 4pm - 6pm
* Pepper the Robot Goes to School with Autistic Children, Thu 24th June 4pm - 5pm
About the EPSRC UK-RAS Network (https://www.ukras.org/)
The EPSRC UK Robotics and Autonomous Systems Network (UK-RAS Network) is dedicated to robotics innovation across the UK, with a mission to provide academic leadership in Robotics and Autonomous Systems (RAS), expand collaboration with industry, and integrate and coordinate activities at eight Engineering and Physical Sciences Research Council (EPSRC)-funded RAS capital facilities and Centres for Doctoral Training (CDTs) across the country.
Featured Product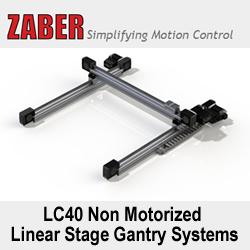 Zaber's X-LRQ-DE Series of linear stages have high stiffness, load, and lifetime capabilities in a compact size. The integrated linear encoder combined with stage calibration provides high accuracy positioning over the full travel of the device. At 36 mm high, these stages are excellent for applications where a low profile is required. The X-LRQ-DE's innovative design allows speeds up to 205 mm/s and loads up to 100 kg. Like all Zaber products, the X-LRQ-DE Series is designed for easy set-up and operation.