"By partnering with Geek+, one of the leaders in mobile robot technologies, Mujin will be able to accelerate its total solution deployment in North America."
Mujin, a leading provider of cutting-edge robotics technology, will showcase its innovative order fulfillment solutions at Manifest, a premier event focused on supply chain and logistics innovation. Mujin has teamed up with Geek+, a global leader in mobile robotics for logistics, to demonstrate a total order fulfillment solution featuring pick and place robots seamlessly integrating with mobile robots. This solution automates the process of creating mixed orders from single-SKU containers, delivering increased value for end users.

At the event, taking place Jan 31st - Feb 2nd at Caesars Forum in Las Vegas, attendees can witness the latest advancements in robotics and automation and envision the future of supply chain automation. Mujin, in partnership with Geek+, will demonstrate how their technology solves one of the more difficult problems in order fulfillment - storing all necessary products and sorting them into a customer's order.
In Mujin's exhibit demonstration, Geek+ mobile robots will take single-SKU product from an automated storage and retrieval system (AS/RS) and bring them to the picking robots, where the picking robots will pick the right amount of product from the totes to fulfill an order.
"Mujin's goal is to deliver production-ready systems to end-users by combining proven technologies from its partners with its Mujin Controller platform that leads in motion planning and vision technologies vital to powering the next-generation of automation," said Ross Diankov, Mujin US CEO and Cofounder. "By partnering with Geek+, one of the leaders in mobile robot technologies, Mujin will be able to accelerate its total solution deployment in North America."
"Geek+ is excited to partner with Mujin to develop cutting-edge solutions combining two revolutionary technologies to further augment warehouse and distribution center operations," said Randy Randolph, VP of Channels & Partnerships at Geek+ America. "With Geek+'s full-product portfolio covering every aspect of mobile robotics automation, Mujin can now offer its customers complete, end-to-end warehousing solutions."
Geek+ has the richest robotic product line in the industry, including full-solution capabilities for picking, storing and sorting in warehouses as well as material handling robots for manufacturing. With its global business network, Geek+ provides customers with comprehensive automation and reliable operation and maintenance services.
In addition to the exhibit, Mujin will host an expert panel titled "You Are Ready for Robots in the Warehouse" featuring industry leaders from Mujin, Geek+, Fanuc, and Walmart. The panel will provide valuable insights on the latest advancements in robotics and automation in the warehouse and logistics industry. Manifest attendees are invited to attend the panel and see the future of supply chain automation at Mujin's exhibit in Booth #321.
About Mujin
As a specialist in developing and selling "intelligent robot controllers," a common platform for industrial robots, Mujin has overcome the challenges of installing robots in environments where handled products and surroundings are subject to change, and provides robotics solutions for automating heavy/simple work that was previously done manually at logistics and manufacturing sites.
For more information, please visit: https://mujin-corp.com/
About Geek+
Geek+ is a global technology company leading the intelligent logistics revolution. We apply advanced robotics and AI technologies to realize flexible, reliable, and highly efficient solutions for warehouses and supply chain management. Geek+ is trusted by over 500 global industry leaders and has been recognized as the world leader in autonomous mobile robots. Founded in 2015, Geek+ has over 1500 employees, with offices in the United States, the United Kingdom, Germany, Japan, South Korea, Mainland China, Hong Kong SAR, and Singapore.
For more information, please visit: https://www.geekplus.com/
Featured Product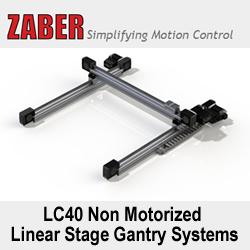 A Zaber gantry kit comes with everything you need to build a customized XY gantry system or XYZ gantry system. These gantry systems feature coordinated multi-axis motion, plug-and-play operation, easy integration with end-effector options, and built-in IO and E-Stop capabilities. An intuitive ASCII interface allows the user to easily communicate with the gantry systems using our free software, either Zaber Motion Library with APIs for several popular languages or Zaber Console. Third party terminal programs that can communicate over a serial port can also be used.