-Starlinks opens new 400,000ft2 powered robotic e-commerce fulfilment center in Saudi Arabia -Two Geek+ solutions implemented together, with 250+ mobile robots processing 3.6 million orders per month
Geek+, the global leader in mobile robots for logistics, and Starlinks, a leading logistics and supply chain solutions provider in Saudi Arabia, announce the opening of the first robotic fulfilment center in Saudi Arabia. Over 250 Geek+ robots, covering both goods-to-person picking and order sorting processes are deployed in a new facility covering over 400,000ft2, with storage capacity for over 12 million units.

Salah Taha, Director of Operations at Starlinks, said, "Our new solution comprises a pallet storage and handling storage system, a manual pick tower as well as a robotics solution allowing us to cater to a wide range of customer requirements and operations complemented by micro fulfilment centres distributed strategically across Saudi Arabia. Advanced automation and big data analytics enable us to better track and manage inventory, predict demand, and optimize routes for transportation thus helping us to increase efficiency, reduce operating cost and provide seamless services to our customers. We are committed to driving further innovation in the logistics and supply chain industry in the region and reducing lead time to e-commerce shoppers."
Brian Lee, Head of EMEA at Geek+, said, "We are proud that our robotic solutions were chosen to power the most technologically advanced fulfillment center in Saudi Arabia. The Middle East is a fast-growing logistics platform with strong demand for better throughput and faster fulfilment to meet consumer requirements, for which our solutions are designed. We are excited for what the future holds with Starlinks."
Starlinks provides direct and smooth integration with Shopify, Magento, WooCommerce, OpenCart, Amazon, eBay, and more than 60 other platforms through direct APIs. The Company is the first in the region to offer a hybrid picking solution that allows humans and machines to co-deliver a world-class efficiency manual picking operation, thereby leading to an unrivalled solution for e-commerce fulfilment.
About Geek+
Geek+ (www.geekplus.com) is a global leader in robotic solutions for logistics. We develop Autonomous Mobile-Robot (AMR) solutions to realize flexible, reliable, and highly efficient automation for warehouses and supply chain management. Geek+ is trusted by over 700 global industry leaders and has been recognized as the world leader in autonomous mobile robots.
Featured Product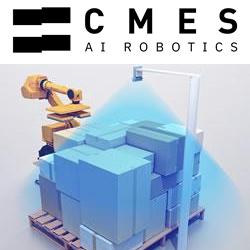 Powered by AI, CMES Robotics enables 3D vision for factory robots. CMES AI vision software enables robots to recognize unstructured, flexible, or deformed objects, pick them up, and loading and unloading. CMES Vision software has been deployed worldwide for random palletization and depalletization along with void filling applications. CMES Robotics automates your warehouse, logistics, and supply chain. For more information, please visit: cmesrobotics.com or email info@cmesrobotics.com.