Award-winning, AI-driven, AMR solution expands European footprint, doubles warehouse productivity and lowers operations costs
Locus Robotics, the market leader in autonomous mobile robots (AMR) for fulfillment warehouses, announced today its award-winning AMR warehouse automation solution is now available to customers in Italy and Poland. Locus's intelligent robots leverage innovative technology and artificial intelligence to optimize productivity, lower costs, and improve workplace ergonomics and quality for workers.

"We are thrilled to bring Locus's transformative warehouse automation solutions to Italy and Poland as we continue expanding our European footprint," said Rick Faulk, CEO of Locus Robotics. "Our AI-powered robotics solutions allow customers in these countries to optimize productivity, efficiency, and accuracy in their facilities, boosting output 2-3X while lowering labor costs by 50% or more. As the pressure grows on supply chains, our intelligent robots enable companies to cost-effectively scale and stay competitive. We enable the future of smart warehouses."
Locus Robotics' innovative AMRs are designed to work collaboratively with human associates and easily scale up and down to meet fluctuating order volumes during peak and standard seasons. Our flexible robotics-as-a-service subscription model provides customers with a fully managed solution covering bots, upgrades, maintenance, and support. By collaborating with human workers, Locus enhances productivity and fulfillment efficiency. Our award-winning technology, algorithms, and real-time analytics optimize warehouse layouts, reduce travel time, and boost accuracy - enabling faster processing and reduced costs.
Locus is currently deployed at more than 65 sites in Europe, serving dozens of retail, ecommerce, healthcare, manufacturing, and logistics customers. In August, Locus surpassed its 2 billionth pick globally, just 11 months after reaching the industry-first landmark of 1 billion picks in 2022.
"LocusBots have already helped our European customers in retail, e-commerce, healthcare, and logistics to significantly improve productivity and efficiency," said Denis Niezgoda, Vice President, EMEA at Locus Robotics. "Our powerful and flexible AMR technology enables a wide range of businesses to easily meet today's existing demand, seamlessly scale for future growth, and remain competitive within their industries."
The AI and data science-driven LocusOne warehouse automation execution platform enables the smooth orchestration of multiple robotic form factors at enterprise-scale within a single coordinated platform. It provides real-time optimization of tasks to be completed within the four walls and across multiple levels in warehousing environments. LocusOne optimizes task allocation, route planning, and resource use, while delivering real-time business insights into warehouse operations.
The Locus solution has won more than 27 industry awards, including the coveted IFOY award. Global businesses across industries like retail, ecommerce, logistics and 3PL have used Locus to pick more than 2 billion units worldwide with 99.99% accuracy. Locus AMRs easily deploy into existing warehouses and new greenfield sites without infrastructure changes or disrupting workflows. The Locus solution delivers a measurable return on investment (ROI) in just months vs. years.
Proven at enterprise scale, labor-challenged 3PL, retail, healthcare, and manufacturing operators can seamlessly add robots to increase capacity or meet growth in any operation in just minutes to optimize productivity in their operations, reduce costs, and stay competitive in the rapidly evolving fulfillment and e-commerce landscape. accuracy reinforcing the company's position as the premier robotics provider for the warehouse and logistics industry.
For warehouse operators interested in learning more about the Locus solution, please contact Francesco Ferrari in Italy (fferrari@locusrobotics.com) or Marcin Gwozdz in Poland (mgwozdz@locusrobotics.com).
About Locus Robotics
Locus Robotics is the world's leading enterprise-level, warehouse automation solution, incorporating powerful and intelligent, AI-driven autonomous mobile robots (AMRs) that operate collaboratively with human workers to dramatically improve product movement and productivity 2-3X. Supporting more than 120+ of the world's top brands and deployed at 270+ sites around the world, Locus Robotics enables retailers, 3PLs and specialty warehouses to efficiently meet and exceed the increasingly complex and demanding requirements of today's fulfillment environments.
Named to the Inc. 5000 three years in a row, and winning more than 27 industry and technology awards, the Locus solution dramatically increases order fulfillment productivity, lowers operational costs, and improves workplace quality, safety, and ergonomics for workers. To learn more visit locusrobotics.com
Featured Product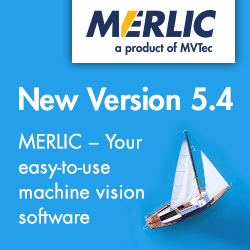 MVTec has launched the newest version 5.4 of its easy-to-use machine vision software MERLIC on Oct. 25. Its focus is on easier process integration. MVTec MERLIC 5.4 includes state-of-the-art machine vision technologies, plug-ins for direct communication with different PLCs and can be used to create complete machine vision applications. Try the new MERLIC 5.4 now!