GigE Vision over NBASE-T platform expands Pleora's portfolio of interfaces for manufacturing, medical imaging, and security applications
Pleora Technologies, the worlds leading supplier of high-performance video interfaces, today introduced a platform of NBASE-T products that redefine the imaging market by transmitting uncompressed high-bandwidth GigE Vision®-compliant images at speeds up to 5 Gb/s over low-cost Cat 5e cabling. Pleora will be discussing its new GigE Vision over NBASE-T platform, along with its full suite of GigE and USB 3.0 interface solutions, at SPIE Photonics West in San Francisco (Booth 5634).

"Were raising the benchmark in the high-performance imaging market," said John Phillips, product management with Pleora. "With our new GigE Vision over NBASE-T interface products, camera and imaging device manufacturers can more effectively support increasing bandwidth demands for advanced manufacturing, medical, defense, and automotive imaging applications, while also achieving significant cost and design advantages."
NBASE-T is an extension of the IEEE 802.3 Ethernet standard, and was initially developed to support higher bandwidth data transmission over the installed base of Cat 5e twisted pair copper cable. The worlds largest technology companies - including Cisco, Intel, Xilinx, Altera and many more - are contributing to the standardization effort, demonstrating interoperability, and introducing products to the market. Pleoras NBASE-T platform supports 1 Gb/s, 2.5 Gb/s, and 5 Gb/s throughputs over widely deployed Cat 5e copper cabling. The platform is also capable of throughputs of 10 Gb/s over Cat 6A copper cabling.
Pleora has provided a limited preview of its new platform with select manufacturers and end-users, who voiced a clear opportunity for the technology as bandwidth demands increase and the specialized cabling and the networking limitations of legacy frame grabbers pose cost, design, and performance concerns. With Pleoras NBASE-T platform, manufacturers will meet increasing speed requirements while taking advantage of Ethernets less expensive, long-distance, field-terminated cabling, point-to-multipoint multicasting, and lower-cost networking components.
Pleoras GigE Vision over NBASE-T Development Kit provides manufacturers with a straightforward approach to design NBASE-T imaging products, including cameras, scanners, and X-ray flat panel detectors. Imaging products developed with the kit will work seamlessly with GigE Vision-compliant hardware and software from Pleora and other vendors.
The development kit will be available in the second quarter, with an embedded video interface, hardware reference design, and IP core package scheduled for release later in 2016. To download the GigE Vision over NBASE-T Development Kit data sheet, receive regular product updates, and register for early access to the products visit http://go.pleora.com/NBASE-T.
Pleora at Photonics: Pleora will be discussing "New Transmission Technologies for Vision Applications", including an overview on NBASE-T, at SPIE Photonics West on Thursday, February 18th at 1:30 p.m. in Demo Area 2 - Hall D.
Featured Product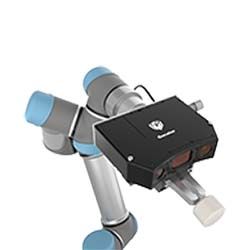 Easily integrate Gocator® 3D line profile and snapshot sensors with a variety of industrial robots to deliver high-performance 3D results in vision guidance, flexible inspection, material dispensing, and automated assembly with smart pick-and-place. Adding 3D vision to a robot turns repetitive, fixed motion into smart movement that can unlock greater value for your automation investment.