Several robots with applications in industries including life sciences, food processing and packing will be in action in Stäubli booth No. 4524.
DUNCAN, SC (Nov. 25, 2019) — Business leaders from a wide range of industries who attend the ATX West 2020 expo will see first-hand how they can partner with global robotics leader Stäubli to utilize cutting-edge automation solutions - including the newly released TS2 SCARA line and skin-sensitive collaborative TX2touch POWER cobots - that will drive new benchmarks for production efficiency, reliability and safety.

The Automation Technology Expo (ATX) West 2020 will be held Feb. 11-13 at the Anaheim Convention Center in Anaheim, California. The premier expo and conference will feature automation technology for industries ranging from aerospace to automotive, from food processing to life sciences. More than 20,000 industry leaders are expected to attend the 2020 expo and conference.
Stäubli representatives will be on hand in booth No. 4524 to introduce a variety of its industry-leading robots that will demonstrate capabilities in food processing and packing, and medical-device quality control and packaging.
In addition, CAID Automation (booth No. 4550), a Stäubli systems-integrator partner based in Arizona with a core focus on health care automation, will demonstrate medical-device assembly that utilizes a Stäubli Robotics solution, while JLS Automation, a Stäubli systems-integrator partner specializing in primary and secondary food packaging will host in a Reiser booth (Nos. 4901 and 5001) pork belly packing and palletizing using the Stäubli TX2 90 HE food-grade six-axis robots.
"ATX West gives Stäubli the opportunity to present its industry-leading robotics solutions to attendees from a wide range of businesses that require robots that meet or exceed the highest standards for cleanliness and safety," said Roger Varin, President, Stäubli North America Corp. "As global leaders in automation, our robots work both for and with people. They have to be fast and precise, collaborative and agile, user-friendly and highly mobile. In all kinds of industries, they redefine performance. Even inthe most sensitive environments, they make production smarter. Providing smart data, in an easily connected world, is one way in which Stäubli shares its expertise."1/3
Demonstrations in Stäubli booth No. 4524 will include:
Meat and cheese cutting with the TX2 90 HE.
oDesigned to work in humid environments and with full wash-down capacity.
oThe hygienic design features a smooth, easily cleaned surface with rounded edges to reduce liquid retention that could lead to contamination.
oResistant to pH 2-12, which includes most commonly, used cleaners.
oIP65 and IP67 rating.
Collaboration with humans to inspect medical devices with the TX2touch-60 POWER cobot.
oFeatures safe-touch skin: When the robot skin comes in contact with a human, the robot safely stops, eliminating the possibility of being hurt or crushed.oIntegrated electrical and pneumatic user circuit including Cat5e.
oLarge spherical working envelope.In booth No. 4550, CAID Automation will feature Stäubli's TX2 SCARA robot in a demonstration of automated medical-device assembly. Features of the TX2 range include:oFlexible mounting configuration (floor, ceiling or wall) makes for ease of integration into an existing production line.
oPatented JCS smart gearbox specifically designed for compact robots.oHygienic, encapsulated six-axis arm enabled by hollow shaft drives; no external cables.oHigh speed, repeatability and precision.Visit www.staubli.com for more information on the company and products.
Featured Product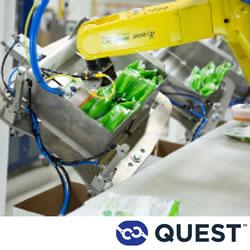 Quest is a leading manufacturer of industrial automation equipment focusing on robotics and vision-guidance. With expertise in the food, beverage, and dairy, Quest optimizes floor space for customers experiencing growing demand and helps improve their overall production line flexibility and efficiency. Quest offers application-specific software on their robotic products, including pick and place, case packing, and palletizing systems to simplify system setup and streamline configurability. Quest is a product brand of ProMach, a global leader in packaging line solutions.