• Visitors benefit from a virtual and interactive trade fair format • Live-streamed presentation reveals latest developments in deep learning • A preview of future HALCON and MERLIC releases
Munich, April 08, 2021 - MVTec Software GmbH (www.mvtec.com), a leading international provider of machine vision software, will be presenting its portfolio at the automatica sprint digital trade fair (automatica-munich.com) from June 22 to 24. Visitors to the leading virtual trade fair for automation and robotics can learn about the features of current and future HALCON and MERLIC releases online and interact with MVTec experts - from the comfort of their own PCs.

Optimize machine vision with the latest deep learning features
One highlight of the trade fair presence will be the live-streamed presentation titled "MVTec's deep learning spectrum." Participants will find out how they can take advantage of the latest developments in deep learning and get the most out of their machine vision applications. Within this presentation, MVTec is also offering a preview of the next version of its all-in-one machine vision software MERLIC 5, to be released in fall. What makes this event especially practical is that participation is interactive and users can ask questions directly via live chat or a call function.
Visitors will also benefit from an exciting on-demand presentation that emphasizes practical applications. Speakers will examine specific application scenarios of MVTec machine vision products in industry in order to illustrate their practical benefits and potential for users. This will provide viewers with transparent insights into realized customer projects and success stories. The focus will be on different technologies from a wide range of industries.
Engage in an interactive dialog with MVTec
In the course of the two presentations, participants can obtain a comprehensive overview of innovative deep learning technologies, of the latest HALCON software version 21.05, and of the soon-to-be-released MERLIC 5. The virtual trade fair format also provides participants with many opportunities to enter into interactive dialog with MVTec experts.
About MVTec Software GmbH
MVTec is a leading manufacturer of standard software for machine vision. MVTec products are used in all demanding areas of imaging: semiconductor industry, surface inspection, automatic optical inspection systems, quality control, metrology, as well as medicine and surveillance. By providing modern technologies such as 3D vision, deep learning, and embedded vision, software by MVTec also enables new automation solutions for the Industrial Internet of Things aka Industry 4.0. With locations in Germany, the USA, and China, as well as an established network of international distributors, MVTec is represented in more than 35 countries worldwide. www.mvtec.com
About MVTec HALCON
MVTec HALCON is the comprehensive standard software for machine vision with an integrated development environment (HDevelop) that is used worldwide. It enables cost savings and improved time to market. HALCON's flexible architecture facilitates rapid development of any kind of machine vision application. MVTec HALCON provides outstanding performance and a comprehensive support of multi-core platforms, special instruction sets like AVX2 and NEON, as well as GPU acceleration. It serves all industries, with a library used in hundreds of thousands of installations in all areas of imaging like blob analysis, morphology, matching, measuring, and identification. The software provides the latest state-of-the-art machine vision technologies, such as comprehensive 3D vision and deep learning algorithms. The software secures your investment by supporting a wide range of operating systems and providing interfaces to hundreds of industrial cameras and frame grabbers, in particular by supporting standards like GenICam, GigE Vision, and USB3 Vision. By default, MVTec HALCON runs on Arm®-based embedded vision platforms. It can also be ported to various target platforms. Thus, the software is ideally suited for the use within embedded and customized systems. www.halcon.com, www.embedded-vision-software.com
About MVTec MERLIC
MVTec MERLIC is an all-in-one software product for quickly building machine vision applications without any need for programming. It is based on MVTec's extensive machine vision expertise and combines reliable, fast performance with ease of use. An image-centered user interface and intuitive interaction concepts like easyTouch provide an efficient workflow, which leads to time and cost savings. MERLIC provides powerful tools to design and build complete machine vision applications with a graphical user interface, integrated PLC communication, and image acquisition based on industry standards. All standard machine vision tools such as calibration, measuring, counting, checking, reading, position determination, as well as 3D vision with height images are included in MVTec MERLIC. Furthermore, the software is able to execute tools in parallel, increasing overall efficiency and improving the implementation of multi-camera-setups. MERLIC's features are all based on the latest state-of-the-art machine vision technologies, such as matching or deep learning. The software is available for Windows-based PC and embedded platforms, making it ideally suited for use in smart cameras. www.merlic.com
Featured Product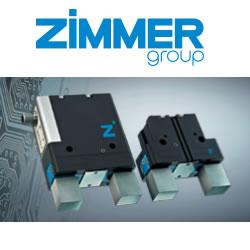 IO-Link is the first standardized IO technology worldwide for communication from the control system to the lowest level of automation.