Matrox Iris GTX model edge IoT devices offer exceptional power and performance for traditional machine vision workloads and deep learning inference
MONTREAL, Quebec, 19 May 2021—Matrox® Imaging is pleased to announce the launch of the Matrox Iris GTX model edge IoT devices and the next evolution of its smart cameras.

Leveraging a more powerful embedded processor as well as faster and higher-resolution image capture for higher rate and/or more detailed inspection, these compact all-in-one vision systems are bundled with Matrox Design Assistant® X flowchart-based vision software to capably handle both traditional machine vision workloads as well as deep learning inference.
Designed for machine vision and deep learning
Matrox Iris GTX smart cameras boast an Intel® Atom® x6000 series embedded processor for comfortably handling the processing needed for both traditional machine vision operations as well as deep learning inference in the form of image classification and segmentation via the on-device software, Matrox Design Assistant X. These model edge IoT devices deliver complete on-device image acquisition and processing for real-time, optimized response and action.
Boosted performance by up to 3x
An Intel x6000 series dual-core embedded processor allows the use of faster and higher-resolution CMOS image sensors on Matrox Iris GTX, resulting in new levels of inspection performance than its precursor, the Matrox Iris GTR. The vision operations in the Matrox Imaging software see a three-fold performance boost with Matrox Iris GTX for the same image resolution. These smart cameras also offer real-time digital I/Os for interfacing directly to automation devices and providing consistent, timely results.
Backed by powerful, flexible vision software
Paired with flowchart-based Matrox Design Assistant X software, engineers and technicians can quickly configure and deploy machine vision applications to the Matrox Iris GTX smart cameras, which are designed for challenging environments.
Built for ease of upgrade and use
Matrox Iris GTX smart cameras preserve the same small footprint and cabling connections as its immediate predecessor, for ease of upgrade and implementation. They feature a sturdy IP67-rated housing and robust M12 connectors for their external interfaces, allowing them to operate in dusty, wet, and other demanding conditions. By offering the same footprint, connection options, and software platform as the Matrox Iris GTR, Matrox Imaging makes it easy to expand or upgrade an existing system. Matrox Iris GTX also feature an interface for direct focus adjustment, as well as an LED lighting intensity control output for direct adjustments, directly through the on-device software.
Watch the 360° product tour
"Thanks to its Intel Atom dual-core processor, plus its higher image sensing speed and resolution, Matrox Iris GTX smart cameras really stand apart in terms of the power they deliver for both traditional machine as well as deep learning inference," says Fabio Perelli, Product Manager. "Our vision tools see an average three-fold performance boost for the same image resolution as compared with Matrox Iris GTX's precursor."
To download an image to accompany this press release, please visit "Press Release Images".
Availability
Matrox Iris GTX will be available in Q3 2021.
About Matrox Imaging
Matrox Imaging is an established and trusted supplier to top OEMs and integrators involved in machine vision, image analysis, and medical imaging industries. The components consist of smart cameras, 3D sensors, vision controllers, I/O cards, and frame grabbers, all designed to provide optimum price-performance within a common software environment. For more information, visit www.matrox.com/imaging.
Media Contact
Matrox Imaging Media Relations
+1 (514) 822-6000
www.matrox.com/imaging/
Matrox and Matrox product names are registered trademarks and/or trademarks of Matrox Electronic Systems Ltd. and/or Matrox Graphics Inc. in Canada and/or other countries. All other company and product names are registered trademarks and/or trademarks of their respective owners.
Featured Product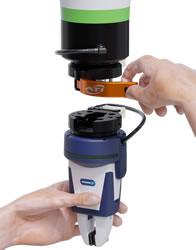 Simpler, stronger, and more precise. ATI Industrial Automation has developed a series of Manual Tool Changers that provides a cost-effective solution for quickly changing tools by hand. They feature a unique design that combines high strength, excellent repeatability, and a patent-pending screw-cam locking mechanism with multiple fail-safe features, which resists vibration and prevents loosening. These robust and compact Manual Tool Changers can handle payloads up to 80 pounds (36 kg) and pass pneumatics and electrical signals.