Robotic Assistance Devices announces a new advanced mask detection feature.
RENO, Nevada, July 1, 2020 -- Artificial Intelligence Technology Solutions, Inc., (OTCPK:AITX), today announced that its wholly owned subsidiary Robotic Assistance Devices (RAD) has enhanced its autonomous security and property management devices with a new advanced mask detection feature. This feature supports building owners and property managers with an autonomous tool to identify face mask usage, create automatic alerts, and generate ongoing face compliance scores.

This enhancement is integrated into RAD's Health Screening system and can be used to automatically prevent people who are not wearing masks from entering buildings. This reduces the risk of confrontation and escalation that has happened with manned security monitors and enforces mask usage. Furthermore, analytic features empower executives to monitor mask compliance at retail establishments and other workplaces, and compare compliance rates across multiple sites so management teams can address sites with low compliance first.
"Research shows that wearing masks is extremely important in slowing the transmission of communicable diseases such as Covid-19," said Steve Reinharz, Founder and CEO of RAD. "We also know that other screening methods, such as temperature checks, can be fooled if an individual takes fever-reducing medication. You can't fool the camera and you can't argue with it. Autonomous systems enforce mask policies consistently, drive accountability, and are a vital part of RAD's complete health screening solution."
Installing RAD's autonomous monitoring systems is as easy as hanging a mirror or moving a coffee table, especially when compared to the lengthy and laborious process of implementing a comprehensive CCTV system. They can be integrated into access control systems, denying entry to people who fail screenings even if they have a building pass.
When a person without a mask is detected, the system can generate, depending on customer preferences, audible and visible alerts to remind people to mask up. It also feeds alerts and a cloud-based data storage system so that security executives can analyze data for trends or quickly locate video of important incidents. The mask detection feature can be activated on all RAD devices based on client requests.
Currently, retailers and facility managers are evaluating the mask detection system for several locations. The system would not only be used to enforce mask policies when employees and customers enter the store, but can also detect if someone removes their mask while in the store.
RAD has a sales pipeline of over 35 Fortune 500 companies and numerous other potential clients. RAD expects to continue to attract new business as it converts its existing sales pipeline into paying customers. Each new Fortune 500 Customer has the potential of making numerous reorders over time.
The company may post important information about its subsidiary RAD on its website at www.roboticassistancedevices.com and through tweets from RAD President and CEO Steve Reinharz (https://twitter.com/SteveReinharz).
CAUTIONARY DISCLOSURE ABOUT FORWARD-LOOKING STATEMENTS
This release contains "forward-looking statements" within the meaning of Section 27A of the Securities Act of 1933, as amended, and Section 21E the Securities Exchange Act of 1934, as amended and such forward-looking statements are made pursuant to the safe harbor provisions of the Private Securities Litigation Reform Act of 1995. Statements in this news release other than statements of historical fact are "forward-looking statements" that are based on current expectations and assumptions. Forward-looking statements involve risks and uncertainties that could cause actual results to differ materially from those expressed or implied by the statements, including, but not limited to, the following: the ability of Artificial Intelligence Technology Solutions to provide for its obligations, to provide working capital needs from operating revenues, to obtain additional financing needed for any future acquisitions, to meet competitive challenges and technological changes, and other risks. Artificial Intelligence Technology Solutions undertakes no duty to update any forward-looking statement(s) and/or to confirm the statement(s) to actual results or changes in Artificial Intelligence Technology Solutions expectations.
About RAD
Robotic Assistance Devices (RAD) is an innovator in the delivery of artificial intelligence-based solutions that empower organizations to gain new insight, solve complex challenges and fuel new business ideas. Through its next-generation robotic product offerings, RAD can help organizations streamline operations, increase ROI and strengthen business. RAD robotics technology improves the simplicity and economics of patrolling and guard services, and allows experienced personnel to focus on more strategic tasks. Customers augment the capabilities of existing staffs and gain higher levels of situational awareness, all at drastically reduced cost. RAD robotic solutions are well suited for use in multiple industries such as enterprises, government, transportation, critical infrastructure, education and healthcare. To learn more, visit www.roboticassistancedevices.com or follow us on Twitter @RADbotsecurity.
Safe Harbor Statement
"This press release contains or may contain, among other things, certain forward-looking statements. Such forward-looking statements involve significant risks and uncertainties. Such statements may include, without limitation, statements with respect to the company's plans, objectives, projections, expectations and intentions and other statements identified by words such as "projects," "may," "will," "could," "would," "should," "believes," "expects," "anticipates," "estimates," "intends," "plans," "potential" or similar expressions. These statements are based upon the current beliefs and expectations of the company's management and are subject to significant risks and uncertainties, including those detailed in the company's filings with the Securities and Exchange Commission. Actual results may differ significantly from those set forth in the forward-looking statements. These forward-looking statements involve certain risks and uncertainties that are subject to change based on various factors (many of which are beyond the company's control). The company undertakes no obligation to publicly update any forward-looking statements, whether as a result of new information, future events or otherwise, except as required by applicable law."
Contacts
Investor Relations Contact
The Waypoint Refinery, LLC
845-544-5112
www.thewaypointrefinery.com
Media Contact
Matt McLoughlin
Gregory FCA
610.228.2112
matt@gregoryfca.com
Featured Product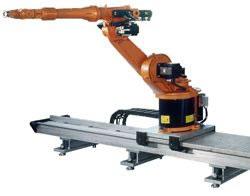 IPR Robotics offers a wide range of servo-driven 7th axis linear rails for industrial robots. These rails come in ten different sizes and are constructed from modular high strength extruded aluminum sections to handle payloads of 100 kg to 1600 kg or from steel to handle 2000 kg payloads. This variety of rail sizes allows each application to be sized correctly, controlling the space required and the price point. The drive train design of these rails utilizes helical gear-racks and is proven over 10 years to be repeatable and reliable, even in tough foundry applications.