Robotic machining has additionally introduced new possibilities for surface texturing on the stone surface, significantly adding to the aesthetics, presenting an innovative and pleasing artistic appearance. The textures would be difficult if not impossible to achieve by any other production process.
Recently, so-called RGB-D cameras have become available, capable of delivering synchronized color (RGB) and depth (D) information in real-time. The depth information is dense, and comes at negligible additional processing cost for the host CPU. They avoid the complexity of robust disparity map computation of stereo systems, and are much faster than laser scanning techniques. Thus, these sensors are very attractive for the computer vision community and their benefits to classical applications are worth investigating.
Records 121 to 122 of 122
Featured Product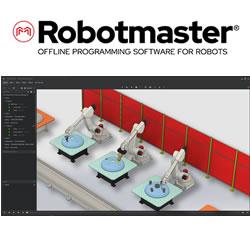 Robotmaster delivers unmatched, full-function off-line programming capability for robots - easy programming of precise robot motion control and quick generation of path trajectories of any size, with minimal programmer intervention. Our strong background in CAD/CAM (Computer Aided Manufacturing) software has enabled us to bring a revolutionary approach to programming industrial robots.