Robotic machining has additionally introduced new possibilities for surface texturing on the stone surface, significantly adding to the aesthetics, presenting an innovative and pleasing artistic appearance. The textures would be difficult if not impossible to achieve by any other production process.
Recently, so-called RGB-D cameras have become available, capable of delivering synchronized color (RGB) and depth (D) information in real-time. The depth information is dense, and comes at negligible additional processing cost for the host CPU. They avoid the complexity of robust disparity map computation of stereo systems, and are much faster than laser scanning techniques. Thus, these sensors are very attractive for the computer vision community and their benefits to classical applications are worth investigating.
Records 121 to 122 of 122
Featured Product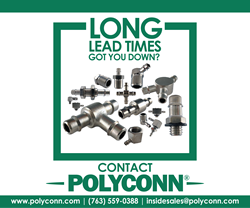 We can produce pneumatic hose and other pneumatic products to match your exact specifications. Our proficient engineering and quality management, coupled with outstanding customer service means Polyconn delivers high quality pneumatic components at competitive prices. Place your order or contact Polyconn for more information on our pneumatic hoses, pneumatic manifolds, Duratec® Pipe or any of our other top quality pneumatic products and components.