Ben Rossi for Information Age: Robotics has already been deployed in manufacturing to great effect for over a decade, performing delicate and precise tasks with greater accuracy than humans. But now cutting-edge robots and other smart machines are set to join forces with the rapidly expanding Internet of Things, which Gartner estimates will total 25 billion devices by 2020. In healthcare, robotic services are already operating pharmacy dispensers and robotic trolleys are now deployed in a growing number of hospitals. In hospitality, robots deliver services such as drinks dispensing and automated trolley deliveries. Robots have even made their way into education, where they are being deployed successfully as a tutor, tool or peer in learning activities. But what impact will this large-scale adoption of robotics have on existing networks as they encounter inevitable further strain? Cont'd...
Records 16 to 16 of 16
Featured Product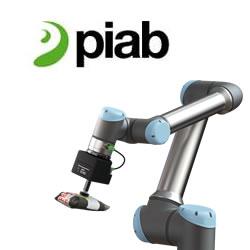 Piab's Kenos KCS gripper enables a collaborative robot to handle just about anything at any time. Combining Piab's proprietary air-driven COAX vacuum technology with an easily replaceable technical foam that molds itself around any surface or shape, the gripper can be used to safely grip, lift and handle any object. Standard interface (ISO) adapters enable the whole unit to be attached to any cobot type on the market with a body made in a lightweight 3D printed material. Approved by Universal Robots as a UR+ end effector.