• Thursday, February 20, 2020, Haus der Bayerischen Wirtschaft, Munich, Germany • The latest machine vision trends, including embedded vision and deep learning in industrial use • Participants benefit from presentations, live demos, and networking
Munich, January 14, 2020 - MVTec Software GmbH (www.mvtec.com), the leading provider of innovative machine vision software, invites guests to attend MVTec Innovation Day once again this year. On Thursday, February 20, 2020, visitors will gain practical insight into the latest machine vision topics at Haus der Bayerischen Wirtschaft in Munich. Aimed especially at developers, programmers, and experienced machine vision users, MVTec experts will illustrate trends, technologies, and solutions in a variety of presentations. The MVTec team will also be on hand for a direct exchange and technical discussions. During the breaks and evening event, attendees will have the opportunity to visit an exhibition with live demonstrations as well as network with colleagues in a relaxed atmosphere. The event will take place in German, with professional simultaneous interpreters available for all non-German speakers.

Expert presentations on the latest trends and technologies
The presentations will focus on the latest trends and technologies as well as their application in daily practice. One of these is the efficient anomaly detection in deep-learning-based inspection tasks using the standard machine vision software MVTec HALCON. Other topics to be presented are deep-learning-based optical character recognition (OCR), examples of the latest embedded vision applications, HALCON's generic box finder for pick-and-place applications, and identification via subpixel bar code reader. The experts will also discuss general market developments and future milestones at MVTec. Moreover, visitors will receive valuable tips from MVTec developers and can enter a drawing to win for example a license for MVTec's software products or a deep-learning training course. For the first time, this year's Innovation Day will also feature external speakers - for example, from B&R and Manz AG - who will discuss topics like embedded vision and deep learning.
Throughout the day, fascinating live demonstrations will provide practical insights into the use of modern machine vision applications in industrial environments - with an emphasis on scenarios that focus on embedded vision and deep learning.
For more information on the agenda and to register for the event (until February 7, 2020), visit https://www.xing-events.com/mvtec-innovation-day.html?page=1861562.
About MVTec
MVTec is a leading manufacturer of standard software for machine vision. MVTec products are used in all demanding areas of imaging: Semi-conductor industry, web inspection, quality control and inspection applications in general, medicine, 3D vision, and surveillance. MVTec, with its head office in Munich (Germany), has more than 30 established distributors worldwide and in addition, MVTec, LLC works out of Boston, MA (USA). www.mvtec.com
About MVTec HALCON
MVTec HALCON is the comprehensive standard software for machine vision with an integrated development environment (HDevelop) that is used worldwide. It enables cost savings and improved time to market. HALCON's flexible architecture facilitates rapid development of any kind of machine vision application. MVTec HALCON provides outstanding performance and a comprehensive support of multi-core platforms, special instruction sets like AVX2 and NEON, as well as GPU acceleration. It serves all industries, with a library used in hundreds of thousands of installations in all areas of imaging like blob analysis, morphology, matching, measuring, and identification. The software provides the latest state-of-the-art machine vision technologies, such as comprehensive 3D vision and deep learning algorithms.
The software secures your investment by supporting a wide range of operating systems and providing interfaces to hundreds of industrial cameras and frame grabbers, in particular by supporting standards like GenICam, GigE Vision, and USB3 Vision. By default, MVTec HALCON runs on Arm®-based smart cameras and other embedded vision platforms. It can also be ported to various microprocessors/DSPs, operating systems, and compilers. Thus, the software is ideally suited for the use within embedded systems. www.halcon.com, www.embedded-vision-software.com
About MVTec MERLIC
MVTec MERLIC is the all-in-one software product for quickly building machine vision applications without any need for programming. It is based on MVTec's extensive machine vision expertise and combines reliable, fast performance with ease of use. An image-centered user interface and intuitive interaction concepts like easyTouch provide an efficient workflow, which leads to time and cost savings. MERLIC provides powerful tools to design and build complete machine vision applications with a graphical user interface, integrated PLC communication, and image acquisition based on industry standards.
All standard machine vision tools such as calibration, measuring, counting, checking, reading, position determination, as well as 3D vision with height images are included in MVTec MERLIC. Furthermore, the software is able to execute tools in parallel, increasing overall efficiency and improving the implementation of multi-camera-setups. MERLIC's features are all based on the latest state-of-the-art machine vision technologies, such as matching or deep learning. The software is available for Windows-based PC and embedded platforms, making it ideally suited for use in smart cameras. www.merlic.com
Featured Product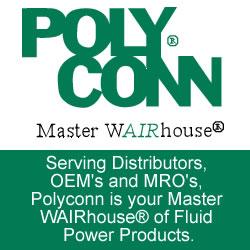 We can produce pneumatic hose and other pneumatic products to match your exact specifications. Our proficient engineering and quality management, coupled with outstanding customer service means Polyconn delivers high quality pneumatic components at competitive prices. Place your order or contact Polyconn for more information on our pneumatic hoses, pneumatic manifolds, Duratec® Pipe or any of our other top quality pneumatic products and components.