The lifetime cost of ownership of a mobile robot is largely influenced by the design of its drivetrain. If the OEM uses well designed and proven components, the mobile robot will provide many years of service with minimal downtime for maintenance.
Integrated Wheel Drives Lower Cost of Mobile Robot Ownership
Steven Keeping | Electrocraft Inc.
ElectroCraft's MobilePower™ MPW series integrated wheel drives benefit from the company's decades of mobile power design expertise. The product offers OEMs a compact, high-torque density electric wheel drive that solves drivetrain design challenges and cuts the lifetime running costs of mobile robots.
The lifetime cost of ownership of a mobile robot is largely influenced by the design of its drivetrain. If the OEM uses well designed and proven components, the mobile robot will provide many years of service, handling cumbersome, heavy loads efficiently with minimal downtime for maintenance. In contrast, a poorly designed drivetrain will lead to higher energy costs, increased maintenance, and premature wear and failure. The difference in the cost of ownership between the reliable machine and its less robust counterpart is stark.
That puts pressure on the design engineer to choose the best power supply, control systems, motors, gearboxes, wheels and brakes to combine into a drivetrain, which ensures the mobile robot features the optimum trade-off between cost, reliability, efficiency, load-carrying capability, uptime and longevity. While that is undoubtedly a major design challenge, it can be made simpler by partnering with an expert in mobile robot drivetrain design such as ElectroCraft, a global provider of dependable, application-engineered fractional-horsepower motor and motion products.
Leveraging its design expertise, ElectroCraft has addressed the complexities of mobile robot drivetrain design with the introduction of its MobilePower™ Wheel-Drive (MPW) integrated mobile robot wheel drives. The MPW52 and larger MPW86 feature high torque-density brushless DC motors with integrated single-stage planetary gearboxes and wheel drive assemblies. Each part of the integrated product is designed to complement the others for a compact and high-power density solution that accelerates drivetrain design, and ensures high reliability, long life and minimal maintenance to the end user.
An integrated solution built on a mobile power heritage
ElectroCraft offers a range of highly reliable, cost-effective, industrial-strength products that have evolved and expanded over time to become ideal mobile platform traction solutions. The company has over one million gear motors in service worldwide and years of experience in building custom solutions for its customers. The company's geared motors are renowned for their smooth, controlled power delivery, with high starting torque. ElectroCraft's engineers are constantly developing new products, which has opened the door to new markets requiring motors and geared motors with more demanding specifications, such as those needed to power mobile robots.
A key challenge for the mobile robot design engineer is that while there are several reputable motor, gearbox, hub and wheel makers, there are few suppliers that offer an integrated solution. ElectroCraft is a notable exception and the company's expertise brings design, components and engineering optimization together to add a high level of value to the solution. ElectroCraft can also design custom solutions — meeting specific application requirements — based on the MPW series.
The MPW52 wheel drive and MPW86 wheel drive both feature a high-torque density, brushless direct current (BLDC) motor with a heavy duty inline planetary gear box mounted inside the hub of an aluminum wheel, with a polyurethane tread (Figure 1). In addition to being customizable, the MPW integrated wheel drives are offered with a number of options, including torque output, 24 or 48 V winding voltage, electromagnetic brake and Hall sensor or optical encoder feedback for motor control.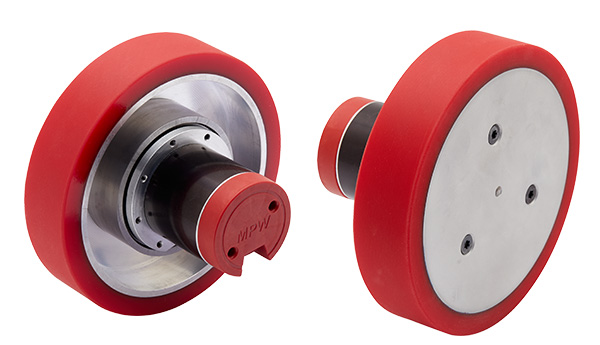 The MPW series integrated design provides increased performance and reliability at an affordable price compared to traditional motor, gearbox and wheel combinations. These attributes contribute significantly to the lower cost of ownership of a mobile robot.
Inside the MPW52 and MPW86
For a given BLDC motor frame size, maximum and continuous torque are limiting factors to the motor's performance. The designer can boost maximum and continuous torque by attaching the BLDC motor to a gearbox to boost torque, but that gain comes at a cost to compactness, precision, efficiency and responsiveness. Moreover, for the mobile robot designer who is not an expert in motor design, it is very difficult to select the best motor and gearbox combination for the vehicle. ElectroCraft's MPW series solves this problem by pairing specially designed BLDC motors with the optimum size and ratio inline planetary gearbox.
Coupling the gearbox directly to the motor brings other advantages, such as greater stiffness, efficient operation and no compatibility problems. The integrated geared motors are designed to combine the peak capabilities of both the BLDC motor and the planetary gearing. The BLDC motors used in the MPW series feature a proven design renowned for its small frame size and high torque density. The high torque density of this integrated design also enables lower ratios in the planetary gearing.
The result is a perfectly balanced and streamlined geared motor design with a minimal number of components for a smaller footprint, greater accuracy and better dynamic response. The optimum combination of BLDC motor and planetary gear is the key to the MPW series performance and efficiency.
| Model | MPW52 | MPW86 |
| --- | --- | --- |
| Motor frame size (mm) | 52 | 86 |
| Total length with wheel (mm) | 95 | 130 |
| Wheel diameter (mm) | 150 | 200 |
| Planetary gear ratio | 9:1 | 20:1 |
| Maximum load per wheel (Kg) | 68 | 227 |
| Peak torque (Nm) | 12.4 | 35 |
| Continuous torque (Nm) | 4.5 | 20 |
| Wheel speed (m/s) | 2.4 | 1.9 |
| Peak system efficiency (%) | 80 | 85 |
Table 1: MPW52 and MPW86 performance characteristics.
Lowering the cost of mobile robot ownership
ElectroCraft's MPW52 and MPW86 integrated wheel drives not only lower the cost of mobile robot ownership for the end user, but they also reduce costs for the OEM too. By using the MPW products as part of their design, the OEM is not only employing a turnkey solution, but also accessing ElectroCraft's mobile power expertise and proven engineering. The choice means they can be confident that the integrated wheel drives that form a critical part of a mobile robot's drive train are optimized for the application. The designer is freed up to focus on other challenges that come with designing a mobile robot, which shortens project timescales and saves design costs.
An MPW-based design also brings significant savings to the end customer. Using the compact and efficient BLDC motor and planetary gear combination results in major energy cost savings. Moreover, poorly designed drive chains are the source of many breakdowns for mobile robots, leading to increased maintenance and shorter working lives. Those problems are overcome when using the MPW-integrated wheel drive because it is a fully engineered and optimized solution that is extremely reliable —resulting in far fewer breakdowns and extended operational duty. End users can rely on a strong platform that can carry heavy loads, one that remains on continuous duty apart from recharging, and one that can last for 20,000 hours of duty and beyond. The end result is dramatically lowered cost of ownership.
ElectroCraft have engineered the MPW integrated wheel solutions to perfectly meet the tough uptime and load demands placed on mobile robots. That not only accelerates time-to-market, but also frees up the OEM to focus on the mobile robot's platform, guidance and software that make their products superior to the competition.
The content & opinions in this article are the author's and do not necessarily represent the views of RoboticsTomorrow

Electrocraft Inc.
ElectroCraft, Inc. is a global provider of dependable, application-engineered fractional-horsepower motor and motion products. Our products are found in thousands of different applications within industrial, commercial, and consumer product markets. While ElectroCraft provides a wide array of standard products with many configurable options, we have built our brand on custom OEM solutions that meet the precise performance, cost and quality our customers require.
Other Articles
If the OEM uses well-designed, proven components, the mobile platform will provide many years of service, handling cumbersome, heavy loads efficiently with minimal downtime for maintenance.
The ElectroCraft CompletePower™ Plus Universal Drive takes the guesswork out of selecting and configuring a drive and motor combination by incorporating all of the features and functions necessary to provide optimal control of a wide variety of brushless DC motors.
We provide motion control solutions in the form of electric motors, drives and motion control solutions for OEM Customers who are unsatisfied with having to design around inflexible off-the-shelf products.
---
Comments (0)
This post does not have any comments. Be the first to leave a comment below.
---
Post A Comment
You must be logged in before you can post a comment. Login now.
Featured Product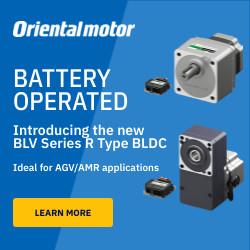 The BLV Series R Type brushless DC motor (BLDC motor) speed control system offers the design of motor and driver significantly reduced in size and weight, yet high-power, and contributes to the battery driven automation. The BLV Series R Type is compatible with the two interfaces of Modbus (RTU) and CANopen communication.