It has been over 6 months without any in person events. With that in mind we are putting together a special feature article for the fall to highlight some of the new products and services our partners have rolled out during that time. Part 1.

Brandon Hetherington for | RoboticsTomorrow
Featured Articles:

Sponsored by:

Company Insights and News:

Whats New?

Over the past few months, CIMON has made several improvements to its existing product lineup: including new enclosure ratings for its Human Machine Interfaces (HMI's) and Industrial PC's (IPC's), and updated HMI protocols.

For industrial applications, having the right enclosure ratings is essential to ensure the safety and reliability of your system. To this end, CIMON has recently obtained a NEMA 4X-rated enclosure for all IPC and HMI products, meaning you can be confident in CIMON products' dependability even in harsh environments.

IPC's provide the power and flexibility of a desktop PC, but with the reliability and ruggedness needed for factory floors and other extreme conditions. CIMON's newest touchscreen IPC's come with powerful dual-core Intel i3 and i5 processors. Their affordable pricing removes the compromise between cost, durability, and performance.

CIMON's HMI devices are especially popular for connecting diverse types of devices using multiple communication protocols. In the most recent version of XpanelDesigner (CIMON's HMI runtime editing software), an improved driver for communicating with Allen Bradley devices over EtherNet/IP allows direct importing of L5X files: this makes system-wide data exchange and integration even easier by reducing engineering time.

What can we expect?

CIMON will soon be releasing an updated version of its Micro-S Brick-style PLC. This version will include an Ethernet port to allow for additional communication options, as well as remotely updating and monitoring PLC programs. There will also be choices available for relay, sink (NPN), and source (PNP) output. These features will make the Micro-S a highly attractive option for small-scale projects.

CIMON Xpanel HMI's will also see greater responsiveness thanks to improved capacitive touch functionality; operators will soon be able to scroll and drag-and-drop using intuitive real-time touch controls. The model will also feature a Linux-based operating system for increased reliability and performance.

Recently, CIMON's Hybrid HMI/PLC combo model has gained substantial traction in a variety of industries; by combining the functionality of both a PLC and an HMI into a single unit, engineers can easily test, edit, and implement their projects while maintaining a small footprint and budget. The newest models will come with dedicated Ethernet and serial ports for the PLC, providing greater flexibility for communication.

Finally, new versions of PLC, HMI, and Supervisory Control and Data Acquisition (SCADA) software will bring a multitude of new features and improvements.

Where will you be Virtually this fall?

In lieu of tradeshows, readers can learn more about the company with regularly scheduled webinars, online training, and a quarterly newsletter. This information is available online at www.cimon.com.

CIMON has also had massive success with its System Integrator Program. This program provides heavily reduced pricing on all CIMON products, a license to resell CIMON products, lead generation, and lead referrals.

Whats New?

ATI Industrial Automation has developed the RCE-710 Radially-Compliant Electric Material Removal Tool, its first all-in-one, electrically-powered material removal tool.

The RCE-710 features large bearings, a shaft designed for demanding robotic use and a variable speed motor with a range of 0 to 13,000 rpm. It is built to handle a diverse array of robotic material removal tasks such as rust and weld spatter removal, blending, polishing and light grinding.

The new electric tool features built-in compliance to simplify and streamline the programming process, and to compensate for part and fixturing misalignments. The motor rotates clockwise and counterclockwise and produces continuous torque on the work piece.

Available as a complete end-effector package, the RCE-710 includes the deburring tool, power and signal cables and connectors, and an easy-to-use controller. This versatile and dynamic material removal solution can perform a wide array of tasks with carbide burrs, brushes, flap wheels, unitized wheels, and a variety of other cutting, grinding and polishing media.

For more information about the RCE-710 visit www.ati-ia.com/RCE.

Whats New?

Earlier this year, we launched the

THE600 SCARA model

. Developed to meet growing demand for fast-cycle automation, this SCARA robot builds on the specifications of the previous

THE400

, but includes improvements in synchronised control and tracking precision. Compact in design and offering high speeds, the THE600 has a 60 per cent higher payload capacity than competing SCARA models in the same price range — which makes it the price-to performance leader.

Since its launch, we have continued to enhance the options available to adapt THE600. They include ceiling mounts, cleanroom specifications, and compatibility with complex vision and conveyor tracking solutions.

We have also launched our new, free robotics consultation service. A consultation session provides manufacturers with practical advice on choosing the automation tools that can prove most effective for them, based on an assessment of their unique situation.

Consultations are held virtually, using a video conferencing service, and are hosted by one of TM Robotics' robotic automation experts. Alternatively, they can be arranged by appointment.

What can we expect?

For the remainder of 2020, we will focus on sharing some innovative applications for our Shibaura Machine robot range; from assisting ultrasonic cheese cutting to new and interesting uses of machine vision.

Where will you be Virtually this fall?

Alongside our consultation service, we offer bespoke online training sessions based on the needs of your organisation. You might be an existing TM Robotics customer that wishes to know more about the features and maintenance of your robots? Or, an end user new to automation, who wants to learn more about the benefits and applications of industrial robotics? We can create online training tailored to you. Simply contact us to discuss your requirements, and book a time and date.

Now available: uEye CP camera with polarization sensor

The NXT big thing: Industrial cameras with artificial intelligence

uEye XLE: the new camera family from IDS

Ensenso N40 and N45: Lightweight thanks to fiber-reinforced plastic housing

Whats New?

Besides launching new uEye LE AF autofocus cameras with additional sensors and connector options, we have also rolled out our 5MP uEye CP polarization camera models. They can independently determine the direction and degree of polarized light through on-camera pixel preprocessing, even before the image is transmitted to the PC. How this works is explained in our tech tip: https://en.ids-imaging.com/techtipp-details/techtip-on-camera-polarization.html

Customers can choose polarization camera models with USB3 Vision or GigE Vision interface and benefit from data that provides more insight than "standard" sensors, such as mechanical tensions in transparent objects.

The intelligent IDS NXT camera series has also been expanded. The cameras can apply their "knowledge" acquired through deep learning to new data and, thanks to FPGA-based AI acceleration, enable inference times of a few milliseconds. Thanks to their robust housing, they are well-suited for industrial use. Our portfolio now includes additional Sony sensors from 3.1 to 6.4MP. More information about the all-in-one AI system, which requires neither knowledge in deep learning nor camera programming, is available via www.ids-nxt.com

We also added various camera variants with the high-resolution, light-sensitive 20MP Sony sensor IMX183 to our portfolio, as well as other new models to fit an even wider range of applications. Not to mention interesting software upgrades for our Vision Standard-based cameras. With IDS peak, we offer a modern SDK that is based on the EMVA (GenICam) and AIA (GigE Vision, USB3 Vision) standards and simplifies the programming of Vision-based cameras. It comes with all needed components, from source code samples to transport layers, so that users can start developing applications right away. With the release of version 1.1, programming in C# has become possible. The SDK can be downloaded free of charge from our website: www.ids-peak.com

What can we expect?

We are really excited about our roadmap in the next 6 months. We'll introduce uEye XLE for example, a completely new industrial camera family which is designed for price-sensitive projects. Thanks to their space-saving measures and practical USB3 Vision interface, they can be easily integrated into any machine vision system. Customers can choose between single-board cameras with or without C-/CS-mount or S-mount as well as from variants with coated plastic housing. The first models will be equipped with the light-sensitive 5 MP sensor ON Semiconductor AR0521.

We will also add new Ensenso N 3D camera models to our portfolio – with new design and updated electronics. Thanks to IP65/67 protection, the Ensenso cameras N40 and N45 can be used even in harsher environments. The housing of the new cameras is made of fiber-reinforced plastic – making them the lightest stereo vision cameras in our product range. When mounted on a robot arm this results in less stress on the robot mechanics. The cameras also minimize the risk of injury thanks to their rounded edges. As a result, they also excel in collaborative robotics.

Keep an eye out for additional big news with Sony IMX 4th Gen options, new IDS-labeled lenses with 5, 8 and 10MP and… Perhaps I should stop there so that I don't get in trouble for letting too much out of the bag.

Where will you be Virtually this fall?

We just completed a few virtual tradeshows and are considering some upcoming options. Furthermore, we are currently planning the IDS Vision Weeks, a series of digital events to show and explain the latest in machine vision technology. Sign up for the IDS newsletter to make sure you are in the know and register in time!

Answers by: Jeremy Bergh, President North America at IDS Inc.

Whats New?

ElectroCraft is fortunate to have leadership committed to the markets we serve and our product innovation has flourished as a result. We have launched:

The APES17 Linear Actuator: The APES17 Stepper linear actuator offers 40% more force than competitive size 17 designs.
The MPW52: offers OEMs a compact, high-torque density electric wheel drive that solves drivetrain design challenges and cuts the lifetime running costs of mobile robots.

What can we expect?

Over the next few months we are continuing to expand our MobilePower Wheel Drive with the MPW86 that is capable of handling a 500lb. load per wheel.

Where will you be Virtually this fall?

You can find us in Robotics Tomorrow and on our site and social platforms, ElectroCraft will continue to offer articles, videos and webinars to demonstrate product detail and industry implications.

Whats New?

Over the past few months, MMP has been heavily focused on managing, maintaining and processing customer orders as well as expanding our facility.
We have also had the fortune to add few certification programs in order to provide more customized products to our customers.

We would love to highlight a few of our best selling products. Please find the information below:

In-Line DC Planetary Gearmotor: This robust Gear Motor measures just 1.65" in Diameter, and less than 8" long, including the Brake and Encoder and has a keyed output shaft of 8mm diameter by 25mm long. Easy mounting is accomplished with 4 "face mount" M4 threaded holes, equally spaced on a 36mm Dia. B.C. The featured Encoder is a 2 Channel, 32 PPR, 5V ttl device, with an index pulse. (Various resolutions available)

Linear Actuator: Unlike most other 'light-duty' actuators, which use a Delrin drive gear pinion, this new design from MMP utilizes an 'All-Steel" drive pinion, thereby increasing the force capacity, while maintaining the 5:1 Reduction Ratio which allows the unit to maintain a rapid 2" per second stroke speed. Despite this more robust design, the unit still maintains a relatively low noise profile, and an "IP65" protection rating against the ingress of moisture and other contaminants. The stroke length for the design is 4" overall, but the Company also offers the same design with 2", 6", 8", 10" and 12" Stroke lengths. The MMP-LA3 Series Actuators feature 8mm diameter clevis mounts on both ends, and built-in limit switches for both (full extend and full retract) ends of travel. The operating temperature rating range is from –26°C to +65°C. An acme screw drive allows for a 517 Lbs. of Static Load, while the unit boasts a 45 Pound Dynamic Load Rating.

Right Angled Gear Motor Design Release: This new 1:1 Right Angled Gearbox allows for significantly increased versatility, and design whose geometry allows for the unit to be mounted in tight spaces.
This allows us to employ our Standard Motor and Planetary Gearheads to complete the R/A Design.

What can we expect?

MMP is pleased to be expanding the new warehouse facility of 3840 sq. ft. of added space! This upgrade boosts production lines and adds more value for greater inventory space in order to meet customer demands.

For the remainder of 2020, MMP will continue to expand on production capabilities and also focus on tapping into various upcoming technologies like Autonomous cars, 3D printing, and less invasive medical surgeries by continuing to serve industries like military, defense, medical, transport and others.

We are also very excited to be releasing our new Website in coming months with more user friendly features and easy access to our MMP products and continue to provide a positive experience to our customers.

Where will you be Virtually this fall?

MMP has always been focused on holding a great reputation with our customers by having a strong emphasis on customer service which includes fast responsiveness and an abundance of industry knowledge that cannot be compared with any of the competitors in our industry. MMP strongly believes that "Knowledge increases by sharing but not by saving" and hence we are in the process of promoting and sharing Motion Control Industry knowledge by associating with MMP products on our official LinkedIn page.

What's New?

PI's high load hexapod robot for 6-Axis precision automation – H-855 – has a modular design which allows for fast and flexible adaptation to a broad range of application requirements. Designed for dynamic motion in XYZ, pitch roll, and yaw, 6-axis parallel kinematics motion is perfected by PI hexapods delivering nanopositioning precision, high speed, and stability necessary to meet today's demanding motion control applications. Applications include industrial automation, precision assembly, astronomy, aerospace.

With a load capacity up to 500kg, travel ranges to ±160 mm, and rotation ranges to ±60°, the H-855 is equipped with absolute encoders which supply explicit position information, thereby eliminating reference switching, which increases efficiency and safety during operation. Parallel-kinematic design for six degrees of freedom make the H-855 significantly more compact and stiff than serial-kinematic systems, delivers a higher dynamic range, and has no moving cables: resulting in higher reliability and reduced friction.

To learn more about the H-855 Hexapod Robot, click here».

What can we expect?

New posts are added on a regular basis to our tech blog, which represents 50 years of insight detailed in over 160 different innovative applications of precision motion control, nanopositioning, and micropositioning in industry, science, and research.

Tap into our resources as a starting point for innovation across disciplines and click here» for hexpod-specific articles.

Where will you be Virtually this Fall?

WEBINARS / WEBCHATS: To fill the void of face-to-face interactions and technical talk on tradeshow floors, PI is running webinars and webchats to share our engineers' vast application knowledge. Topics include: adaptive machines, differences and advantages between piezo mechanisms, and custom direct drive motors for industrial and research applications.

To register for an upcoming webinar and watch past webinars, click here ».

VIRTUAL INTERACTIVE TRADESHOW BOOTHS: Keep up-to-date with the latest developments in Industrial Automation and Laser Material Processing precision motion control with PI's series of interactive virtual tradeshow booths.

Assembly, semiconductor manufacturing, laser material processing, and inspection systems demand systems that are robust and reliable, while delivering submicrometer accuracy, exact position reproducibility, and high throughput.
Laser processing automation additionally must deal with process, material, work cycle, ambient conditions, and criteria such as geometry tolerances, size of the machining surface, and contours.

PI's virtual demonstrations explain how each system works and how the user benefits from its innovations – click here ».

Whats New?

Over the past 6 months our EOAT new product initiatives have been focused on providing collaborative experiences that provide safe workplace distances, yet maintain processing efficiencies. Among our newest offerings are:

The smallest profiled vacuum generator for collaborative robotic applications. The streamlined, safe sculpt design, and no need for vacuum hoses, makes it perfect for precise applications that need to be performed in tight spaces. Paired with our wide variety of workpiece specific suction cups, these mini-generators get the task done.
The lightweight, 3D workpiece designed vacuum gripper offers a modular end-effector solution. In order to design your own EOAT you only need to upload the workpiece specs into our online configurator. The result is a gripper that knows what it's picking and does it with precise security.
Our CobotGripper, introduced in 2018 with a foam gripping surface, has a sister product now. The new release has the same, self-contained generator, inside the collaborative gripper housing, but this version has suction cups for applications that are better served with the holding force and flexibility of cups.

What can we expect?

Fourth quarter will mark the official release of two NEW collaborative tools from Schmalz:

Our Vision and Handling system has two things going for it - the vision quality necessary to ensure solid pick-and-place functionality and the durable, streamlined design to be integrated into any collaborative solution.
The Schmalz Bin Picker provides the same durable, streamlined design, but also achieves secure picking from any surface with its super flexible, extended suction cup surface. This cup can capture a workpiece from sharp corner or smooth surface, so no matter how the bin is packed we can grab and move without fail.

Where will you be Virtually this fall?

Its been our mission to stay in front of our customers, providing information and product offerings throughout this tradeshow-less period. We have participated in many sponsored events, but also have been promoting live, interactive demos in webinars, presented by our Application Engineers and Regional Sales Team. If you are not receiving invites to those, please contact mark.westphal@schmalz.com to be added to our distribution list.

If you prefer the self-guided, self-paced exploration of a virtual tradeshow, we offer the full breadth of Schmalz vacuum automation and material handling solutions in our SchmalzExpo. This is a no-cost opportunity to select the product category, to review tutorial videos, literature pieces and engage with our team to talk about your specific handling challenges. Please click here for your FREE registration: https://expo.schmalz.com/

Whats New?

Goudsmit's recently developed 'Fail Safe' magnetic sheet separator automatically separates steel sheets up to a thickness of approximately 4 mm. The separator is equipped with extremely powerful Neodymium magnets that can be switched on and off pneumatically using a newly patented system. This switching operation occurs quickly through the rotation of the magnets. The maintenance-free sheet separator is the only one of its kind that is equipped with a spring-driven off mode.

As well, the recently improved magnetic gripper from Goudsmit Magnetics is used for the automated pick-up, placement or positioning of steel or other ferromagnetic objects. This makes magnetic grippers an efficient alternative to traditional robotic grippers, as what is called 'robot end-of-arm tooling'. Among other things, the system is suitable for lifting and transporting thin steel sheets one by one.

Finally, Goudsmit Magnetics recently redesigned its magnetic palletizer, which now consists of modules that are available in several versions. The maintenance-friendly magnet is suitable for palletizing and depalletizing tins, aerosol cans, canned goods and glass jars with steel lids. The modular construction offers users, such as integrators, packaging companies and producers of food or chemicals, a number of choices that will eliminate the need for an extra robot and save manpower. A lightweight version, for example.

Where will you be Virtually this fall?

You can find the latest animated films of our products on our YouTube channel.

What's New?

As a total solutions provider for all industrial automation needs, Omron has launched several new products this year that are designed to help companies maintain plant safety and free up workers from repetitive tasks. Key to this effort is autonomous mobile robot technology like Omron's LD Series, which recently expanded to include the LD-250 mobile robot that transports payloads of up to 250kg throughout dynamic and peopled environments. For manufacturers seeking an automated solution for moving the heaviest of objects, the new HD-1500 has sturdy metal skins optimized for extremely large, bulky items with the goal of reducing a facility's dependence on forklifts. To boost the capabilities of autonomous materials transport, Omron has launched the Fleet Operations Workspace (FLOW) Core, a software package that simplifies integration, supports flexibility and maximizes reliability. It also helps manufacturers control fleets of up to 100 robots with ease.

What can we expect?

For industry professionals wanting to know what's coming up next from Omron, an important technology to look out for will be the robotics integrated controller that can control fully automated robotic production systems and extend automation technology by covering more types of tasks and facilitating innovation, whether in virtual or remote environments.

Where will you be Virtually this fall?

Throughout the rest of the year, Omron will continue to incorporate the latest advances in robotics, motion and sensing technology into its vast product portfolio. While in-person tradeshows are not an option, the automation partner will be a presence at many virtual events, including live webinars, online training sessions and more. Omron is getting ready to showcase its newest products at PACK EXPO Connects, a virtual stand-in for the annual PACK EXPO tradeshow, and will also be highlighting its SPI, AOI and AXI products at the virtual SMTA International tradeshow this year. The latter event features an opportunity for booth attendees to win some valuable prizes.

Whats New?

Piab is introduced a new smaller size of the soft gripping tool piSOFTGRIP®, developed especially with the food/chocolate industry in mind. The vacuum-based soft gripper will grip sensitive and lightweight objects of odd geometries and/or an unusual surface. piSOFTGRIP® has three gripping fingers and a sealed vacuum cavity, all made in one piece, resulting in a simple and robust product. The product is not sensitive to dust and the gripping force is easily adjusted and controlled by the applied vacuum level.

We have also updated our Carton Clamp Tool.

This standard clamp tool is designed to increase your efficiency and decrease production time. The carton clamp tool EOAT is pre-engineered and one-of-a-kind in the industry; it's simple to set up and allows for multiple configurations and accessories. The standard clamp tool is perfect for handling boxes, crates, and trays and has a payload of up to 50kg/110bs (with Lift Assist). The tool is designed to meet nearly all your palletizing needs, so ultimately your robot can do more, and you do less. Piab's solution ensures reliability along with minimal maintenance. It is truly plug n play set up.

What can we expect?

Piab will be introducing some new vacuum generators and suctions cups later this year. As well as a new branding initiative.

Where will you be Virtually this fall?

Piab will be exhibiting at Pack Expo Connects, the virtual trade show in lieu of the cancelled Pack Expo International packaging trade show that would have been in Chicago this November. The virtual show runs from November 9-13.
News Headlines & More Related Articles
The content & opinions in this article are the author's and do not necessarily represent the views of RoboticsTomorrow
---
Comments (0)
This post does not have any comments. Be the first to leave a comment below.
---
Post A Comment
You must be logged in before you can post a comment. Login now.
Featured Product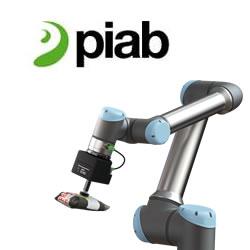 Piab's Kenos KCS gripper enables a collaborative robot to handle just about anything at any time. Combining Piab's proprietary air-driven COAX vacuum technology with an easily replaceable technical foam that molds itself around any surface or shape, the gripper can be used to safely grip, lift and handle any object. Standard interface (ISO) adapters enable the whole unit to be attached to any cobot type on the market with a body made in a lightweight 3D printed material. Approved by Universal Robots as a UR+ end effector.