It has been over 6 months without any in person events. With that in mind we are putting together a special feature article for the fall to highlight some of the new products and services our partners have rolled out during that time. Part 2.

Brandon Hetherington for | RoboticsTomorrow
Featured Articles:

Sponsored by:

Company Insights and News:

Whats New?

Omnichannel fulfillment complexities are permeating every sector of the retail landscape. To meet escalating customer service demands, retail leaders are looking for ways to augment regional distribution center (DC) hubs with a rapidly emerging micro-fulfillment center (MFC) strategy — one that utilizes highly automated, high-density, small-footprint automation systems that can be installed in stand-alone facilities or in (or near) existing stores. In this hypercompetitive market, retail leaders who are already adopting MFC strategies are gaining a first-mover advantage. Honeywell Intelligrated is combining robust automation equipment, robotics and advanced execution software to help retailers deploy micro-fulfillment strategies all across the retail spectrum.

From grocers to major e-commerce players and traditional big-box stores, retailers are faced with unprecedented omnichannel fulfillment complexities. Not only do customers want faster order fulfillment and delivery, but they're also opting to buy online and pick up in store (aka BOPIS or "click-and-collect") — often within a few hours. For both pure-play e-tailers and brick-and-mortar leaders, adopting an MFC approach is helping companies to accelerate deliveries and shorten the distance between fulfillment centers and their customers. As a pioneer in MFC technologies, Honeywell Intelligrated is helping leading retailers deploy these robust, flexible solutions to improve fulfillment logistics and meet escalating consumer demands.

Micro-fulfillment White Paper: https://www.intelligrated.com/en/resources/white-papers/micro-fulfillment-strategies-future-omnichannel-retail

What can we expect?

We're excited to be able to participate in many of the upcoming virtual events that will be taking place this fall. We'll be showcasing solutions designed specifically to protect operations, people and places, while driving labor productivity and optimizing operations.

Where will you be Virtually this fall?

We'd love to connect with your readers at upcoming virtual events, where we'll be able to chat remotely and answer any specific questions about their unique operations. We'll be participating in the following events:

RIA Autonomous Mobile Robot Conference (Oct. 26–27)
PACK EXPO Connects (Nov. 9–13)
NextGen Supply Chain Conference (Nov. 10–12)

Whats New?

Pleora has introduced its AI Gateway, which simplifies the deployment of advanced machine learning capabilities to improve the reliability and lower the cost of visual quality inspection. The embedded platform works with existing inspection hardware and software, with optional "no code" plug-in AI skills that simplify training for machine learning-based quality inspection and hyperspectral imaging. A powerful NVIDIA GPU accelerates the development of more advanced and customized machine learning and computer vision algorithms written in Python.

End-users and integrators can easily deploy AI skills without any additional programming knowledge. Images and data are uploaded to "no code" training software on a host PC, which generates a neural network that is deployed onto the Pleora AI Gateway. Images and data are simply uploaded to learning vision software that supports a unique "auto-learning" mode. AI models are transferred and deployed on the AI Gateway in production environments.

With the gateway, AI capabilities can be integrated into existing applications without changing hardware or software. In an inspection application, a gateway device intercepts the camera image feed and applies the selected plug-in AI skills. The gateway sends the AI processed data over a GigE Vision connection to the inspection and analysis application, which seamlessly receives the video as if it were still connected directly to the camera.

What can we expect?

We will continue to expand the plug-in capabilities of the AI Gateway, including partnering with other companies designing machine learning skills for machine vision, security and defense, and medical imaging applications. We are also now developing a smart Ethernet video interface, which will allow designers to integrate edge processing AI capabilities into X-ray flat panel detectors (FPDs) and cameras.

Where will you be Virtually this fall?

We are hosting regular webinars to discuss the advantages of Hybrid AI deployment for visual quality inspection. This live webinar hosted by Pleora Chief Technology Officer Jonathan Hou provides an overview on the evolution of machine learning and AI, with practical insight into how manufacturers and integrations can deploy advanced inspection capabilities within existing systems and processes. We are also hosting live demos of our AI Gateway solution.

Whats New?

Over the last several months Parker LORD has been developing a new all-in-one solution which eliminates programming time. The MicroStrain® 3DMGQ7 GNSS/INS inertial sensor aided navigation system and state of the art RTK Modem utilizes the Robotic Operating System (ROS) driver, which allows for a flexible framework for writing robot software. ROS is becoming the standard platform for creating prototypes quickly. Parker LORD has an open source, free (MIT License) series of drivers designed and tested for ROS. These drivers have been updated, tested and supported to provide the best integration for bot and drone industry.

What can we expect?

The new out of the box 3DMGQ7 GNSS/INS sensor delivers accurate positioning, velocity and attitude estimates at 1 kHz. This accuracy which outperforms our competitors incorporates up to 2 cm accuracy, 0.05 m/s velocity accuracy, 0.1 degree roll/pitch accuracy and 0.25 degree heading accuracy with dual-antenna GNSS.

This integrated GNSS/INS sensor with native RTK capability provides excellent performance even in poor or obstructed satellite signals. The multiband RTK combined with SensorCloudTM RTK network service and cellular enabled RTK Modem (3DMRTK), with the 3DMGQ7 GNSS/INS sensor makes this a complete out-of-the box, advanced navigation solution for drones, unmanned vehicle navigation, wheeled and legged robots and autonomous vehicle applications. This sensor is currently available for beta testing and will be available for purchase before the end of 2020

Where will you be Virtually this fall?

We have recently completed a Webinar on "How COVID-19 is Driving Robot and Drone innovations" and will be hosting another webinar in mid-October on "Using Data to Power Technology: A look at how wireless sensors are accelerating eVTOL aircraft development." We're also participating in the AUVSI Virtual Conference, October 6-8, and hosting a few roundtable discussions around our newest sensor, ROS and RTK. Be sure to follow LORD Corporation on LinkedIn, Twitter and Facebook for coverage of our events and latest developments.

What's New?

Here in 2020, DENSO Robotics launched a new member to our 4 axis SCARA family, the LPH-040. This high-performance, low-priced, compact and light weight SCARA Robot offers a maximum arm reach of 400mm, a maximum payload of 3kg and a position repeatability of ± 0.02mm. The LPH is an excellent model for first time buyers or for projects that require only a 3 to 5 years duty life cycle at a great price point. Ideal for electronics, assembly and pick and place applications, the new LPH-040 also comes with our standard RC8 Controller.

Additionally, DENSO Robotics recently launched the first member of our 6-axis Collaborative family of robots, the all-new COBOTTA. Compact, safe, portable, and shareable, COBOTTA is easy to use with an open platform. It offers a maximum arm reach of 342mm, a maximum payload of 700 grams, and position repeatability of ±0.05mm. The new COBOTTA is an excellent choice for packaging, sorting, labeling, material handling, assembly and pick and place applications to name a few. It comes with a built in RC8 Controller which is a very open platform for other third-party components. COBOTTA is fully TUV Certified as a collaborative robot.

What can we expect?

Coming late fall 2020, DENSO Robotics will be launching our all new line of large robots, specifically the VM and VL series. With a higher load capacity and longer arm reach, they are an excellent choice for packaging, palletizing, de-palletizing, material handling, assembly and pick and place applications to name a few.

Both series come with our new RC9VL Controller, which brings greater processing speeds with our built in Quad Processor Technology, a very open and scalable architecture for other third-party components. As these new models of VM and VL are added to our series, DENSO Robotics can now automate all manufacturing processes with ease.

Where will you be Virtually this fall?

DENSO Robotics will be exhibiting the Pack Expo Connects virtual event, Nov 9-13 where we are excited to be launching our new VM and VL series large robots. DENSO will be offering a number of product demos and presentations of these new robot series as well as additional presentations on our LPH and COBOTTA robots. This will be a great opportunity for us to connect with existing and new customers and partners and share some of these exciting new solutions. To register for this event and connect with DENSO Robotics, visit https://www.packexpoconnects.com/

DENSO Robotics will also be exhibiting at Rockwell's Automation Fair at Home, Nov 16-20. This will be another great opportunity to share various new robot demonstrations and the unique features and benefits of our new VM and VL large robot series.

Whats New?

ST Robotics have been making and selling robot arms for over 20 years. ST was the first company to sell 'boxed' robots – unpack it, set it up and start programming. We have vast experience, having sold robots into just about every industry.

Recently many potential users would like to have a robot and have such a purchase in their plans but because of Covid19 these plans are frequently on hold. However ST Robotics now has a rental program. The customer can now rent a robot system complete with gripper and not have to worry about the capital outlay. Already this is proving popular and we have a pool of robots set aside for this purpose.

In our venture into the wonderful world of AI we have been working with an artist and programmer who uses AI to help kids at a childrens hospital to learn to paint.

Additionally ST are branching into applications such as recycling and agriculture. A new project is under way to robotically harvest asparagus, aimed at smaller growers and ST are collaborating on high speed robotic sorting in recycling plants.

ST are also collaborating on some new projects for targeting cancer.

What can we expect?

The robot harvesters will be developed and will be on sale as ready-to-use products in late 2021. The same is true for the recycling robotics.

We do expect sales of robot arms to pick up during 2021 but at the same time we will be more involved in applications like the asparagus harvesting. We will be looking for other applications such as vending and more medical applications, particularly in the field of cancer treatment.

Where will you be Virtually this fall?

Gone are the days when a potential customer could visit our demonstration studio and have a demonstration. Live demonstrations were always difficult for our world wide market but now we have set up a virtual demonstration where a potential customer can actually control a robot online. The robot can be seen on webcam. The user types RoboForth commands over the Internet and see the results immediately on screen.

Whats New?

Earlier this year, we released our biggest OCTOPUZ software update ever. We introduced an enhanced programming experience for creating, modifying, and transforming path and search statements, perfect for welding applications. With multiple new path and search selection methods, along with real-time previews, integrated automatic collision avoidance, and simple configuration options, creating statements in OCTOPUZ is better than ever.

We didn't stop there. Our development team has been hard at work and will be releasing major improvements to our path creation capabilities for cutting and trimming applications. New tool alignment customization and the ability to create arc lead points are just two of the many improvements we've made. We've also focused on developing some of our most requested features, which is sure to delight our users.

Beyond our software, we've adapted to the working and travel constraints caused by Covid-19 by introducing our new OCTOPUZ Remote Implementation (ORI) service. ORI enables our users to calibrate their physical robot systems with the OCTOPUZ software, without having one of our OCTOPUZ Application Engineers at their physical facility. Instead, our users work remotely with a dedicated OCTOPUZ Application Engineer that guide them through every step of the calibration process, assist with any challenges that arise, and ensure the calibration is successful.

What can we expect?

Over the past few months, we've optimized our development cycle to enable more frequent and consistent product releases. What this means for our users is we will be building great new features for OCTOPUZ, faster and more frequently than ever before. We've also put a massive emphasis on delivering the highest amount of value to our users by building the features they need most. We listen to our users and work directly with key partners to help us define the OLRP features that will provide the most impact.

We can't wait to share more with our users in the coming months!

Where will you be Virtually this fall?

This fall, OCTOPUZ is putting together a library of resources to ensure you continue learning about OLRP. You can look forward to great webinar discussions, thought-provoking articles, and educational video content. Stay in the loop by visiting our website, subscribing to our newsletter, and following us on LinkedIn.

Whats New?

Our Vertical Transfer Units (VTUs) transfer product from one level to another. This unit utilizes a section of transport conveyor as a platform and benefits from a vertical servo-driven actuator for positioning. The elevator platform conveyor can operate in either direction, enabling the VTU to accept and discharge pallets from both sides, and the servo allows multiple stopping positions along the stroke. The unit can be supplied with or without full guarding or controls. It is shown to the right with no guarding or controls.

We also have our The Low Cost Mini VTU was built for those who are looking for creative space use and cost savings. Learn more in this blog: A Creative Mini VTU Solution for Cost and Space Savings

What can we expect?

Glide-Line is introducing A Roller Chain Conveyor with dynamic traction control in early 2021! This innovative twist on a long-running traditional conveyor gives our customers control of traction when they need it, and low back pressure when it is required. It also comes with the configurability, flexibility, and quick lead times they've come to expect from Glide-Line, with the strength and heavy duty build of a roller chain conveyor. It is built with industry-leading steel roller chain steel chain, the built-in rollers spin under accumulating products to reduce backpressure. We've also added a built-in, programmable accelerator to add friction when needed, typically at stop locations. It's everything you need in a roller chain conveyor, with a signature Glide-Line twist giving you everything you want.

Where will you be Virtually this fall?

Look for us at The Virtual Assembly Show: https://na.eventscloud.com/esocial/462611/login

Whats New?

Over the last six months, BitFlow's team has managed to launch the Claxon CXP4 frame grabber, the first of the CXP-12 family. This was launched in May of this year. With the launch BitFlow demonstrated interaction of the board with a number of CXP-12 cameras that are currently available on the market https://vimeo.com/417216257

In September, BitFlow launched the second of the family, the Claxon CXP1 board. Currently there are only a few single link CXP-12 cameras on the market. However, BitFlow is working with other CXP camera manufacturers to integrate and develop CXP-12 platforms.

What can we expect?

Looking ahead, BitFlow will launch the third installment of this Claxon family, with the Claxon CXP2, a dual link frame grabber to complete the family.

Based on the success of the Cyton CXP family (CXP-6), it's only a matter of time before the Claxon family is a well known name in the high speed machine vision world.

Where will you be Virtually this fall?

BitFlow maintains an online presence on LinkedIn and Twitter and you can always sign up for press releases (1-2 / month) to get the latest news.
News Headlines & More Related Articles
The content & opinions in this article are the author's and do not necessarily represent the views of RoboticsTomorrow
---
Comments (0)
This post does not have any comments. Be the first to leave a comment below.
---
Post A Comment
You must be logged in before you can post a comment. Login now.
Featured Product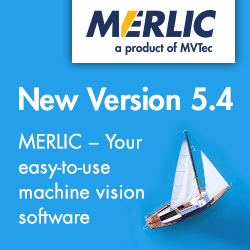 MVTec has launched the newest version 5.4 of its easy-to-use machine vision software MERLIC on Oct. 25. Its focus is on easier process integration. MVTec MERLIC 5.4 includes state-of-the-art machine vision technologies, plug-ins for direct communication with different PLCs and can be used to create complete machine vision applications. Try the new MERLIC 5.4 now!