Manufacturing

Marketing Partner
---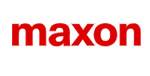 maxon precision motors
maxon precision motors is a leading supplier of high-precision DC brush and brushless servo motors and drives. These motors range in size from 4 - 90 mm and are available up to 500 watts. We combine electric motors, gears and DC motor controls into high-precision, intelligent drive systems that can be custom-made to fit the specific needs of customer applications.
---
Mailing Address:
101 Waldron Road
Fall River, MA 02720-4723
United States of America
Tel: (508) 677 0520
Fax: (508) 677 0530
Email: info@maxonmotorusa.com
Website: http://www.maxonmotorusa.com/maxon/view/content/index
Company Category: Factory Automation
Geographic Region: USA - North East
Company Sector: Manufacturing
Keywords: motors, servo, dc, brushed, brushless, drives
Partner Status: Marketing Partner
---
Products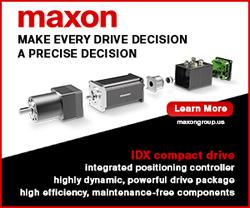 A brushless DC motor solution for use in hip and knee exoskeletons. This complete joint actuation unit consists of motor, gearhead, encoder and position controller. Fitting absolute encoder directly at the joint rotation provides designers increased positioning accuracy. The unit will deliver 54Nm of continuous torque and 120Nm on a 20% duty cycle. The system can be operated on supplies between 10 and 50V DC and the actuation speed is up to 22rpm.
---
---
White Papers
MAXON MOTOR - FORMULAE HANDBOOK
The extensive collection with illustrations and descriptions includes formulas, terminology and explanations of the calculations that are relevant for drive systems. A flow chart provides assistance in selecting the right drive for each purpose. Author: Jan Braun; 60 pages.
---
---